By Anthony Stanley (TTT Subscriber Dannyluke10).
We've been here before.
Yes we have. Don't argue, don't list the negatives (of which there were many), don't moan, forget Enrique's demonstrable lack of grey matter on a pitch, overlook apparently sulking strikers, and don't dwell on defensive lines dropping too deep.
Because you've been here before so just embrace the madness.
Here's a caveat to the above though:  yesterday's first half was one of the worst displays I've seen from a Liverpool team in a long time. There, that's that uncomfortable fact out of the way, laid bare in all its baldness. We'll get to that and we will have a wail and a howl over what we witnessed yesterday.
But first we'll embrace the chaos that was, in a queer way, almost as magical as some of the roller coaster rides from last year.
I've made my peace with Liverpool contributing to near-fatal levels of blood pressure and I accept it gladly for the simple reason that it's better than the near apathy that the last five years tended to bring. The stakes were raised last season, the battlegrounds were moved and now we have to deal with that fact. Nothing can ever be the same again.
Yeats wrote a poem referencing it: "All changed, changed utterly; a terrible beauty is born".
We're living through this 'terrible beauty' and it's frustrating, of course it is. We desperately scour every minute of a match and will the re-emergence of the bamboozling, bonkers, bizarre blitzing of just a few months ago. The blitzing isn't there yet but the madness is still very much intact; yesterday – even through the deep exasperation – is right up there with the joyride of the last campaign. It's likely we will never see another seven minutes like that ever again and my heart is thankful for this.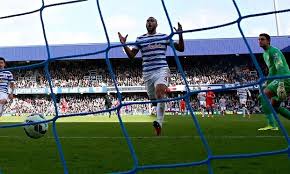 Liverpool, fragmented, disjointed, lacking in cohesion, are a brilliantly bonkers football team. They play havoc with your emotions and gleefully throw perceived normality out of the window. Okay, there may have been some pretty mundane performances so far this season, but Sunday's game at Loftus Road showed that the template, the DNA of this side, is still cheerfully and chaotically insane. We could marvel at 6-3 and 5-3 scorelines away from home during late winter and early spring. Well I for one am marvelling at this one; the defending against QPR was only slightly more calamitous than, say, Stoke away last year. We're shorn of two world class strikers that we possessed in that game. We're still bloody mad.
The rest of this article is for Subscribers only.
[ttt-subscribe-article]