By Mihail Vladimirov.
Summary:
QPR missing key players, Liverpool nearly at full strength. 

The home team dominate the first half by copying West Ham's recent approach, aggresively pressing from the start. 

Starting formations allowed QPR to match up man-for-man against Liverpool, constantly harrying the direct opponent. 

Lovren struggled against Zamora, especially when the ball was played on the ground. 

Balotelli wasting the dangerous opportunities when Liverpool counter-attack, exposing QPR's high defensive line and lack of mobility. 

Liverpool's broken midfield, no player connecting the play; Henderson and Can fail to compliment each other.

Liverpool struggling both in defence and in attack – an in-game adaptation called for?
Liverpool unable to exploit QPR's obvious weakness down their left/Liverpool's right
Both teams make half-time changes – Liverpool's logical but why wait so long?
Liverpool's influence grows as QPR intensity drops
The madness of the last ten minutes
Liverpool's win ultimately down to QPR's shortcomings and good fortune
QPR had injuries to three key midfielders – Faurlin, Barton and Mutch –  all confirmed absentees before the match. Kranjcar was doubtful and was only on the bench. Then just before the clash, the first-choice keeper Green was ruled out. In addition, Redknapp took the decision to bench Ferdinand due to poor recent displays.
Liverpool were completely the opposite – many players returned from injuries with Can and Johnson starting, Allen being on the bench and Lovren fit enough to start after his recent injury worries during the international break. Moreno was reportedly rested ahead of the super-game against Real Madrid, so Enrique started at left-back. The only missing player of high importance was Sturridge.
Overall, it was a new-look QPR, which showed on the pitch too, as they also lined-up in a 4-4-2 shape, which was previously unused this season. On the other side Liverpool were a strange mixture of old and new, both in regards to the personnel and the use of a 4-2-3-1 with Gerrard back in his previous position just off the main striker.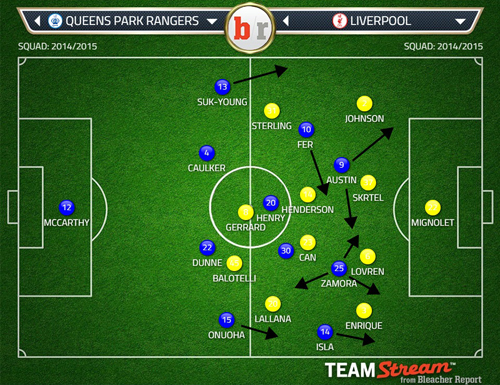 QPR bossing the first half
With QPR not able to go toe-to-toe in a technical contest against Liverpool, Redknapp knew he had only two ways to set up his team from the start.
The logical decision seemed to be – especially given the lack of key midfielders and Kranjcar, their best creative spark, on the bench  – to start the game in a reactive manner, defending in two banks of four (be it in 4-1-4-1 or 4-4-1-1 shape) while waiting for opportunities to break forward. This would have been suitable given that with Liverpool expected to boss possession and as a consequence push their defence higher up (with centre-backs drifting wider and full-backs bombing forward to support the attack), there would have been plenty of space for the wingers and a mobile forward to get in behind.
Still, Redknapp perhaps felt this would give Liverpool an easy time to settle in the game, gradually using their possession play in the final third. Arguably, Redknapp decided this would needlessly make the game suitable for Liverpool, as due to their higher technical abilities and dangerous attackers it would have been inevitable for the visitors to create dangerous attacking moves and as a whole pin back the home side for long periods. Which is why, presumably, QPR's manager opted for the alternative option.
Redknapp always seemed good at copying other managers' effective tactics and putting them into action with his own team; especially against certain opponents. So it shouldn't come as a surprise when, as soon as the game started, it was clear that QPR were largely copying what West Ham did to Liverpool a few weeks ago. The only way for Redknapp to have a go at Liverpool, without making the game a clash of who is better technically and in possession, was to press from the off, make the game a very basic and direct contest, with little interest of using the midfield zone as the main deciding factor.
Right from the start QPR showed more spirit and fight, which quickly got the home crowd roaring and in turn seemed to further motivate and inspire the players. As a result, the home team simply outfought their opponent, largely winning every duel and more often than not was first to every loose ball. However, the R's also looked quicker, sharper and seemingly knowing exactly what to do on the pitch within the constraints of the chosen approach, which pointed to a better organisation and tactical clarity. All of this was in contrast to Liverpool who looked slow and cumbersome with their reactions, too easily losing their individual battles and looking unsure and timid when eventually managing to get on the ball. The team looked far from ready to dig in and fight back, nor did they looked tactically prepared with a back-up plan to adapt and work around the issue of being physically intimidated  in a smarter and cultured way.
Redknapp's starting XI seemed perfectly suitable for such a game plan and potential match context. The shape was a lopsided 4-4-2 with Fer roaming infield off the left flank, while Isla hugged the touchline on the right. The home team started with a pair of scrappers in midfield and attack to ensure the game is all about aggression and physical clashes, not creative passing and fancy tricks on the ball.
The rest of this analysis is for Subscribers only.
[ttt-subscribe-article]