By Paul Tomkins.
Last season, in winning 26 league games, Liverpool maximised their strengths, and exceeded the sum of their parts. This season, the Reds are seeing their weaknesses exploited, and have played really well on only one occasion (at Spurs). Good fortune leaves Rodgers' team in 5th place in the league, and effectively joint-second in the Champions League group – way behind the leaders in both, but not out of the running for qualification. Having played well so rarely, that's not bad. It's better than we were used to two years ago, but disappointing after the near-perfection of 2013/14.
Liverpool's side seems to have been built on a faultline, which runs from back to front, but is mostly located around the centre-backs. We approach every game like San Franciscans, aware that at any moment the ground could open up and swallow us.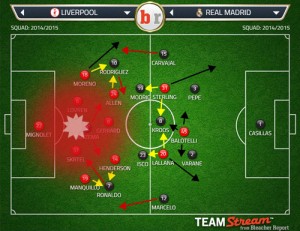 It struck me recently that Martin Skrtel and Dejan Lovren, for all their faults, have sometimes been put in an unenviable position. In this Liverpool team, that unenviable position is called centre-back.
First, they don't have a 'defensive midfielder', and while we can argue about the merits of Gerrard in a deeper role (to which there are pros and cons), it seems clear that there isn't a specialist who can brutally mop up, no shin-pad left unshattered. While the purists rightly bemoan the absence of Xabi Alonso, you sense that this team needs a Javier Mascherano, to brutalise anyone who dare step onto his turf. With the rest of the midfielders keen to get forward, his pace and aggression would be ideal.
Second, the centre-backs don't have defensive full-backs either side of them. Flanagan last season, and Manquillo in his few starts in 2014/15, have that side to their game. Johnson and Moreno can make good defensive interventions, but they're not brilliant positional experts; their first thought isn't about pure defending. They're happier going forward. They're not always switched on in the way that Jamie Carragher, Markus Babbel and Alvaro Arbeloa would be.
And behind Skrtel and Lovren, there's a goalkeeper who seems a good shot-stopper, but lacks an air of authority. He often won't help out the centre-backs – he'll leave it up to them – and can dither, rooted to his line. When he does leave his line, it can get ugly. There's a nervousness that spreads from the keeper to the centre-backs and back again, and it spreads out to the full-backs, and back again. It is our own San Andreas fault.
The defensively 'stationed' midfielders don't get so caught up in this nervousness, mainly because they're often not there. Gerrard, who can defend, just doesn't always read the situation particularly well. I thought he had a good first-half against Madrid, but he is not someone who will relentlessly track runners, especially now that the legs aren't what they used to be. I pointed out a situation earlier in the season when he let not one but two midfield runners go past him, despite noticing their movements. He glanced at them, but did nothing. You can't let teams overload your centre-backs. You can't let teams overload these centre-backs.
But on top of this, the wide midfielders are also not defensively minded. Often teams will have one attacking and one solid full-back, and will deploy one out-and-out winger, and one 'wide midfielder' (such as Dirk Kuyt) who will perform well at both ends. Teams often pair a solid full-back with a tricky winger on one flank, and then have an attacking full-back and a solid midfielder on the other. It has a kind of natural balance.
Liverpool don't have a Kuyt or a Milner (or a Parlour going back to Arsenal's great '90s side), to balance things up. There's Coutinho, Markovic and Lallana, with Sterling the one truly athletic, strong wide player; but he's currently the only player you'd definitely want at the other end of the pitch as much as possible. That leaves Borini, who could do the job of a Steady Eddie, if desired, but he's rarely called upon.
Finally, there's the lack of Suarez's defending from the front. It's not as if Liverpool were keeping clean sheets last season, but now goals are being conceded at an even greater rate. Liverpool's aren't defending as well from the front, and there's no one noted for their defensive prowess in wide midfield, holding midfield and at full-back. At times, the centre-backs are the only actual defenders in the team. And their flaws are being magnified by the set-up. Liverpool obviously miss Suarez's goals, but his work-rate was infectious.
Even if Mario Balotelli was at his best, he wouldn't be compensating for the mess at the back. And the mess at the back is not down to the lack of a defensive coach, but team shape (and the personnel chosen).  Someone like Steve Clarke, for example, would want the midfielders protecting the defence, and that's not the way Rodgers sets up. You can call Rodgers brave or naive. Last season he looked brave; this season he looks naive. Maybe the results alter our perceptions of what's true.
Balotelli's faults are numerous, but the biggest one is simply being Balotelli. And the least of Liverpool's problems with Balotelli is what happened at half-time. He was tapped on the shoulder by Pepe when approaching the tunnel and agreed to swap shirts; he didn't go out searching for it (which would have shown that his mind wasn't on the game or the scoreline, and therefore worthy of harsh words and internal discipline). But a furore, because it's Balotelli, is guaranteed. He's a sideshow, and only partly through his own failings.
He did okay against Madrid, but that wasn't enough to stop Graeme Souness – the man who signed so many duffs for the Reds – scowling about him. There is an issue with Balotelli's style and work-rate, in that he's not an all-action player (comparatively he's more like Berbatov than Suarez), and maybe Liverpool need high-tempo attackers. But worryingly, he brings the kind of sideshow that surrounded David Beckham, without being as consistently effective (even if old Goldenballs was never in the same stratosphere as a player as the likes of Zidane, Figo, Ronaldinho, et al, who were his supposed peers).
A similar sideshow surrounded Luis Suarez, but as the problems with the Uruguayan grew – and boy did they grow – he continued to outgrow them. The more trouble he got into, the better he got. But it reached breaking point. I still don't think Liverpool had much choice this summer.
Gary Neville suggested last night that as Liverpool had forgiven Suarez before, why not forgive him again? The trouble with that is that it's not about Liverpool's forgiveness, but the leniency of UEFA, FIFA and the Premier League. There was talk of a two-year ban after the bite at the World Cup. And while that was eschewed in favour of 'just' four months, what would the next ban be? A year? Two? You can't take that kind of risk with a player entering his late 20s. Barca, with Messi and Neymar, would cope without Suarez; Liverpool, without both Suarez and a transfer fee, would be stuck. It was, after all, the third bite in four years for the striker. His bites-per-season ratio was up there with El Hadji Diouf's league scoring record for the club.
The problem appears to be not the cashing in, but how that money was reinvested. Did Rodgers "waste" the money? Did the transfer committee "waste" the money?  Is the money even wasted, given that it's early days?
Southampton have shown that you can sell your best players and improve by finding cheaper, superior ones. Let's be clear: it's hard to find a cheaper, superior version of Luis Suarez. But improving in several areas could have raised the level of the team. Instead, Liverpool's other crown jewel, Daniel Sturridge, has been injured, and almost all of the new buys are either not good enough, or not good enough yet.
You wouldn't expect them all to settle immediately, and the younger ones who are new to England deserve patience. But at £20m, Liverpool needed Lovren, in his mid-20s and with a year in England, to hit the ground running, and instead he's hit it flailing. At £16m, with Suarez gone, Sturridge out and Lambert overawed (at a stage when his legs have gone), Balotelli, who hasn't been awful, simply had to deliver more than he has. At £23m, and at 26 years of age, Lallana had to be better than 'a bit tidy and a bit nifty', when Liverpool already had a few tidy, nifty little players. The £20m spent on Markovic seemed a good gamble to me – the lad has a genuine European pedigree – but you can't expect a 20-year-old Serbian to settle overnight. Maybe he won't settle at all, but at least he has the excuse of age and adjustment. (Ditto Emre Can, another 20-year-old new to England.)
Moreno and Manquillo have been pretty good – at times excellent, and at times exposed, but overall, they've settled better than most. But only one of those is currently getting into the team.
Time can solve a lot of these problems. But it won't automatically solve them. Players may or may not come good. They may turn out like Jordan Henderson – slow burners whose brightness emerges from beneath the bushel – or they may turn out like Salif Diao, whose effulgence was just a trick of the South Korean light. (Sorry, no player should have to suffer such a comparison. I withdraw that statement.)
One solution would be to pay a premium to bring Divock Origi over in January, six months early. That may or may not be possible; but it's worth trying. Right now he looks like he's worth throwing a further £5m at Lille, and even if he doesn't make much of an impact in the second half of this season, at least he won't be acclimatising next season. Put him, Sturridge and Sterling in the same front-line and in theory Liverpool will be purring. Of course, the theory of Sturridge staying fit is not the same as the reality we experience. Still, we can but hope. If Liverpool can improve their attacking game then, like last season, they may end up winning a large number of high-scoring matches.
And yet, until the Reds can defend set-pieces and basic hoofs into the box – even from cultured teams like Real Madrid – then the attacking play will continue to be undermined. To make matters worse, Gerrard's own excellent set-pieces of last season have not been replicated at all in 2014/15. Liverpool panic at the back with corners, but aren't doing the same to other teams. Skrtel's not even proving his worth with some thumping headers. Lovren hasn't proved a goal threat.
All is far from lost. But Liverpool are so appallingly easy to score against that it's hard to expect good things. It seems set to be a very long season.