By Chris Rowland.
A lot of the best content on TTT is what no one outside of the subscriber-base gets to see. There's a whole world of brilliant debate going on 24-7-365 (24-7-366 in Leap Years).
We've decided to give you a weekly taste – a few brief highlights – of the debate that goes on on the site's many threads.
We'll start with the debate ahead of the Real Madrid home match on the Champions League Preview 2014/15: Real Madrid (H) thread.
Daniel Rhodes' novel solution to coping with Real Madrid's attacking prowess:
My formation/team selection would be:

Mignolet

Manquillo, Johnson, Skrtel, Lovren, Sakho, L-Jones, Smith, Enrique, Moreno, Maguire

10-0-0.

One bank of ten.
Dr.Gonzo:
Kolo doesn't even get in when we're playing 10 at the back? 
Garythespud:
Here's my line up for tonight:

Heineken

Merlot     Malbec    Rioja    Beaujolais

Snuff

Cocodamol   Rennies

Crack

Scrumpy Jack      Balotelli

Bench: Vicks, tequila, mushrooms, apathy, tears of 100 orphans.
MikD:
Perhaps foolishly, I would play an aggressive high line tonight to squeeze the play and the passing angles for Real. I would give Mignolet explicit instructions to be ready to sweep up any ball over the top.

We need the likes of Kroos and Modric to be put under constant pressure by Allen and Henderson and to feel the pace of the English game in terms of a lack of time on the ball. If we give them time to pull the strings and play in the likes of Ronaldo, they will cut through us. If we sit deep and let them pin us in our half, it will be a horrible 90 mins with us losing comfortably whilst showing no ambition at the other end. If the midfield presses but the defence is too far back, they can pop one over the midfield and Ronaldo is immediately running straight at Lovren and Skrtel.

Whatever tactics we deploy, the chances are we will get beaten as Real are a far superior side not just to us, but just about every side in world football. So if we're going to lose a game, I'd much rather it was an exciting one where we gave as good as we got rather than a timid, frightened performance where we limply go down 0:3 having barely poked our heads out. This is a CL night at Anfield and we need to make the most of the atmosphere.

For that press to work, we need the defence to be ready to step in and make interceptions so I would want them pushing up to back up the midfield's pressing game. Not a suicidal high line on the half way line, but far enough up to make time and space a rare commodity. I'd perhaps ask Moreno and Johnson to refrain from bombing on so much and instruct them to hold their positions but for the back line to push up as a whole to keep us compact. Mignolet needs to be proactive in sweeping up in the way Neuer does for Bayern and Germany. (Not his natural game of course).

Is this approach suicidal? Should we park the bus? I can't see us getting anything other than a hiding unless we are brave and look to take the game to Real. The thought of us camped around our penalty box with a forlorn Balotelli feeding off scraps 40 yards adrift from the nearest red shirt whilst Real string ole passes for minutes on end with us scampering around like panicked rabbits fills me with dread.

We've won this competition five times. We are in the CL on merit. We are at Anfield. I want us to play with presence and measured aggression tonight.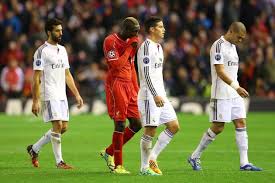 Then came the after-match debate:
DCronin:
Have you ever shopped at Aldi?  They market themselves with the slogan 'Like brands only cheaper'.  If you were shopping for breakfast cereals in Aldi, you'd see a box of cereal that, on the box at least, shows a product that looks like Shreddies and another box that looks like it contains Cocoa Pops.  There'll be one with an equivalent to Rice Krispies and something that looks like Weetabix.  Some of it will be just as good as the real thing.  Some of it, when you take it home and sample it, won't be.  Some of it you'll convince yourself is as good as the real thing but then one day you'll sample the real thing and realise actually it wasn't as good.

FSG shop at Aldi.  Real Madrid pay full whack for the real thing.

Real Madrid hire the top managers in European football and buy the best players on the market – sometimes the best players not on the market because they pay enough to put players who wouldn't otherwise be on the market on the market.

FSG recruit people that might be as good as the real thing but equally might not be.  That's their approach to hiring managers and players.  Sometimes you see a player and think this could be as good as [name top European player] but when you take it home and sample it you realise it's not the same thing.  Sometimes you convince yourself it is as good as the real thing but then one day you sample the real thing and realise it wasn't as good.

Tonight was a case of Real versus Replicas and some of our Replicas were made to look like cheap tat.

There were only 3 Liverpool players on that pitch who could ever feasibly attract the interest of Real Madrid (and in all cases they would need serious improvement): Coutinho, Sterling and Moreno.  The rest are cheap imitations and in a number of cases seriously substandard imitations.

I'm not necessarily knocking FSG for shopping at Aldi.  If you can't afford otherwise, shop at Aldi.  There's no point having one big shop at Marks and Spencers and then not being able to afford your next few meals.  You live within your budget.  FSG know what their budget is.  If Aldi is what they can afford, that is where they should shop.  If that is what they can afford…

I'm not a snob.  Growing up, my Dad shopped at Aldi.  We weren't flush.  Kellogg's Corn Flakes would have been a dream for me.  Coca Cola instead of Panda Cola would have been heaven.  Not just because it was of better quality but because having it would have given me a brief respite from the insecurity complex I was being raised to have.  My childhood saw me constantly shamed as my peers wore the latest branded sportswear and I sported hand-me-downs and shit my nan had knitted me.  While others wore Nike, I wore Nicks or whatever crap my Dad could buy for a couple of quid down Kirkby market.  I would beg my parents to buy me whatever was in fashion.  "Everyone else has them" I would plead.  "But you're not everyone else" they would retort.  "It's all the same thing.  Nicks are as good as Nike."

As an adult I don't have to deal with that.  I've worked damned hard to make sure I can buy what I want and I make sure my kids will never have to feel inadequate because their parents can't afford what other people's parents can.  As an adult it is within my power to influence that.  As a football fan I'm as helpless as a child.  FSG are the parents.  They dictate where we shop.  And tonight I feel like I've got another skint parent who embarrasses me on the school playground.

"But everyone else buys top players" we plead.  "But you're not everyone else" they answer.  "It's all the same thing.  Markovic is as good as Sanchez."

You can't help but think back to Suarez.  There was a player Real would take straight into their team now (suspensions and love for Barcelona aside, of course).  There was a player who could be talked about in the same breath as Cristiano Ronaldo.  A genuine contender for best player in Europe.

We all sagely nodded when we sold him and said 'Yeah, that makes sense' but really it didn't.  If you want to be the best, you need the best players.  He was one of the best players.  Whatever we needed to spend to keep him at the club would have been worth it because we – as we have since proven – cannot attract nor afford a player of the same quality.

We had him.  We actually had him.  Now we're a team that can only dream of having players like him.

City are where they are because their owners had the ambition and the funds to be the best.  Chelsea are where they are because their owners had the ambition and the funds to be the best.  This summer, Man United brought in one of the highest rated managers and a few top players – that indicates ambition.

There's no shame in losing to Real's Harrod's purchases while we are clad in Aldi's finest.  Especially when this is the first time we're at the same party (having recently been in the gutter) but is there a sustainable plan here that will see us move from rags to riches or are we always destined to be the poor relation grateful for a ticket to the lavish party but unable to dress for the occasion?

How have we managed to spend all the money we've spent under FSG and yet a 34-yeard old Steven Gerrard is still probably one of our best players – even though debate rages over what his best position is and some people want to see him dropped?

Is John W Henry a tight-arse?  Is Brendan Rodgers underperforming?  Do the transfer committee need shooting?  Or is it some combination of those?

How is it we have ONE decent striker who is injury prone; no goalkeeper; a completely inadequate defence, and a midfield that doesn't work as a cohesive unit?

"Liverpool – like a top football side only cheaper"
Chardo34:
Great post, but the reality is, we may still be penalised for falling foul of FFP.

We overfilled the trolley at Aldi.
DCronin:
Doesn't that tell you everything? We don't even buy accountants and lawyers of the same quality that City, Chelsea, PSG, Barcelona, et al do.
Later in the debate, Neu added:
That's the way it is. Real Madrid, Chelsea, Man City et al have the money, we don't. If you think it's bad for us gargling panda cola what do you think it's like for the likes of Rotherham?

What do you want us to do, sell our arses to the Saudis, who'll come sweeping in on their magic carpets?

Tonight was a dose of reality as to our position on Europe's top table but at least we're there. We could have been Leeds United.

God, I sound like an Arsenal executive!
Under Off Pitch Issues, Chris Rowland (that's me!) posted this:
"UEFA may order clubs to allow only women and children into European matches as punishment for racist behaviour by fans."

Nice one UEFA – deal with racism by the means of sexism!

Luckily, there are no racist women and children so we should all be Ok …
Which drew this from Chardo34:
In other words, how can clubs punish fans but still make money?

And how many Conchita Wurst lookalikes would be in the crowd?
Swifty:
Oh that's brilliant, Chardo!

I have never heard of Conchita Wurst, so I googled the name and nearly pissed myself laughing… 

Give that man a thousand ticks! (The recommend variety, not the arachnid ones)
Paul Tomkins wrote a free article called Liverpool FC, and the Faults in Our Stars. This response came from MYoung:
Occasionally, an article appears which has me nodding in agreement with almost every word. They are usually either written by Paul or jimtheoracle. This isn't to say that articles written by them are better than anyone else's – they are just the people whose views most often seem to resonate with mine. This article is most definitely one of them, and it has had the added bonus of catalysing some interesting debate.

The point about the lack of protection for the centre backs is one which has been made for some time, but what I think is becoming more apparent is that Rodgers has absolutely no intention of addressing it. He's been at the club for 5 transfer windows now, and not only has he not signed the Mascherano-esque ballwinner that we all pine for, but as far as we know, he hasn't even tried. The conclusion I'd draw, then, is that he doesn't want one. He wants to play the way we are playing, and actually, complaining about the lack of protection for the defence is entirely missing the point, because he doesn't want to protect it – at least, not in the way we think is necessary. Lest we forget, this way of playing brought us within a whisker of the title, brought us 100 goals, and brought us the most exciting football since Dalglish Mk. 1.

The issue of the loss of the high intensity press from the front, though, is more troubling. I don't think it's possible to replace Suarez with one player, because he's one of the three best in the world. So I agree with the tactic of using the money to reinforce problem areas and lack of depth in the squad. Two good (if green) fullbacks were signed, as were two of the hottest young properties in European football. Chelsea wanted Markovic, and Bayern Munich tried to hijack our move for Can. Make no mistake, those two have colossal potential – but we can't expect them just to slot in immediately. They need patience.

The signing of Lovren is less impressive, at least at this stage. I see nothing there that suggests he's as good as Sakho, and he certainly doesn't appear to be a £17m upgrade on Daniel Agger. What's more, we're still playing Skrtel, who you could argue has been the main weak spot at CB for some time. However, as in Paul's article, I'll come back to the point – CBs get no protection in our system. The very, very best of them would occasionally get exposed. I do fear, though, that in Skrtel and Lovren we have two mediocre to good players who will suffer considerably from the lack of protection.

My main bugbear, though, is with the strikers we've brought in. I like Balotelli, I think he's immensely talented…but he's not going to give you a high intensity press far up the pitch. Neither for that matter, is Lambert. This might suggest that Rodgers intended to tweak things….except he hasn't. So what we have now is no high press (remember – this was crucial to our success last season) and no protection for the centre backs, who aren't at the very top level anyway. The result of this is the chaos that we've seen in our defensive third. We're too easy to get at, because we don't pressure the ball in areas where players are less comfortable on it (i.e. their defence) and we don't have a solid defensive line. This, for me, is why bringing a "defensive coach" in just won't work. They aren't, as far as I'm aware, able to improve individual players, and Rodgers won't change his system. So how will they help? You could, perhaps, argue that someone might be able to help us tighten up on set piece defending, and that may be worth a try. But I can't help feeling that a lot of our fragility in those situations is down to a pretty passive goalkeeper.

I also think it's becoming increasingly difficult to see why Gerrard starts every single game of import. He does some good things, and is excellent in short spells (such as late on against West Brom), but I'm not sure that's enough. Having said that, I spent about two months saying that last season, and then he was absolutely brilliant during the title charge. So hey, what do I know?

When FSG came in, we were in dire financial straits as a result of stupid contracts, bad signings and basic boardroom mismanagement. Whilst sorting this out, we have still made losses of £89m over the last 3 seasons and are under investigation due to FFP rules. FSG have also pumped £50m into the club during that time, and are trying to fund all the work on the stadium. It is likely that they will have to convert £44m of that money into equity in order to prevent us facing an FFP ban in 2015/16 (see link here –http://www.financialfairplay.co.uk/latest-news/will-liverpool-face-any-ffp-punishment-). Yes, revenues have increased dramatically, but we need to get our house fully in order before that will trickle through. Remember, from the day FSG arrived they have constantly stressed that the club will spend only what it can afford.

I actually think we'll be alright, in the long run. I still think we'll make top four, and we have a fantastic crop of youngsters coming through. However, I don't expect our defensive record to improve until our attack clicks again, because the system won't change, and while teams aren't too frightened of us spanking them on the counter-attack, they'll continue to get at us. So when will the attack click? Well, I'd expect to see an improvement when Sturridge returns, and I think you might see him played up there with Sterling and Lallana or Balotelli so that you get that high press. Ultimately, though, I think we'll need to buy again. Balotelli and Lambert just are not suitable for the system we want to play, and boy is it showing. It's going to be a bumpy old ride.
If all this sounds like the sort of debate you'd like to read, or even take part in, why not become a Subscriber to The Tomkins Times yourself? It only costs £3.50 a month, or £40 for an annual subscription, and for that you get comprehensive previews, reviews and tactical analyses of every match, a daily summary of all that's happened in the world of football, as well as articles by Paul Tomkins and by several leading writers and bloggers including some who started just by posting on debates just like this one, cutting edge statistical and data analysis and a high level of quality debate throughout. 
Some articles on The Tomkins Times are free to all, but all the debate (apart from these brief excerpts in Behind The Paywall) is visible to Subscribers only.
How to join