The next episode of The Tomkins Times' Podcast has been recorded. Again, a huge thanks to everyone involved. A return to four at the back. We had technical issues with Pamela. Mihail did a little tweaking to solve the problems. I make a brief five second cameo at the start (even though I'm not on it at all!): pod-bombing, a new trend. Feedback, as always, welcome in the comments section.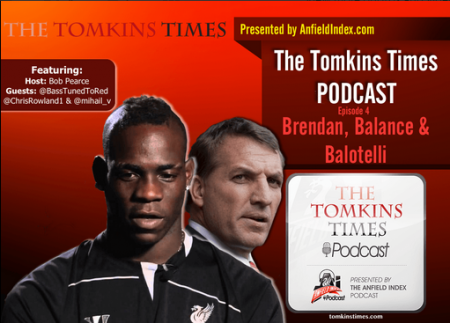 Title: Brendan, Balance and Balotelli.
Guests: Bob Pearce (host), Chris Rowland, Andrew Beasley and Mihail Vladimirov.
Brief look at the first two games of the season; the progress of Sterling and Coutinho; do we have a strong bench? Balotelli, balance in the team and Brendan's tough decisions; phasing out Gerrard, Lucas and the end of the double pivot as we know it; which players will be leaving before the window closes? The Champions League draw and what it might hold for the Reds.