By Mihail Vladimirov.
For Man City, Pellegrini largely kept faith with the same 4-2-2-2 formation and personnel that won him the game at Newcastle. The only change was Zabaleta returning at right-back with Clichy moved back to his natural position on the left; Kolarov was benched.
Rodgers on the other hand changed his team a bit more. The rigid 4-2-3-1 formation from the opening game was dispatched in favour of something that more resembled a 4-3-2-1 (due to how narrow Coutinho and Sterling started) than a 4-1-2-3. Two further changes were made in the starting XI – Allen replaced Lucas while Moreno made his competitive debut start for Liverpool, meaning Manquillo was dropped to the bench in favour of Johnson who moved back to the right-back slot.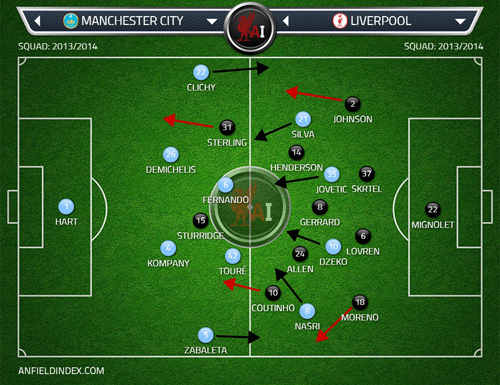 Surprisingly or not, the game actually proved to be a very slow burner with both teams opting for cautious if not outright defensive approaches from the start. There was little progression on the tactical front in the whole of the first half. But then Liverpool conceded a goal just before half-time following a series of very cheap individual errors which forced them to change their behaviour for the second half. This opened the game up and, given the new-found game context and tactical reality, it inevitably suited Man City more. The hosts ended the game as comfortable winners.
Pellegrini starting conservatively
Perhaps the first major thing that caught the eye at the start of the game was how conservative Pellegrini had his team approach the game. In a way, a clue for this was there even before the game, with City's starting line-up. That XI, although containing world-class players in almost every single position, and lining up with two natural forwards in a 4-4-2ish formation, had predominantly ball-players instead of direct attacking players.
The best way to illustrate that is the nature of the two wide men. Both Nasri and Silva are superbly creative and hugely talented attack-minded players, but both prefer to keep the ball and retain possession, waiting for the opportunity to present itself, instead of always looking for the killer pass or how to lift the tempo and make yet another direct pass in attack. In addition, both Jovetic and Dzeko – although being players with different characteristics – aren't the type of advanced forwards who merely sit up there, waiting for balls to come their way to simply tap in into the back of the net. Both are very mobile and constantly move around, be it dropping deep or drifting wide, to join the build-up play and help the creation phase instead of being pure consumers.
The rest of this article is for Subscribers only.
[ttt-subscribe-article]