By TTT Subscriber Paul Grech.
When the Gazzetta dello Sport came to sum up Mario Balotelli's time at AC Milan, it did so by counting the number of times he had been in the news coming up with the now infamous '788 headlines in 568 days'. It didn't specify how many of those headlines were made for sporting reasons but, then again, that was the whole point: it has become impossible to distinguish between the sporting and the bizarre in Balotelli.
The reason for that is that the player keeps making somewhat inadvisable choices. Yet it is also because of the zeal with which papers like the Gazzetta to publish any story – preferably ones that are a bit daft – regarding Balotelli. Such a particular and selective editorial process where only a particular type of story gets published ends up fuelling an extremely lopsided public perception of Balotelli.
Rarely, if ever, is there a story about Balotelli's love of the game. Indeed, the image most frequently pushed is that of a player with almost little interest in the game itself.
Yet Sandro 'Walter' Salvioni has a different recollection of the player. Best described as a journeyman footballer who spent most of his career in the lower leagues of Italian football, he has enjoyed a similar career as a manager having taking charge of nine clubs since leaving Parma's academy in 2000.
One of those clubs was Lumezzane (in 2006), where Salvioni was put in charge with eight games to go and the team fighting against relegation. It was there that he kick-started Mario Balotelli's career.
"Every Wednesday, to give some match practice to fringe players, I used to organise a friendly game with a different local side," he told me when I got to interview him in 2010."Then one week we couldn't find anyone so we played against the club's junior teams."
"It was during that game that I noticed a striker doing exceptional things with the ball. I asked the youth coach about him and he replied 'Oh, that's Mario Balotelli. He's a bit mad but very talented'. At the end of the game I told him that starting from the next day he was going to be training with the senior side."
Salvioni had more in mind than simply having him train with the first team. "I wanted to play him but we had to get dispensation from a doctor before we could use him because he was still fifteen and at school at the time. The next Sunday I put Balotelli on when we were losing 1-0 and managed to draw the game. That was the impact he had despite being so young."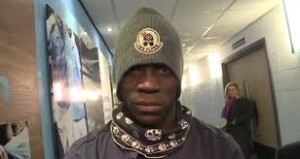 Balotelli went on to play in the side's remaining games and on the back of them earned a move to Inter. The two remained in contact – Salvioni recounts the flurry of excited phone calls he received when Balotelli learned that he was going to make his senior debut for Inter – and has no doubt over his talent.
"Perhaps he needed to be managed and guided a bit better to help him mature," he professed. Yet there's no doubting Balotelli's love of the game, as a story Salvioni recounts highlights:
"When he joined the senior team at Lumezzano I used to notice him rushing off as soon as training came to a close. Then one day I confronted him and suggested he could stay behind to practice shooting. He replied that his brother was going to pick him up as he had to go home to study but I knew that this wasn't the case because he used to come to training on his bicycle!"

"So I kept pressing for an answer and eventually he confessed that he was going to the oratorio (park) to play football with his school friends!"
Paul Grech has just written "Il Re Calcio", an e-book with ten stories from Italian football which can be found on Amazon and Payhip (for those who want a PDF version). He can be found on Twitter and Facebook.