By Mihail Vladimirov.
For this game Oscar Tabarez made five changes. Three of them were enforced and two resulted  following the disaster against Costa Rica and the change in the formation.
Maxi Pereira was suspended (following his red card in the previous game), so Alvaro Pereira (no relation) came in to play on the left with Martin Caceres moved back to his more comfortable position at right back. Lugano experienced some knee problems before the game so was replaced by Gimenez at the centre of Uruguay's defence. With Suarez now fit again, Forlan was dropped to the bench. The two tactical changes – enforcing a switch from the previous 4-4-2 to a 4-3-1-2 formation now – saw Stuani replaced by Gonzalez and Lodeiro starting instead of Gargano.
Meanwhile Roy Hodgson kept the very same starting XI as faced Italy but made the expected tweak of handing Rooney a central role with Welbeck and Sterling flanking him left and right. Another subtle change saw Henderson and Gerrard swapping their places within the double pivot unit with the former now playing to the left and the latter occupying the right-sided slot. Presumably using the more mobile and energetic Henderson on the side of Everton's full-back was Hodgson's way of trying to offer Baines more protection. But arguably, as the Italy game was already over and Baines was no longer being continually overloaded by Darmian and Candreva, this adjustment was made too late to solve a problem that no longer existed.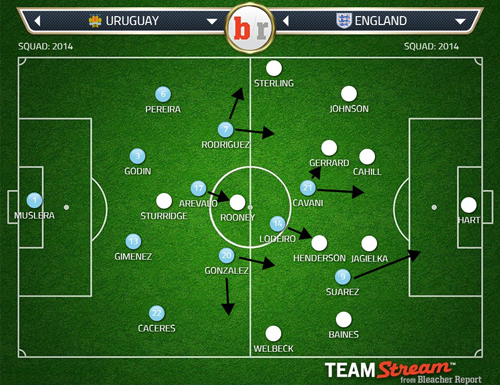 In contrast to the game with Italy, here England played much better and were not outplayed per se. They also did enough to fully deserve at least a point from this game, if not win the game. And yet, they experienced massive problems in defence and attack again, showing different types of tactical flaws in their setup from the previous game.
Tabarez springs a tactical surprise
Before the game the overall consensus among the media and pundits was that Uruguay would continue in their flat 4-4-2, with their primary aim being to remain defensively solid and wait for suitable situations to spring dangerous breaks in attack. And even when the teams was announced it looked that way, with Lodeiro apparently being used on the right to provide a bit more creativity, Gonzalez slotting alongside Rios to help contain the centre of the pitch, and up front Cavani having the key role of linking Suarez with the rest of the team.
However, once the game started, it quickly became obvious Tabarez had completely different plans for this game. He arranged his players in a clear 4-3-1-2 formation with Rodriguez and Gonalez as the side shuttlers, flanking Rios (sitting at the midfield's base) and Lodeiro (playing at the tip of the diamond).
It's interesting to wonder just how much seeing England struggle against Italy's narrow and midfielder-heavy 4-3-2-1 formation was part of Tabarez' reasoning behind using the midfield diamond. In the past, he has used the 4-3-1-2 shape a few times, especially once around four years ago when he tried to use all three of Forlan, Suarez anad Cavani up front. But this was never one of his frequently used formations, and while it was always possible that he could try to replicate Italy's approach, the fact Uruguay started with this particular framework was in fact something of a surprise.
Although Uruguay's formation was broadly similar to that of Italy's (in that Cavani wasn't merely staying up front and in line with Suarez, but clearly roaming much more with his positioning, hence making the 4-3-1-2 look akin to Italy's 4-3-2-1) there were certain drastic difference to how Tabarez and Prandelli had their teams playing. The fact is that Uruguay are simply lacking the technical abilities of the Italians, therefore it was hard to imagine them keeping hold of the ball for so long, so well and with similar guile. So, no matter the exact shape or personnel, it was always going to be the case that Tabarez's team would play with a more reactive style. And this was the main difference between how the Uruguayans and Italy approached the game with England. However, there was more to it than that. Italy played in a clearly proactive in possession style, especially in the first half; but were obviously reactive when without the ball, gifting easy time on the ball to the opposition. In sharp contrast, Uruguay were more reactive with the ball, but this was mainly because of how proactive they were when out of posssession, pressing and harrying their opponents and several times breaking forward dangerously quickly after regaining the ball. So it could be said that Italy played a 'reactively proactive' game, while Uruguay displayed the complete opposite – a 'proactively reactive' style. The crucial thing though was thatdespite being quite different, both approaches to the game gave England huge defensive and offensive problems, which ultimately is why they were on the losing side in both games.
Uruguay defensive approach
While Tabarez's decision to start with what was a 4-3-1-2 playing like a 4-3-2-1 shape could be labelled a surprising move on his part, from a purely tactical point of view it made perfect sense and was totally suitable when facing England. This is especially true once you factor in how Hodgson was expected to start this game (in terms of precise formation and line-up), with the English manager duly fulfiling these expectations to the letter.
In terms of formation, the 4-3-2-1 formation gave Uruguay the required midfield stability, but in contrast to the Italians, they used it for purely defensive reasons. The key behind seeing Uruguay completely limit the space in that zone in addition to fully nullifying England's midfielders, was not only their pure numerical advantage. There was much more to it than that. It was all about the midfield quartet and Cavani's total defensive dedication and tactical discipline throughout the whole game.
Cavani's role was actually crucial. At club level he is playing like a poacher, roaming into the last third and waiting for service in behind to simply put the ball into the net. This was especially true for his Napoli days, hence his goal-scoring exploits, but even at PSG (where he has to play on the right flank to accommodate Ibrahovic as the main striker) he is more of a consumer than creator or provider. In contrast, his international career peculiarly has always been the complete opposite. With Forlan initially the main man, then with the rise of Suarez as a geniunely world-class player, Cavani always found himself down the pecking order and often had to accept being played 'out of position' and required to fulfil overly defensive duties (such as being a right defensive winger in the often flat 4-4-2 formation, playing on the left of a 4-1-4-1, etc). Although his club record merited much more trust in using him in a permanent attacking role than Tabarez ever seemed to give him, to his credit Cavani has never complained and has dug deep, doing his best to fulfil his defensive responsibilities without a hint of unrest or any sign of having a big ego that needs to be constantly pleased.
Against England, Cavani had the duty of dropping off the attacking line and connect Suarez with the rest of the team. In the initially expected 4-4-2 formation (which is really a 4-4-1-1 due to the times Uruguay are generelly spending without the ball, and how often Cavani is forced to spend near the midfielders), this would have been a very important role, without which the team risked becoming disconnected and totally lacking in creativity, leaving Suarez completely isolated up front. With the actual shape being a 4-3-1-2, and with Lodeiro (a proper #10) starting at the tip of the diamond, Cavani had less creative and link-up responsibilities, but his defensive duties didn't change at all. What's more, it could be said that with England set up to enjoy a 2-v-1 advantage down both flanks, his input when out of possession was even more essential.
That role was all about dropping deep and sticking tight on Gerrard, either positioned in a way to prevent him receiving the ball from the defenders, or whenever he did receive it, closing him down quickly to ensure he is not able to play his usual telling passes into the advanced areas. The fact that Gerrard was swapped over to the right-sided midfield slot actually played into Cavani's hands nicely, as when Suarez plays for Uruguay he always tend to work down the inside-right channel, leaving his forward partner to play on the other side. So it was even easier for Cavani to simply tuck inside and man-mark Gerrard, as he didn't have to travel all the way from side to side, as was going to be the case if England's captain was playing in his usual left-of-centre position. In any event the defensive job the PSG's forward did was simply sensational. He restricted Gerrard to receiving the ball just 12 times during the whole half, and as a result often slowed down England's passing rhythm from the back.
Meanwhile, Lodeiro had a similar brief to Cavani's. When out of possession his job was to quickly occupy Henderson and do his best to limit England's second pivot midfielder to having the minimal influence possible with the ball at his feet. Being naturally more mobile and energetic than Gerrard, Henderson was able to vary his position more often. This resulted in him often having to travel laterally to try and escape his marker before picking up the ball in different positions. This, and the fact Lodeiro is nowhere near as discipined or willing a runner as Cavani, meant that Henderson found more room than Gerrard, which he used it to receive the ball almost twice as often in the first half – 21 times.
However, Uruguay were clearly happy to see Henderson being the freer of the two England's midfielders. Although he is indeed capable to play Gerrard-esque long passes to switch the play and feed the attackers, he still lacks that ability to dictate the tempo, and be his team's chief ball-player. All of this is magnified by the fact he has yet to grow sufficient stature and confidence to do this on a regular basis for his club and country, perhaps with Gerrard and Rooney being seen as more senior players than him in that regard.
Cavani and Lodeiro's defensive work on Gerrard and Henderson was not all about feisty tackles and making interceptions. Instead it was more about being disciplined positionally to stay tight on them and occupy them well enough to force the back four to pass to each other or simply thump the ball upfield. In addition, it required constant running to quickly close them down in order to prevent them having enough time to do something threatening with the ball at their feet.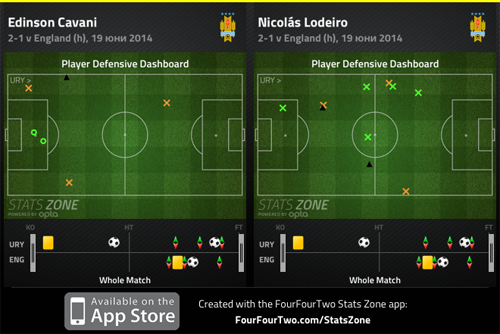 With Cavani and Lodeiro successful with their defensive duties, Uruguay's midfield trio had the freedom to concentrate on their own jobs. Similar to Cavani, Rios had the important role to man-mark England's other important link-up man – Rooney. Right from the start the nippy but powerful destroyer stuck tight on Man Utd's player and followed him like a shadow all over the pitch. Similarly to Cavani on Gerrard, this often prevented passes even being attempted in Rooney's direction – he received the ball only 15 times in open play during the whole first half. The few times he did pick up the ball, Rios was quick to engage and prevent him turning and moving forward with it.
With these three players having strict marking duties, the two shuttlers had to play zonally, but still had to execute important roles. First, by staying narrow they were always available to help out and quickly close down whichever of England's midfielders threatened to break free for a moment. This was particularly important given Uruguay's obvious willingness right from the start of the game to be as aggressive as possible and press England from high up. Rodriguez and Gonzalez are natural wingers, but they both lack creativity and incision on the ball and are much more adept to play such enforcing roles due to their hard-working style. Here they played narrower than usual, but the roles suited their capabilities nicely. With the two of them being the zonal cover to the three man-markers, on top of pressing fiercely in central areas, England were often simply suffocated and forced into conceding possession cheaply by misplasing easy passes during the early build-up process.
The secondary role of Rodriguez and Gonzalez was to ensure that their full-backs were always protected whenever England actually suceeded in passing the ball out from the back and reached the midfield zone. With the three man-markers doing a job on England's three midfielders, the two shuttlers had the freedom to drift wide and offer additional support down the flank wherever the oppositon was trying to build-up their attacks. If Rodriguez was to drift wide and support Pereira, Gonzalez remained tucked-in and ensured there was still numerical advantage in the midfield zone and vice-versa.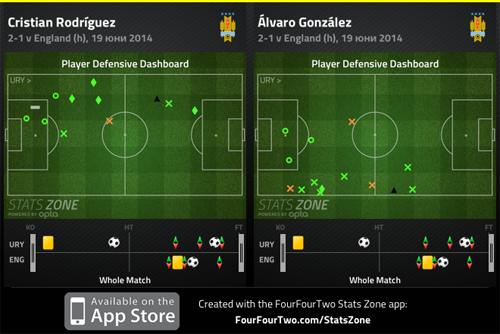 With all this in mind it was clear Tabarez's plan worked superbly. Adopting a 4-3-2-1 formation when out of possession gave his team the required solidity through the middle to ensure England's midfielders and key link-up player (Rooney) were all occupied, while ensuring his team never became overloaded down the flanks. In addition, with the team initially concentrating on pressing in narrow positions, whenever England managed to bypass these pressing waves they were forced to simply switch the ball out wide and work it forward from there. They often simply ended up whipping the ball into the penalty area which suited Uruguay nicely as it meant their slow paced centre-backs were not going to be directly threatened with pace and power. Using a deep-line made up of defenders who are strong in the air meant Tabarez's team was comfortable dealing with any resulting crosses into the box, especially given England lacked a true target-man or a player who could fight to reach such crosses.
[ttt-subscribe-article]