By Chris Rowland.
It's another for the TTT Symposium panel, and this time a simple question, one suggested by mlleclio on the Ask Paul thread last week:
"I would really like to have a game of the season poll/ article/ symposium or something.  Not least to prolong the magic."
Your wish is our command, dear Subscribers!
Andrew Beasley (Beez):Whilst I'm sure that many people will opt for the 5-0 win at Tottenham, for me there can be only one: Liverpool 5 Arsenal 1.
The Gunners arrived at Anfield as league leaders, having conceded just twenty-one goals in their twenty-four league games. Yet inside twenty minutes, Liverpool had repeatedly torn their rearguard to shreds to the point that being 4-0 down actually flattered them.
The main thing to note is how few passes it took for Liverpool to put four goals past their illustrious guests. Just fifty-one successful Reds passes occurred in the first twenty minutes of the match, meaning that Brendan Rodgers' men scored a goal every thirteen accurate passes on average; phenomenal!
The number of chances that Liverpool created (eight) means that a goal scoring opportunity was fashioned every 6.4 passes (whilst Arsenal failed to create anything at all in this spell). The Reds created four chances in the centre of the box during this period; in their thirty-seven other league matches this season, Liverpool only averaged 4.2 per full game.
The speed with which Liverpool countered was the key for the third and fourth goals. Look at the image below, which shows where Raheem Sterling was (bottom of the picture) when the Reds regained possession ahead of his goal.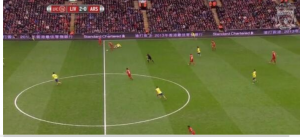 The young winger is barely level with the edge of the centre circle within Liverpool's half, yet just six seconds later he had sprinted approximately fifty-five metres to tap in near the goal line.
The fourth goal was better still. Rather than a letting out a standard cheer when it went in, I laughed in disbelief before letting out a guttural roar. As good as the Spurs away game was, they were in disarray at the time. This match was us battering the league leaders inside a quarter of the match, and I couldn't believe it.
A lot gets written on this site about momentum, and whilst it can't be proved, I can't help but think that the confidence boost taken from this result helped Liverpool win their next ten league games in a row. Discuss…
Dave Cronin: 
"If you're gonna compare a Hanzo sword, you compare it to every sword ever made… that wasn't made by Hattori Hanzo."

– Budd, Kill Bill Vol. 2
This season had more high points than the New York skyline. How do you compare one skyscraper with another after years of living amongst bungalows and being impressed by anything with an upstairs?
How can you determine what was better between a 5-0 win at Spurs, a 4-0 win over Everton, a 5-1 win over Arsenal and the dramatic 3-2 win over City? All you can say is these would have been the highlights of any other season. As would the 3-3 draw with Everton, the 5-1 win over Norwich featuring two of the greatest goals you're likely to see, the 5-3 win at Stoke, the 3-2 win at Fulham, the 6-3 win at Cardiff …
What happened this season made a 3-0 win at Old Trafford and a 4-0 home win over Spurs look fairly unspectacular!!!
I feel guilty for picking one over the others but in the spirit of the Symposium, I'm choosing Liverpool 4 Everton 0. The reason is more because it was such a surprise. It's almost laughable now but in the build up to this game, it was seen as pivotal to both clubs in the battle for fourth place.
The Evertonians really fancied themselves for this one. Around the office, all week I had to endure cocky Blues telling me what they were going to do to us.
Going into the game, Everton sat a point behind us in the table ready to leapfrog us into 4th place with a first win at Anfield since 1999. They'd lost just twice in 22 League games compared with our four defeats up to that point. The Blues boasted a defence tighter than Bill Kenright's purse strings. With 20 goals conceded in 22 League games, their defensive record was 1 goal shy of the League's best. They'd conceded just seven goals in their last 10 games compared with our seven in our last four!
We had just failed to beat a struggling Aston Villa side at Anfield with our manager being widely criticised for experimenting with Stevie G in a midfield holding role. With Lucas, Allen, Agger, Sakho and Johnson all injured, our squad looked threadbare and hugely vulnerable in defence whilst facing a striker in Lukaku who consistently damages us wherever he is loaned.
The Blues anticipated a long-awaited win at Anfield. I feared the same.
For 20 minutes it was tense. On 35 minutes it was all over…  Gerrard heading in from a corner (21') and celebrating with those maniacal eyes as Lukaku limped off; Sturridge latching onto Coutinho's perfect through-ball and finishing with ice-cold precision (33'); Sturridge latching onto a long punt out of defence and calmly lobbing Howard (35')…
Evertonians didn't know what had hit them. No team had put three past them since… Liverpool at Goodison, and no team went 3-0 ahead of them on 35 minutes.
After half-time, Everton came out determined to rescue some pride. Suarez ended that hope in the 50th minute, intercepting Jagielka's pass and running the entire Everton half before dispatching clinically.
4-0!  FOUR NIL!!!! Four-nil! Against the best Everton side for decades.
The next day, the Blues couldn't look at me. One made a point of coming over to me to say: "I don't want to talk about it." Nor did I. Not with him anyway.
Evertonians think we're smug. We're not smug. It's just hard to mask knowing our team is better than theirs without it appearing smug. Even saying nothing becomes interpreted as smugness for the silence is filled by their inner voices reminding them of their inferiority. "We don't care what the Red shite say," they sing. We say nothing. There's nothing to add to "4-0".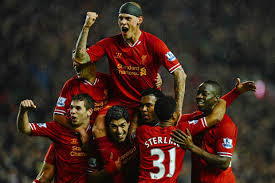 The rest of this article is for Subscribers only.
[ttt-subscribe-article]