By Bob Pearce and Mihail Vladimirov.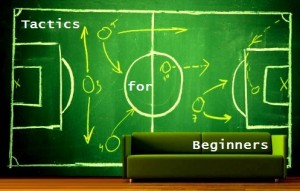 'Managed chaos'
Last time we talk about penetration, and looked at unlocking defences using team work – the so-called 'highlights of the game'. Now let's talk about the 'highlights of the highlights' – individuals unlocking defences with 'flair'. Is it too simplistic to say that tactics are about teamwork, and flair is about individuals. Where does 'flair' fit into tactics?
To me flair is that extra ingredient – the topping. It's all very well having the team framework in place, where everything is coordinated and balanced, but without that extra 'something' the team would struggle to be more than just a one-dimensional threat. Flair is the ability to provide the incision, or decisive input, be it a sublime through ball, a crisp one-two, a mazy dribble, or a superb finishing touch.
The more possession you have, the less space you enjoy. This is because, by not having the ball, the opposition will logically be in their defensive state and so looking to close down the space for you. In turn this means that in order to add penetration to all that possession your team will need to create and then exploit space in the final third. That is where flair comes into the equation. Without creativity and flair the possession would be one dimensional, ponderous and the ball is more likely to be moved sideways and backwards. Sooner or later you will need the players to take responsibility and deliver something penetrative. Flair provides penetration as it's that surprising thing that catches the opposition off guard and unprepared.
Imagine Barcelona without the flair of Xavi, Iniesta and Messi. They would be completely ineffective going forward. It's all well and good having the recycling back three (centre-backs and Busquests), the width-providing wing-backs and the wide forwards darting infield into good goal-scoring positions, but you need to 'glue' all of this together with a sufficient level of flair, especially on the ball. Here is where the three geniuses of Barcelona came to the fore. Xavi provides creativity and flair to the overall ball circulation from his deep-lying position. Iniesta provides the incision from between the lines with his through-balls and dribbles, whilst Messi does his magic all around the last third. These three players form the key playmaking pivot through the middle around which the whole shape can function in attack.
You can't have Barcelona function as 'Barcelona' if you replace the three of them with players who lack the ability to provide the flair in the right place and at the right time. Even if you remove even just one of them I believe Barcelona would struggle (unless you replaced him with a similar player in terms of type and attributes). This is because everything within the team's shape (the players' roles, patterns of play, etc.) is designed and perfectly balanced to behave in a certain way. If you remove one of the parts the whole machine will start to show defects.
Players with the magic in their boots deliver the 'Wow!' moments. Anticipation rushes through our veins when they get the ball. With some players we can almost feel the tingle of magic just hearing their names. These are the names that fans want to have on their replica shirts. Of course, like any magician it is not actual magic. The ball does not actually vanish and reappear. We know it is trickery and 'sleight of foot'. Isn't flair different to creativity? Creativity requires vision, speed of thought, technique, and speed of execution. It feels like audacity is an important part of flair. Being bold and brave enough to try the extraordinary.
I believe creativity and flair are two different attributes, even if they are often interlinked. Creativity for me is vision. How you see the pitch, the range of your view, your ability to spot passing angles and your teammates' runs off the ball. Meanwhile flair, as you so fittingly noted, requires the audacity to go with the more surprising and dangerous option.
Compare, for example, Lucas and Coutinho on the ball. I believe Lucas has good, if not excellent, creativity, but he is not a flair player. Whenever he is on the ball he will take a quick look around him, scanning the pitch and in a second or two decide how to proceed. He will rarely do anything extraordinary with the ball. He will, almost always, opt for the 'safe' pass backwards or sideways in order to keep the passing flow ticking over. Coutinho also has excellent vision, but also has an abundance of flair. That will change the way his brain is functioning. Whenever he scans the pitch he evaluates the possible options and will often decide to proceed with the high risk/high reward type of action. He may try to dribble past a couple of players in order to win space and disturb the opposition's marking system, or will swiftly thread a through ball for someone in a good attacking position. And, because Coutinho is a flair player, they won't be simply the 'head-down' type of dribbles or basic through balls simply lumped into a free space. His actions would have the added technical input in terms of different tricks on the ball when he dribbles and the subtle curves and weights he will try to add to his through balls.
Is there a balance to be found between tactical discipline and flair?
The danger with the overly flair-based players is that they might prefer to do the things which are more individual than with the whole team ethic in mind. This is the case with players like Cristiano Ronaldo and Nani. Both are exceptional technicians with the ball, especially in terms of using it on the run. But more often than not they are so concerned with trying to execute the flair option, that they are prone to disregard anything else, including potential combinations with team-mates. Such players can become labelled as too 'selfish', as they often seem to choose to dribble with the ball and then shoot every time they receive the ball.
Too much of the unexpected could actually backfire and make a team as unpredictable to themselves as they are to their opponents, which will actually benefit their opponents.
Such was the case with Suarez at the start of his Liverpool career too. This brought many headaches to the management and his team-mates. And as a result the team suffered in various ways as good open play combinations broke down prematurely. In fact his preference for always trying the flair option meant he often ruined his own goal-scoring chances too.
Which is why I believe one of Rodgers' greatest achievements at Liverpool is that he successfully unified the flair-based players into a team ethic-focused framework. What he managed to create is the perfect blend of players showing the full range of vision and flair within one whole. When you combine vision, flair and teamwork you end up with the perfect recipe for the most balanced attacking football, and so often unstoppable. It's no good having players who are only able to provide the vision but lack flair, or have players who are capable of the extraordinary but have little team ethic or creativity to evaluate anything apart from simply going it alone each time they receive the ball. The ideal way is to have players capable of offering both the vision and the flair, as this way you don't have 'passengers' in your team in the attacking spots.
Gerrard, Henderson, Coutinho, Sterling, Suarez and Sturridge are clearly Liverpool's best attacking players. It's no surprise then that the team's best football came when all of them were on the pitch. Although they are different, and are naturally able to provide different levels of creativity and flair, they all have the right blend of vision and flair. Some of them are more flair-based than others, but Rodgers managed to unite all of them with the help of one common thing; the insistence that they act for the team's greater good. As a result Liverpool achieve balance based on diversity.
Flair or Magic is the thrilling part of the game. The Wow! Moments. 'How did they do that?'. 'What just happened there?' 'What did I just see?' 'I can't believe what just happened.' Very often part of that 'Wow!' comes from the impact that their magic has tactically. Solo penetration going past an opponent breaks through a defence. Like everything you describe about tactics, it is not a simple cause and effect chain reaction. We can almost see the ripples and tremors caused. One opponent has momentarily been taken out of the game. A fleeting advantage has been gained. You smell blood. Suddenly the whole picture has been shaken up. The defensive bonds have been loosened. A bubble of space has been created that must be closed down before it can be exploited. The defensive balance has been disturbed and they have to adjust and shuffle the pack. To cover the space here a space will appear over there. Attacking players can prey on the spaces and confusion, in fact they will want to add to that confusion, mayhem and panic with their own movements. In that one moment of flair we sense that the defence might just unravel.
The rest of this article is for Subscribers only.
[ttt-subscribe-article]