Goalkeepers and Defence
By Andrew Fanko (TTT Subscriber Arisesirrafa).
It was an incredible season, full of hope, passion and pride. The title run-in was mentally exhausting, but with the dust starting to settle on a remarkable 2013/14 for Liverpool Football Club, we can now turn our attention to the merits of the individual players. In this annual series of three articles, I'll take a look at how each member of the squad performed last season, their strengths and weaknesses and, ultimately, whether they should be part of Brendan Rodgers' group when the summer transfer madness is over.
As always, this first article will deal with goalkeepers and defenders, and then subsequent articles will look at midfield and attack. I've restricted it to players that have made at least five competitive 'starts' (see below for what I mean by 'start') for the first team in 2013/14, otherwise the articles may have become too lengthy. I'll deal with loanees (i.e. our players who have been loaned out) and those who have started fewer than five times at the end of each article. I will not be discussing the players who were on loan at Liverpool last season, i.e. Moses and Cissokho, since it is clear that neither will be staying on.
For the purposes of these articles, a start is deemed to be when a player has featured for more than 45 minutes, and a sub appearance is when a player has featured for less than 45 minutes. This means, for example, that a player who is subbed off in the first half is deemed to have made a sub appearance, while his replacement (assuming he plays the remaining minutes) is deemed to have started. The points-per-game (PPG), win percentage (Win%) and clean sheet percentage (CS%) stats apply only to 'starts'. The personal goal difference per game (PGDPG) refers simply to the net number of goals scored by Liverpool per game when that player is on the pitch. For example, if a player played 38 games and played 90 minutes in each, with a 2-1 win in every game, his PGDPG would be 1. I've also included 2012/13 figures, where available and applicable, so you can compare performance over the last two seasons.
TEAM PPG: 2.16 / TEAM WIN%: 67.4% / TEAM GDPG: 1.28
Simon Mignolet /Age on 1 September 2014: 26 / Contract expires: 2018
Reina in 2012/13 – Starts: 39 / Sub apps: 0 / PPG: 1.62 / Win%: 43.6% / PGDPG: 0.69 / CS%: 41%
2013/14 – Starts: 40 / Sub apps: 0 / PPG: 2.18 / Win%: 67.5% / PGDPG: 1.3 / CS%: 25%
Reasons to keep: When Rodgers made the decision to loan out Pepe Reina, there were a few gripes among the fan base but the dissenting voices were nowhere near as loud as they would have been in previous years, simply because the Spaniard had stopped saving things. There are many facets to being a great goalkeeper, but the ability to keep the ball out of your net is paramount, and in Simon Mignolet we now have one of the best in the business.
It can be hard being a goalkeeper for a top side, particularly during the first few months, so the crucial double save Mignolet made against Stoke on his competitive debut was the best thing that could have happened. Not only did he save the penalty (something Reina had stopped doing after being so good at it in his early career), he reacted quickly to spread himself and save the rebound, thereby securing three vital opening-day points. The Belgian didn't look back, going on to make a string of excellent saves throughout the season. Saves against Villa (A), Everton (A), Norwich (A) and Palace (A) all spring to mind as being particularly impressive, and there were doubtless several others.
I've been particularly impressed with Mignolet's ability to deal with low, long-range shots. You know the kind: well struck, bouncing a couple of times just in front of the keeper; the kind Reina had real problems with in recent years. Mignolet looks very solid behind the ball and rarely spills it. The other area of his game that has particularly impressed me is one-on-ones. He's not especially quick off his line, but once he's in the position he wants to be, he spreads himself superbly and gives the striker very little to aim at. In fact, his body positioning (staying tall and with arms spread) often eliminates the favoured finish of many strikers in that situation: the little dink.
Finally, at 26 years of age, Mignolet has the perfect combination of experience and youth. With well over 200 senior appearances and yet potentially more than a decade left at the highest level, we can expect the Belgian to be at his very best in the years to come.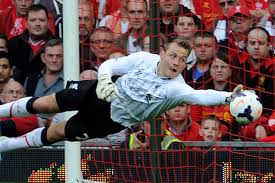 Reasons to offload: It's clear that Mignolet has flaws in his game. He may seem like a calm, unflappable character, but his nerves are often betrayed by his decision making. The former Sunderland man's biggest weakness is evidently his ability to deal with crosses. There have been very few occasions so far when his failure to collect the ball cleanly or his being caught in no-man's land has cost us a goal, but that's more by luck than judgement. In another season, his indecisiveness could have cost us 5-10 points. Confusion is contagious, and if we're to take the next step and win big trophies, we can't have a keeper that spreads panic among the back line.
We all know that Rodgers likes his goalkeepers to be able to use their feet. In that regard, Mignolet is a considerable downgrade on Reina (for us) and on Vorm (for the manager). He looks distinctly uncomfortable upon receiving a backpass, and his distribution over anything more than about 15 yards is often inaccurate.
There also remains a question mark over the Belgian's ability to perform under the highest pressure. I can think of only two goals we conceded last year where he could have done better: Negredo's at City and Eto'o's at Stamford Bridge. Both errors coming in our two toughest away games of the season.
Simon Mignolet
Keep (96%, 537 Votes)
Sell (4%, 22 Votes)
Loan (0%, 2 Votes)
Total Voters: 561

Loading ...
Verdict: Keep.
Rating: Mignolet
7 (60%, 305 Votes)
8 (30%, 154 Votes)
6 (8%, 42 Votes)
5 (1%, 4 Votes)
9 (1%, 3 Votes)
10 (1%, 3 Votes)
4 (0%, 1 Votes)
3 (0%, 0 Votes)
2 (0%, 0 Votes)
1 (0%, 0 Votes)
Total Voters: 512

Loading ...
The most important thing for me is that Mignolet shows signs of improving in the areas where he is clearly deficient. Towards the back end of the season, he started to come for more crosses and executed some very convincing punches (which I don't have a problem with; catching under pressure is fraught with danger). Overall, he has been a definite upgrade on Reina, and I see no reason why he won't improve gradually and be in our nets for the next few years.
Glen Johnson /Age on 1 September 2014: 30 / Contract expires: 2015
2012/13: Starts: 41 / Sub apps: 2 / PPG: 1.66 / Win%: 46.3% / PGDPG: 0.76 / Goals: 2 / Assists: 4
2013/14: Starts: 30 / Sub apps: 2 / PPG: 2.33 / Win%: 73.3% / PGDPG: 1.47 / Goals: 0 / Assists: 4
The rest of this article is for Subscribers only.
[ttt-subscribe-article]