By Andrew Beasley (Beez).
As the final quarter of the season is upon us, I thought it was time to post an update on the TTT Predicts competition, to see who is in the running for the title with only ten more points available.
In the last update I provided, which occurred after twenty games, the group as a whole had predicted fifteen of the first twenty results correctly (for a 75% accuracy) and were only one point out from the total in reality; thirty-eight against an actual total of thirty-nine.
However, these gaps have now widened slightly, thanks to Liverpool winning six of their last eight games when the group only predicted four (and not even all of those were called correctly). Let's take a look at how we've done since the last update.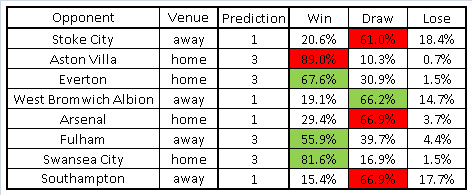 Liverpool were predicted to go unbeaten in this run, but not as impressively as they have done in reality. The Reds' record of fifty-nine points (which is their best since 1990/91 for their opening twenty-eight games) is five ahead of the TTT group prediction, and only nineteen of the results have been correct, giving an accuracy of 68%. That's still not too bad though, so well done everyone!
The below chart shows how many people had predicted each points total across the range of the selections at this point, and Liverpool have exceeded most people's expectations: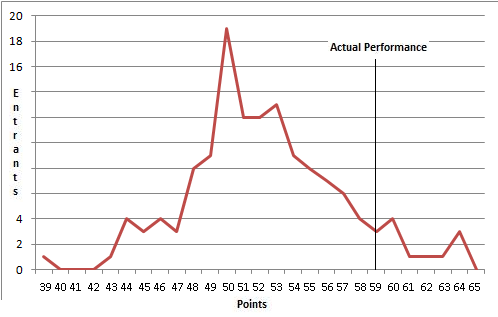 Only ten people expected the Reds to have more points at this stage of the season than they actually have, so it's fair to say that on the whole The Tomkins Times should be very happy with how the season has panned out thus far.
After twenty matches, the TTT group had made a 21.9% profit on their theoretical £5 per match bet. However, as Liverpool have done better than we as a group thought they would since then, we've taken a financial hit.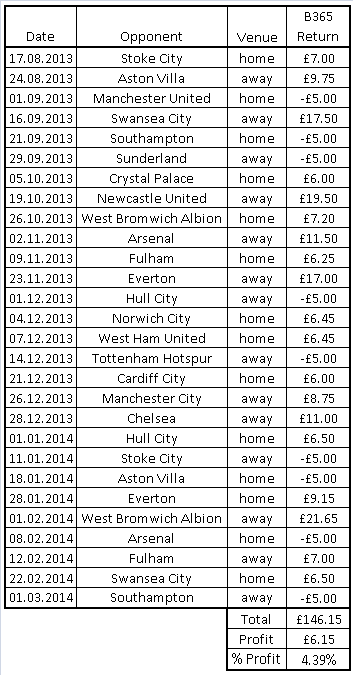 Were it not for Kolo Toure's errant pass at The Hawthorns, the group would be out-of-pocket. Has the Ivorian been reading our predictions and having a flutter accordingly?!
But most importantly of all, who is on track to win the competition? The entrants below are sorted by points and then goals. Where there is a blank, the person didn't say how many goals they thought Liverpool would score.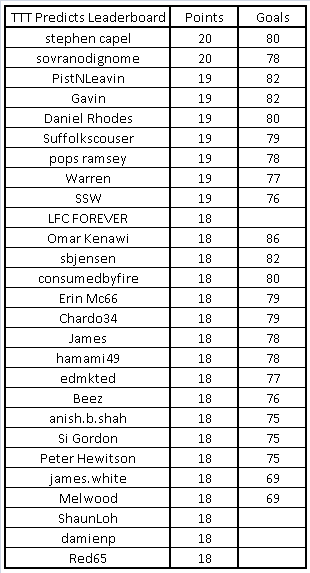 The person to watch is definitely sovranodignome, as they have correctly predicted ten of the last twelve results, whilst former leader Daniel Rhodes has only accurately forecasted three of the eight matches since my last update.
How do TTT think the rest of the season will pan out? The group predicted a nineteen point haul from the final ten games, which would see the Reds finish on seventy-eight.
Ahead of the match next weekend, it's interesting to note that Manchester United away is the only remaining fixture that the group predicted that Liverpool would lose. Proof, if proof were needed, that these selections were made before we realised just how bad David Moyes would turn out to be at Old Trafford!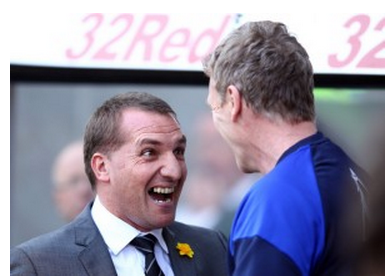 What's that, David, you think you'll beat us this week?