By Chris Rowland.
Welcome to today's daily digest, listing the day's Liverpool FC news, the latest LFC transfer news, other major PL news and also providing links to the best posts on the site's debate section.
LFC News:
At Brendan Rodgers' news conference ahead of Saturday's home game with Fulham, he said that Jose Enrique is back training and could return. Steve Gerrard and Glen Johnson are both fit to play.
He also discussed Martin Kelly's progress:
"It's just getting him fit – that's the most important element of Martin's career at the moment".

"I gave him a little sample in the game at home to West Brom. He came on and, afterwards, he probably didn't feel quite right, which is why young Jon Flanagan played in the Arsenal game."

"It's just going to take time for him. It's great credit to him that he's playing in the U21 games to get his fitness. He's a multi-functional player – he can play both full-back and centre-half well. It may well be that centre-half is his position.  As he trains and gets more games in the U21s, you'll hopefully see him get back to where he was at – which is a really high level."
Steven Gerrard considers Luis Suarez the finest player he has shared a dressing room with during his 15 years in the Liverpool first team.
The Uruguayan has fired 57 goals in 102 appearances for the Reds since sealing a switch to Merseyside from Ajax in January 2011.
"He's out on his own. The only player who comes close to producing what Luis has produced in a red shirt is Fernando Torres, but Luis has just pipped him for me."
Kop legend Jan Molby says Philippe Coutinho will get even better.
Fulham's Swiss 21 year-old, Pajtim Kasami, scorer of occasional worldies, is gearing up for his return to Anfield having spent eight months there as a youngster before a problem with his paperwork scuppered any potential deal with the Reds.
Speaking about his time on trial with Liverpool, Kasami added: "It went well but I had some problems with my documents because I was very young.

"I have fond memories of my time up there. I met a lot of good people. I played two friendlies for the reserves, with players like Steven Gerrard, Fernando Torres and Xabi Alonso."
The official site is promoting a new book by Mike Yates called 'Steven Gerrard, Michael Owen and Me'. Mike played in the same youth team as two of the Kop's biggest stars and fought back from rejection to work for Liverpool FC Soccer School's team. Mike will be signing copies of his book at the Anfield store on Friday (November 8) between 2pm to 4pm, and the L1 store on Saturday (November 9) between 10am and 12pm. Follow the link if you want to order the book.
With a special forward by Jamie Carragher, Mike tells his story of what it was like trying to become a professional footballer at Liverpool's Academy.

He reveals his highs and lows and how he bounced back from not making it alongside Gerrard and Owen.

It's a brilliant story and a must read for any aspiring young footballers out there.
LFC Transfer Talk:
Rafa's interested in Lucas, according to BBC Transfer Gossip this morning. And Sporting Lisbon "have placed a £6m price-tag on Arsenal, Liverpool and Tottenham target,  25 year-old Spanish winger Diego Capel." 
Other Football News:
The England squad for the friendly against Chile next Wednesday was named today. It includes a call-up for Jordan Henderson as well as Glen Johnson, Daniel Sturridge and Steven Gerrard. Southampton's Jay Rodriguez and Adam Lallana are Roy Hodgson's surprise choices, joining their club colleague Ricky Lambert.
Raheem Sterling and Jack Robinson are in the U21 squad.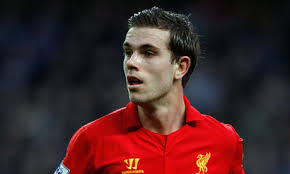 Speaking about Henderson's call-up, Brendan Rodgers said it is the latest step in the midfielder's progression to becoming 'a really top player':
"He always adds something to it. He's got a tremendous work-rate. You really sense the supporters taking to him now, appreciating what he's giving to the shirt.

"As each game goes on, he's getting better and better. Tactically he has improved, physically he's very good – his agility and mobility is excellent."
The FA is making a mid-season change to its disciplinary regulations, leaving players facing a greater risk of retrospective punishment.
"The change, which comes into effect on the weekend of November 23, will allow the FA to take action in cases like the one that saw Fernando Torres escape punishment this year.

Under the new rules, the governing body will be able to consider retrospective action for "acts of violent conduct that occur secondarily to a challenge for the ball" and "off-the-ball incidents where one or match officials did see the players coming together but the match officials' view was such that none of them had the opportunity to make a decision on an act of misconduct that took place within that coming together".
Articles Published Today:
Premier League Preview 2013/14: Fulham (H) – by Gary Fulcher, Daniel Rhodes and Mihail Vladimirov.
Best/Most Interesting Posts Today:
Yiannis (last night) had some interesting and thoughtful things to say about where we need to strengthen the team:
Every fool and his dog can see that our central midfield is a problem right now, so I would solve it… by going back to the original summer plan and buying a top class attacker.
The rationale behind it?:
For a start, three mobile and dangerous attackers would make it very difficult for any opposition team to push their fullbacks forward, for fear they would be outnumbered on the break. This would eliminate the first major problem in our central midfield – lack of mobility. Without having to worry about being dragged out to the flanks, Lucas and Gerrard could stay more central, where their tenacity can make up for their slowness.

Secondly, a heavy attack could force teams to keep a defensive-minded midfielder back at all times to keep an eye on Coutinho. This would give our other big benefit – prevent the central midfield from being outnumbered three to two.
In the same debate, Jeff's comment is worth a look (as ever):
I think we could use a quality player or players at every position. This means that need to view this matter from the perspective of what is possible.
Jeff then went on to give six categories of player that have a bearing on the situation:
players who may well leave in January, what kids are liable to emerge as regular first team players either later in this season or next season, what clubs in Europe are in need of funds or want to dump salaries or simply want to move someone on, unhappy players or players blocked from regular first team football, players who are running down their contracts and will be available either in January or at the end of the season, and young players who might be lured to Liverpool.

I do not want Liverpool to buy a player or players to simply provide cover at a position or positions but I want Liverpool to bring in players that will at a minimum upgrade our first team or have a huge upside.
The debate brought a call for a reality check from Stretch:
We've got some good options in our first team, but we could use a quality back-up in almost every position. This squad is much better than it was just a year ago, but it is nowhere near complete.
Beez asked an interesting question of our resident tactics expert Mihail Vladimirov about Spurs:
You identify Spurs as having an all-round threat – is this based on potential with the players that they have, or something specific you've seen from watching their games? Or something else?

Reason I ask is that only six teams have scored fewer goals this season, and discounting penalties no team has scored fewer.

My point is, I haven't watched them but the numbers suggest they carry relatively little threat (in relation to their impressive playing resources), so what's good about them in your opinion? Are you expecting them to 'click' and start battering teams?
Mihail's reply included:
The main thing with them is that they have a massive potential still to be unlocked. The likes of Lamela, Dembele, Sandro, Paulinho and Eriksen are yet to play together for a sustained period and gel as a midfield and attacking unit. It seems strange to me but it seems AVB is currently exploiting the good form of his wide men (Lennon and Towsend) while they are on fire. But sooner or later he will have to unleash the other players.

To me the main reason they are not scoring so much is that currently they are playing a rather one-dimensional type of football, based almost exclusevely around Lennon and/or Townsend. This suits their wide pairs, but aren't suiting their midfielders and especially Soldado. Hence the low and poor chance creation you mentioned.

Knowing AVB I believe he is waiting something to happen. To me he is building something behind the scenes.
A debate got underway about playing players out of position. Jeff had some criticism of Rodgers for doing just that to Nuri Sahin and Iago Aspas:
Why bring in a player who has been a success playing one position and ask him to play another position and be surprised when he is not a rip roaring success?

This at least to me raises a serious question as to why is Rodgers employing players differently than they have been playing before they come to Liverpool? I have no answer to this question but I do find it troubling.