By Mihail Vladimirov.
Both teams would have started with the expected shape and starting XI if it hadn't been for two late withdrawals. Wilshere and Johnson were forced out due to injury and illness respectively. Wenger and Rodgers opted to replace them like for like (with Rosicky and Flanagan coming in), hence no real change to both teams' expected tactical behaviour.
The game portrayed both teams perfectly in terms of current strengths and weaknesses. Arsenal absolutely bossed the midfield area, with their technically brilliant nippy ball-players, but lacked that box predator to finish off their possession play, with Giroud missing some clear chances or being too late with his off-the-ball movement to receive the ball and then get a shot away. Defensively the Gunners played a highly risky game. Bar a few situations, it paid off; but, on another day, it could easily have backfired.
Liverpool as a team did the crucial things, in all phases of play, well enough, but were undone by individual under-performance in defence and attack – the two zones their shape and general strategy relied on in this game.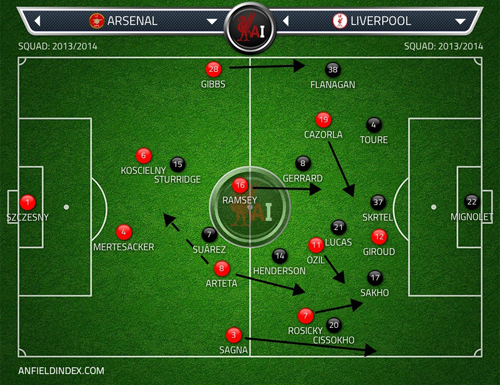 Arsenal overloading the midfield area
It was expected to see the home team lining up with five natural ball-players in the five spots behind the lone striker. Wilshere and Rosicky have a lot in common, so that personnel change didn't alter Arsenal's outlook at all. Both are highly technical and agile players who can pass excellently but also carry the ball forward at speed.
With this in mind, the main question was how exactly would Arsenal use their midfielders? Would they be too congested, effectively ending up doing similar things in similar zones, hence lacking the required diversity? Or would they be assembled in a cohesive manner, providing the variety but still emphasising their best possession-based quality?
What happened in reality was a mixture of the two. On one hand, Arsenal started the game with the obvious plan to overload the right channel, congesting that area and taking it from there. On the other, the manner in which the team indeed achieved this was perfectly balanced by the different players having different roles. To start with, although Rosicky stayed high and wide on the right flank, he didn't play as a natural winger. He received the ball down the line, but his first instinct was to always search for a passing combination with the players next to him. The role of the width provider was handed to Sagna, who constantly overlapped on the outside, keen to receive the ball and run with it. Logically this meant Cissokho was often overrun 2-v-1, unsure about whether to stick tight on Rosicky and prevent him playmaking or leave the Czech unmarked and instead focus on tracking back Sagna's runs on the outside.
The rest of this article is for Subscribers only.
[ttt-subscribe-article]