By Chris Rowland.
Welcome to today's daily digest, listing the day's Liverpool FC news, the latest LFC transfer news, other major PL news and also providing links to the best posts on the site's debate section.
LFC News:
Luis Suarez says the best is still to come from Liverpool this season. And Jamie Carragher believes they're well placed to mount a strong challenge for a top-four finish.
Details of the Official Members' ticket sale process for Barclays Premier League home fixtures for the second half of this season are available on the official site.
LFC Transfer Talk:
Liverpool are set to rival Arsenal for the signing of Yohan Cabaye as Newcastle brace themselves for renewed interest in the French midfielder in January. Roma are also reported to be interested. Newcastle are keen to hold onto Cabaye, who they value at around £18m.
Liverpool are again being linked with 20 year-old Argentine winger Juan Manuel Iturbe, currently on loan at Hellas Verona. Inter Milan and Verona themselves are also contenders. The player is being valued at £11.75m.
AC Milan are prepared to allow forward Stephan El Shaarawy to depart in January for the right price.
"El Shaarawy has been linked with Premier League giants Liverpool of late and the Reds may be alerted by Milan's willingness to cash in on the Italy international."
Clubcall say "Liverpool boss Brendan Rodgers is being linked with a January move to land Aston Villa keeper Shay Given." They don't say who by.
The former Republic of Ireland keeper cannot get a look in even on the bench at Villla Park and is desperate to move on, with Reds boss Rodgers apparently set to renew his interest in bringing him to Anfield as the cover for Simon Mignolet.
Another rehashed rumour, reproted on here a few weeks ago, is that Brendan Rodgers has reportedly identified FC Basel's talented Egyptian forward Mohamed Salah as a January target.
Other Football News:
Fulham's Sascha Riether has been suspended for three matches with immediate effect after he accepted an FA charge for violent conduct. It means he'll miss Saturday's match at Anfield.
Riether became the first player to be charged under a new retrospective action scheme, after appearing to stamp on Manchester United's Adnan Januzaj on Saturday. Under the new rules, a three-man panel of former elite referees looked at the incident and advised Riether committed an act of violent conduct.
Otherwise a bit quiet today, but a decent quiz question:
Following Alvaro Negredo's hat-trick last night, which other five players have scored Champions League hat-tricks for an English club since 2006? The answers are here, BBC Sportsday Live, 14.06. Some surprising answers in there!
Articles Published Today:
Which Position Most Needs Strengthening? – Symposium
Best/Most Interesting Posts Today:
ccm posted a rumour that Suarez might not be able to play against Fulham on Saturday due to "FIFA rules stating that players have to be released four days before they play in an international qualifier (five if it's on a different continent)." Uruguay play a qualifier against Jordan on Wednesday November 13.
j1herbert asked the current burning question regarding Gerrard's failure to track midfield runners back and how best to use him in future.
I'm not trying to Gerrard-bash with this one; I just see this issue with his energy and mobility hurting us time and again against any fresh, powerful, young midfields that will run all day (despite not having a fraction of his footballing ability). Any game where it's tight and we haven't been able to dampen their spirits with a few goals to nudge ourselves in to the lead, we will always be susceptible to be picked off like that if our Captain isn't pulling his weight at the dirty end of the pitch.

… if he really does have to play every minute of every game, against the more energetic and fluid midfield opponents (Arsenal, Southampton, Spurs, possibly Martinez's Everton) couldn't he be jettisoned higher up the park so a more defensively capable replacement could be shoe horned in, so at least if his energy levels are low then the team don't concede goals?
colmjude linked to a Talksport article highlighting how well Suso's loan at Almeria is going. The headline is "The player lighting up La Liga who will play for Liverpool in future."
"the youngster has shown incredible maturity, never shying from the ball and constantly looking to help his side out. Suso seems to thrive on the pressure, aware of what he can bring to the struggling team, and is notably happy to play across any of the attacking midfield positions in order to assist as best as possible."

Suso said: ""I had bigger offers than the Almeria one, in particular one from Germany, but I wanted to stay attached to Liverpool, an important team for me."
Ahead of their match against Almeria, a Valladolid fansite talked up his ability ahead of the game, noting that he is the 'kind of player that can cut an opposition defence open and change the tide of a game'.
"his strength is undoubtedly his vision, he is capable of threading passes to strikers that most players couldn't even imagine, and he can do it thanks to his technique and creativity. He's the kind of player you can expect anything from".

As it stands, not only is Suso playing well, but he is playing so well that he could yet save the Andalucians from the drop. Should he manage to do that, he will leave Almeria a hero, just as he already looks likely to return to Liverpool a finished product.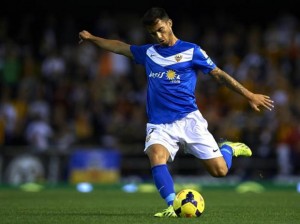 Still on the Suso theme, Rafapologist posted an interesting interview Suso did with a Spanish journalist Sandro Gálvez. These are some excerpts:
Q – You have trained with Pepe Reina, Luis Suarez or Gerrard. Who has impressed you most?

A – Luis Suarez and Gerrard are at a different pace. They are on another level. I get along great with them. When I was in Liverpool I spent afternoons with Pepe and Luis. They are excellent on and off the field, I spoke with Luis Suarez almost daily. Gerrard was living with his wife and children, he had another life.

Q – They say that Rafa Benitez went to your house in Cadiz to convince your parents to let you go to Liverpool. Tell me how was the story. I imagine your mother's face when she realised that her son was going away.

A. – The story is real. I was about to sign for Real Madrid, was just signed. The day before, Rafa Benitez called me and said he was betting on me, I did a test for Liverpool, that if he had to come to Cadiz. And it was. Wine with Pedro Campos, then scout the club, and the Carranza closed everything.

Q – Do you think we close this interview with a phrase you have in mind?

A – Never forget where you come from.