By Chris Rowland.
Welcome to today's daily digest, listing the day's Liverpool FC news, the latest LFC transfer news, other major football news and also providing links to the best posts on the site's debate section.
LFC News:
Daniel Sturridge's preparations for Saturday's Merseyside derby at Everton have been described as "not ideal" after the 24-year-old Liverpool striker played through the pain barrier for England against Germany (Guardian).
Lucas Leiva has learned exactly why Liverpool-Everton matches mean more than simply three points.
He made his debut in the world-famous clash, when he replaced captain Steven Gerrard as a second-half substitute. He reflected with the Liverpool Echo:
"It was completely different from anything I'd ever experienced before.

"That was my first league game in England and I was so young. When I first came I knew about the derby but I didn't really fully understand about it.

"I hadn't really been able to meet people around the city and speak with them about it. Coming on for Stevie in that game opened my eyes and really showed me what it meant to both sets of supporters.

"Having been here for so many years I know this is a different type of game. It's a special match. As players we need to approach it as a normal game. But we all know it's not only about the three points.

"It's about the city and about the people. This is a different week for the fans. We know it means more than three points for them."
Brendan Rodgers says Joe Allen can make a telling contribution to Liverpool's fortunes during the remainder of the Reds' 2013-14 season, as he offered an in-depth insight into how the squad's strength impacts on preparation for matches.
"Joe is an outstanding young player that since March has been blighted by injury.

"He made a great start to his career here at Liverpool, but then he curtailed a bit – and obviously a big part of that was due to injury.

"Joe is a wonderful technician. He's not going to be someone who is going to get 15 goals a season – that's not his game. His game is really to keep the flow of the game and allow you to control the ball and the game.

"At the levels we're talking about here, that's vitally important. He'll nick a goal here and there, and there will be other players that will be more defensive-type midfielders.

"Lucas is more of a controller, Joe is a dynamic player who can break lines with his passing and running with the ball. We've obviously got Steven alongside that, who can get a goal and has a great range of passing.

"He's still got a vitally important role to play for us. His first objective was to get fit, and now he's getting up to fitness."
Talking about Merseyside derbies, Kevin Kilbane on the BBC said
Playing in a Merseyside derby is like being in a bubble. What has happened before, and what might happen afterwards, just does not matter – all you care about is the here and now.

It is a game where you can be so caught up in the heat of the moment that you can lose all sense of your surroundings, and any sense of the consequences of your actions. I played in five derbies for Everton, and I can understand why there have been more red cards – 20 – in this fixture than any other in the Premier League era.
Philippe Coutinho has been told he can operate with 'complete freedom' when linking the Liverpool play – and the Brazilian is thriving in the roving, inventive role. "Brendan Rodgers has handed the No.10 free reign to take up positions, drift into space and pick holes in the opposition's game.
"The manager gives me complete freedom to link the play between midfield and the striker," Coutinho told the Daily Telegraph.

"He does not limit me to a particular area of field or a position, his instruction to me is to move around and work in different positions that are best for the team.

"My focus in the training sessions is always about movement to create openings and opportunities.

"When you don't have the ball, you still need the discipline, to know where you should be, who you should be marking, but when we have the ball it is important to be able to move around.

"That only comes with practice and I'm pleased people like my style of football."
Speaking of Countinho, he has only played one game for Brazil – a friendly against Iran in 2010 – but hopes good form for the Reds will earn him a place in his country's squad for the 2014 World Cup (Daily Telegraph).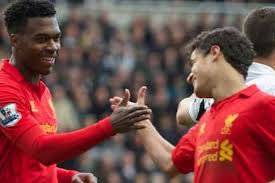 Both in the news today
Mark Lawrenson expects the openness of the current Barclays Premier League season to provide the Reds with their 'best chance' of returning to the top four.
"I think this is our best chance for a long time," said Lawrenson in the latest edition of #LFCWORLD.
"It's going to be a massive scrap; there are six teams for the top four. When I looked at it just before the start of the season, I thought we were going to struggle to get into the top four.
"So far, it has gone extremely well. It's a long season. The Premier League is so open this year, I think we've got a really good chance of finishing in the top four."
LFC Transfer Talk:
More on Kostas Mitroglou – Head of Recruitment Dave Fallows and chief scout Barry Hunter were in Romania to watch the Olympiacos star score a vital goal as the Greeks won a tense play-off.
The pair were also in Athens to watch the first leg last week where the 25-year-old turned the tie with two stunning goals to prove his pedigree at the highest level. Anfield's Head of Performance and Analysis Michael Edwards has also run the rule over the centre forward, with scouts from the club watching his last six matches.
Several Barcelona youngsters are considering their futures at the Nou Camp – and that could put a number of Premier League sides on red alert.
Spanish newspaper Sport claims Sergi Roberto, who has been linked with Tottenham and Manchester United, and Liverpool targets Isaac Cuenca and Cristian Tello could be made available for loan ahead of the forthcoming transfer window.
Valencia are prepared to offload midfielder Sofiane Feghouli in the January transfer window. Liverpool were linked with Feghouli earlier this year, but at the time Valencia were fiercely opposed to his departure.
Sporting Lisbon sources claim that they have no intention of letting star players such as Adrien Silva or Diego Capel leave in January.
Silva and Capel have both been instrumental in Sporting's performances this season which currently sees them challenging Porto for top spot.

A host of English clubs are now reported to be keeping close tabs on both players. Reports in Portugal claim Tottenham have checked on Silva, whilst Newcastle and Liverpool are both keen on Capel.
Articles Published Today:
A Question of Tactics – November 2013, by Mihail Vladimirov.
Best/Most Interesting Posts Today:
Arnar Steinsson posted on the dismissals of Borrell and McParland.
McParland, Borrell and Segura have built a great foundation which needed to be built when Rafa decided to do so. These men have done fantastic work but might want to move on to something else as there might not be much work to be done for them any more. A philosophy has been set in place in the last four years and things seem to be running smoothly from what I have witnessed. This philosophy hasn't changed much with Rodgers being appointed. Borrell has said so himself that the only change is of a formation being played. From the 4 2 3 1 to the 4 3 3. Which has no real significance because in every other way the LFC academy was operating after the Barcelona blueprint in those four years.

For me now the most important thing is that the most qualified coaches are working with the players and that seems to be the case from what I can see.
Long Ball Larry thinks "a relatively tame derby draw might be in store" in the derby.
this is one of the most significant league derbies in a while. But however big the prize of a win may be at this stage of the season, the risk of a defeat is still as damaging as always. Meanwhile a draw is pretty accomodating for both and would keep both 'on pace' for their season objectives (in position, if not necessarily in points or other markers).

An away draw against a top 8 side is no disaster for Liverpool, while avoiding defeat in your first derby would be more important than a win at this stage for Martinez.
Want to know what it's like to walk in Mihail's shoes for a while? Our master tactician Mihail Vladimirov gave us a tantalising glimpse of a week in his life:
As a general rule, If the games are Saturday to Saturday:

– I'll prepare my post-match article on Sunday and write it on Monday;

– then have Tuesday and Wednesay doing my 'general' stuff as described above;

– then have Thursday preparing the preview in my head, taking notes etc to then be able to write it on Friday.

With December offering a hectic list of fixtures with the games coming thick and fast I will need to cut off my 'free' time between the reviews and previews.

Then factor in I have to spare time to do the 'Tactics for Beginners' series with Bob. Now, we have started to produce the 'A Question of Tactics' ones too. So I have plenty to do in my days (and often nights).
Jeff's approach to PR is characteristically clear and simple:
The best approach to PR is quite simple: If we continue to pile up points at a 2 plus or more rate per match we do not need PR. In this world, if will not matter what talk radio people want to rant and rave about, if will not matter what appears in print, nor what actions Liverpool does or does not take, the only reality that supporters will relate to is that we are winning. Simply put, in sports winning solves all problems.