By Mihail Vladimirov.
The second in our series in which Mihail answers questions on tactics raised by Subscribers.
Was the substitution of Gerrard against Fulham after 67 minutes significant for you?
I suspect many people would take this substitution as a signal that Rodgers is suddenly prepared to sub Gerrard on a more regular basis. The last two home games have provided some evidence to at least suggest that. Against WBA Gerrard was replaced by Allen in the 86th minute, while against Fulham the same change occurred in the 67th minute.
But to me this isn't really the case. In the first case the timing suggested there was almost no strategical aim (give Gerrard a rest, give Allen a playing time, etc) or tactical aim (change the course of the game, switch the general tactical behaviour, etc). Meanwhile in the other game I believe the sub was dictated mostly due to Gerrard's rumoured injury problems rather than a sudden change in Rodgers' attitude towards him in terms of how to use, rest and rotate him. As such I wouldn't say the Gerrard substitution against Fulham has any significant meaning to me, at least in this moment in time.
However, if Rodgers continues to regularly sub Gerrard in the last half of hour of games or even start to rotate him due to more obvious strategical and/or tactical reasons, I may change my opinion retrospectively.
Anyway, one thing I believe is worth pointing out is that, although the Gerrard substitution against Fulham perhaps has little strategical bearing, it certainly had a clear tactical input. As I noted in my post-match article, replacing Gerrard with Allen changed the team's tactical behaviour in terms of their attitude. It visibly shifted from the previously attack-minded style to more of a passive, ball retention orientation. To date, Rodgers has rarely displayed such proactiveness to change his team's mindset to became more proactively reactive. This is true especially this season, as Liverpool have displayed less possession-oriented emphasis as a general strategy. The games against Stoke, Villa, Man Utd, and Swansea saw Liverpool starting more or less trying to compete for the ball (if not fully dominate) and be positive in their overall behaviour, only then to quickly became overly reactive as soon as the opposition started to improve and become the dominant team. This clearly invited the opposition on and gave them both the time and space to continually put Liverpool under pressure. I've always thought that a much more suitable strategy, and far less risk-inclined, was to simply change the emphasis of what the team is expected to do with the ball. From trying to be an attack-minded team dominating with the ball, to morph into more of a proactively reactive team that will use possession as the main source of defensive stability.
This is precisely what the Allen-Gerrard substitution achieved against Fulham. Which is exactly why for me, from a purely tactical point of view, this change was significant. Hopefully, in the future Rodgers will continue to make full use of the depth of tactical potential of his squad by using different players to provide different emphasis in the team's general strategy (both pre-game and in-game).
People have talked about the team adapting to accommodate Sturridge and Suarez, but do you feel they have had to adapt to accommodate Mignolet? I saw a stat somewhere that keepers use their feet seven times more than their hands now.
It's really hard to think of tactical adjustments being made to specifically accommodate Mignolet. The 'keeper generally does have tactical input into the following factors: the positioning of the defensive line, the way the team would pass out from the back, and perhaps how the team would look to counter-attack.
In relation to the defensive line, I believe there haven't been any clear changes since Mignolet came in. The team is still generally applying a relatively high starting defensive line which is then expected to adjust as the situations in games require. In terms of how the team is trying to pass their way out from the back, the patterns are more or less the same as when Reina was here. The players are still expected to recycle the ball in deep areas, using the 'keeper mainly as the 'emergency' out ball.
As for how the team is counter-attacking, I think since Rafa left the 'keeper wasn't really used as a counter-attacking weapon at all. Under Rafa, Reina was clearly asked to pick out moments and try to quickly transition the ball to the advanced players with a quick pass (generally Torres). But then neither Hodgson, Dalglish nor Rodgers seemed to use Reina in that way. The same could be said even more for Mignolet, due to Rodgers' explicit preference to see his team build-up patiently from the back.
To me, even the change to the back three formation wasn't in order to accommodate Mignolet's apparent lack of composure when the ball is at his feet. However, it did have an indirect impact on him in that this switch provided more players covering the zone in front of him better (especially the 3-1-4-2 variant). This meant the opposition wouldn't be able to press and occupy all of them adequately, which in turn led to Mignolet always having at least one free player to aim for with a short pass.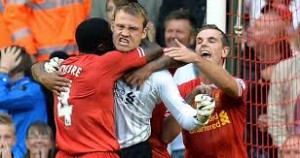 Have Liverpool got a midfield combination capable of dominating or even controlling the middle of the park against Man City or Chelsea?
If we talk about controlling the possession in an attempt to nullify these teams' strengths in midfield as a sort of general domination, then I believe Liverpool have the midfield options to achieve this.
This would be easier to do against Chelsea because under Mourinho they are not really concerned with possession, unless they need to chase a result. In addition, Mourinho is playing with a 2-1 triangle usually featuring Ramires and Lampard at its base with Oscar or Mata ahead of them.
This Chelsea midfield unit contains a few crucial weaknesses. First, they are not playing with a natural or permanent midfield holder. As such Mourinho is often asking Lampard and Ramires to either rotate responsibilities for who is pushing on and who to stay deep (when the team needs to attack against weaker teams) or to both stay deep (which is Mourinho's starting strategy against better teams).
In the first scenario Chelsea would concede space between the lines, even if it's Ramires staying as the deepest. If Liverpool are playing the lopsided 4-2-3-1 this would mean Chelsea would be overloaded in that zone (as Liverpool would have four central players) and could control the possession from high up with Suarez occupying Ramires, Gerrard and Lucas battling with Lampard and Oscar/Mata respectively, with the in-cutting Coutinho being the spare man.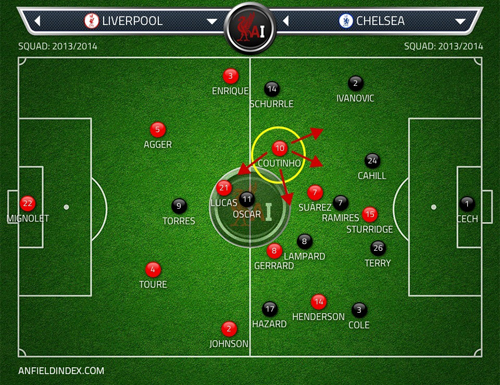 In the second scenario, while Chelsea may protect the space between the lines better, with Lampard and Ramires staying deep there would be a gap between them and Oscar/Mata. This gap could be used by Liverpool to focus the possession there in two ways. First by using the same lopsided 4-2-3-1 with Lucas and Gerrard working around Oscar/Mata while Coutinho and Suarez would keep Lampard and Ramires pinned back. Second is to use more of a 4-2-1-3 shape (Allen ahead of Lucas and Gerrard; Coutinho, Suarez and Sturridge making up a very fluid front three) and use the '1' to constantly drop deep towards Lucas and Gerrard. Both variants aim to keep the possession in deeper areas and wait for moments to suddenly shift gears and try to exploit any gap in Chelsea's back six defensive unit.
The rest of this article is for Subscribers only
[ttt-subscribe-article]