By Chris Rowland.
Welcome to today's daily digest, listing the day's Liverpool FC news, the latest LFC transfer news, other major PL news and also providing links to the best posts on the site's debate section.
LFC News:
Chairman Tom Werner believes the club are "heading in the right direction" in their pursuit of Champions League football.
"We know how much it means to our fans to get to the top of the Premier League and get back in the Champions League," said Werner.

"I just want to keep going in the right direction."
The club's owners FSG's baseball team, Boston Red Sox, won the World Series with victory over St Louis Cardinals on Thursday.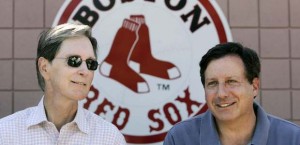 Champions again at baseball – now for the football
Glen Johnson believes the camaraderie and spirit within the Liverpool dressing room can play a key role in helping take the team far this season:
"There's a good bunch of lads, everyone's willing to work hard and I think that's showing in the games. Everyone's willing to fight for each other."
Luis Suarez has pipped Wayne Rooney and Mesut Ozil to be named as the PFA Fans' Player of the Month for October.
LFC Transfer Talk:
Iago Aspas is looking to secure a loan move away from Anfield only three months after he joined the club from Celta Vigo (Daily Star). 
Other Football News:
Arsenal's Mikel Arteta regrets the Gunners' failure to sign Luis Suarez in the summer. During his time at Everton Arteta lived near Suarez and faces his former neighbour at the Emirates on Saturday.
Ahead of their match with Spurs on Sunday, Everton boss Roberto Martinez described their opponents' squad as "as strong as anything you'll see in this league. "
Articles Published Today
Rodgers: Counter-Attack, Noise & Confusion, by Tony Mckenna.
Best/Most Interesting Posts Today:
Looking forward to tomorrow's game at Arsenal, Long Ball Larry said:
What's nice about this match is that for all the inevitable hype from now until the end of the weekend, it's fairly low-pressure for Liverpool. At least relative to Arsenal.

So enjoy it folks: look forward to a high-level clash which presents us with far less risk than it does them.
Chardo34 posted the Rafa Benitez column, which included this Rafa-esque nugget:
Why is it so difficult for an English team to copy the Barcelona system of play? Surely with good coaching and hard work this could be replicated?

"The debate about needing to create a team that works through possession and kills other teams through possession is an interesting one. Everyone seems to think that if you don't play the ball on the ground, you don't play nice football. I don't see it like that. The important thing is to play well and win games: do what you have to do to win games. Look at my Napoli team. We had 74 percent possession against Sassuolo in September and drew. We had 40 per cent possession against Fiorentina on Wednesday night and won 2-1. Possession is only important if you do well with it. Some teams don't understand that to pass the ball is not the only way. If you give a manager three or four years to develop a winning style, with the right ideas then it doesn't matter what that style is."
Another interview with an all-time Reds legend was posted by Beez, a Guardian piece about John Barnes, including this morsel about how Liverpool were taught to treat success and disaster exactly the same:
"I remember after I won my first title there, Ronnie Moran [then first-team coach] came into the dressing room and all he said was 'pre-season training starts on July 7th'. The next year, after we'd lost the league in the last minute, the same thing – 'pre-season training starts on July 7th'. He didn't make a big song or dance about it and look what happened – we won the league the following season."
In an excellent post, Maradoo mused on the issue of instilling confidence within a football club and issued this rousing conclusion:
He is fearless is Rodgers, and it is this total belief in himself that makes me think we are onto a winner. Isn't it strange how you can look up and down the club, and you will start to see these characters everywhere – Henry, the same. Gerrard, the same. Suarez – the embodiment of this.

Henry and Rodgers are building a club of winners – I am sure of it.
Another splendid post came from jimtheoracle, who looked at the reasons for Rodgers' departure from his original possession-based 'death by football' philosophy to a more pragmatic counter-attacking style:
….. the midfield in the Spanish system is everything, the false 9, the blurring of the lines of the old fashioned 4-4-2. Controlling the centre is everything. But we don't appear to work that way. But Brendan said we would. What gives?

What has given is Brendan is learning. We accept that young players need time to settle and learn and the same seems to be true for Brendan. What this change in emphasis shows is that he is willing to listen, willing to change his mind and willing to adapt to circumstances.
Yash posted a link to a Fourfourtwo article mischievously entitled 'Why Manchester United should bite the bullet and start copying Liverpool.'
It's actually about them switching to three centre-backs, and is quite complimentary about Liverpool and Brendan Rodgers.