By Tony Mckenna (Macattack).
The seduction of the beautiful game, and loyalty to our team of choice, had brought us all to the same point: currently joint top in the English Premier League. Far from being a unifying occurrence, it kindled and stoked differences of opinion, reflective of our diversity and richness of thought perhaps; not that many saw it that way. Once more, the debate became fractious; fans were reading from the same book – except not all were on the same page.
Some viewed the beginning of the 2013/14 Season as enough reason to be cheerful. The cherry-pick of results, and attendant league position, surpass concerns about how the cake was baked. Others remained preoccupied with the incidence of a key missing ingredient. Rather than rue the scale of conflict or exacerbate it, this dichotomised debate between results and performance should be embraced; it is exactly what we need. To paraphrase Gordon Gekko: "Disagreement is good".
And it is good because the situation is far from straightforward; exactly why there has been so much noise and confusion? This time round, the much maligned International break offered a welcome pit stop; an opportunity to slow down, think and to try and unravel the detail.
The World Is Not Enough
The promise of a particular brand of football, with the caveat that it would take time to implement, saw the fan base – or a good portion at least – prepare for patient restraint. A gestation period was granted. But with such an emotional investment deposited, even the most stoic of fans would need to see a satisfying return at a not too distant juncture. Then puzzlement struck. Maybe it was not so much the sake of performances on the pitch – per se; but rather the apparent dismantlement of a former 'work in progress'.
Progress is one thing but to regress from expectations is quite another. The mind works in linear fashion so volte faces are destined not to go unnoticed; disbelief is guaranteed. Carragher's utterance, during a spate of football punditry, was a prominent example of such incredulity. Statistical feedback from the Sunderland game belied the very foundation on which Rodgers' philosophy had been built; he refused to accept that this was the result of the Irishman's conscious design.
In terms of timeline, pinpointing change, that observation is significant. It came from someone freshly released from Rodgers' tutelage – as recently as half a dozen games ago. Presumably he had no inkling of an imminent change in style.  Outsiders would naturally share the same bewilderment, maybe more so.  And so it transpired.
There had been a lot of noise and confusion from the Twitterazzi set in general; but to adhere to a more specific, quality source, none had put it more succinctly – and poignantly – than Ted Knutson. Depicting a mock movie scene, in an excellent article, one protagonist, John Henry, questions another – Brendan Rodgers. The question relates to the disparity, in key statistics, between this season and last:
| | | | |
| --- | --- | --- | --- |
|   | 2012/13 | 2013/14 | Contrasting Position |
| Shots   PG: | 19.4 | 12.6 | 1st/11th |
| Shots   Ag PG: | 11.4 | 13.8 | 4th/14th |
| Possession: | 57.2 | 49.5 | 3rd/10th |
| Pass: | 84.2 | 80.8 | 5th/10th |
(Tied for 3rd, But Reasons For Concern – Liverpool After Five Games.  By Ted Knutson)
The calm surface of the sea can mask powerful undercurrents; similarly, consideration of league position alone may also ignore hidden depths.  The above statistics should, at least, be of interest to Liverpool fans. However, just six re-tweets and two favourites to date suggests it was not. That is not to claim that they necessarily correlate with an imminent reversal of fortune in the league. There is, however, no harm – and every advantage – in terms of research profounder than a number telling you what rung of the ladder you currently stand, especially with only 15 per cent of the job complete.
Of course, this all depends somewhat on how you decide to consume your football in the first place. Some people are content not to look at stats at all, which is fine; but so too should it be that others get their football fix in a different way.  Inevitably, however, this fosters asymmetry of information within the fan base, in turn, promoting conflict – people are playing off different bases. To be fair, those who do absorb statistics could not help but sense a jolt to their addled brain; the above numbers do suggest retrograde steps from last season to this.
It may be possible to resolve one issue at least; and this is quite a clincher. Rodgers had identified a missing link: performances have not been to his own particular taste; he intends to rectify that situation. He commented to that effect after the Sunderland game, and repeated much the same ahead of the Newcastle encounter:
"We'll get better as we grow together more, I go on about performances because I don't just like to get three points.  I worry about playing well and playing in a certain way.  That's always how I've been".  (Telegraph Sport 18.10.13)
So, despite great results and League position, Rodgers drinks from a half-empty glass. This offers a resounding alibi for those accused of pessimism or negativity it seems – the Manager shares a similar mind set.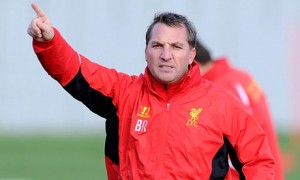 Where do we go from here?
Plato, Philosophy & Eclecticism
Rafa's article (Independent 27.9.13) was interpreted as indirect criticism of Rodgers; or, rather 'direct' maybe – whichever way you care to look at it.  Certainly, references such as 'leaving philosophy stuff to Plato' hardly require leaps of imagination to deduce cocked snoops at the current Liverpool Manager.  On the other hand, the wording is subtle enough for Rafa to deny targeting a specific individual, and probably not explicit enough for the charge to stick.  Unfortunately, the prevalence of that debate possibly detracted from the real rum in the mix:
"My Napoli team have played five games so far in Serie A and we have been up against a different system in every game, with some opponents changing their system two or three times during a game".
Pure and unbridled eclecticism; not just over a season campaign but often within individual games itself.  Rafa's approach would indeed make sense if the modus operandi of the opposing team changes; presumably, they have changed to exploit a perceived advantage. Adaptation and flexibility are essential to avoid conceding an edge.  An observation from a true philosopher seems relevant and fitting in this context:
"In Football everything is complicated by the presence of the opposite team". (Jean-Paul Sartre).
Your opponents will never oblige and play the game to accord with how you set your stall out. Here lies the rub of the main criticism bestowed upon Rodgers: he has no Plan B; therefore, he does not adapt, or demonstrate flexibility, in accordance with the flow of play. This can no longer be a valid assessment because, without question, Liverpool's style of play has manifest change.
Rodgers, quite possibly, is exhibiting a hitherto unknown eclecticism – sharing more in common with Rafa than previously thought; with an emphasis shifting from Spain to Germany. Of course, we now know that the Liverpool Manager, and some of his players, attended Bayern's master class at the Etihad; a game that rendered billionaire-bankrolled Manchester City looking rather poor.  But Rodgers did offer clues suggesting that he had been watching Bayern well before this.
'Counter-Attack' Country
Ever since Guardiola has been installed at Bayern, the football media has been attempting to compartmentalise his next tactical phase. The Spaniard had formerly been associated with a particular brand and style of football; is this about to change? The incumbent manager himself fuelled curiosity as to which cards he may be holding:
"It's hard to tell whether Guardiola has subtly toned down his tactical ideas to make them fit reality more closely – he recently described the Bundesliga as 'counter-attacking country', where preventing quick transitions is 'the most important thing' – or if the team are just better able to implement his complex combination of smart positioning and manic pressing".  (Honigstein, Guardian 4.10.13).
We will have to see if Guardiola has changed his approach to suit a new environment; it remains a moot point at this early stage. Uli Hoeness, Bayern's President, had remained coy on the specific answer; evidently, he considers tactical disclosures as an unnecessary 'heads up' to opponents. Rodgers, however, has mentioned that he looked at Bayern's system during the summer, illustrating that tactical watch with more transparency than Hoeness would care for. More to the point, he likened the system to the one he had been attempting to employ at Liverpool:
"The system is normally based on the characteristics of your players, so far us we've tried it….I've looked at it a number of times last season with Daniel Sturridge through the middle and Luis Suarez just off the number 10 but he's not a number 10".  (Goal.com).
Has the emphasis shifted from Barcelona?  Has the ticker tape settled on tiki-taka? First there was no Plan B and now there is? Is Rodgers now closer to the eclecticism of Rafa Benitez than many would have envisaged? All of these questions are best considered rhetorical; the answers, no doubt, will still cause endless debate and argument. But many have already asserted that Liverpool are now more of a 'counter-attacking' side; others are wholly aghast at the discrepancy – firing a salvo demanding the return of a style that was promised.  Tiki-taka Bloggers, in particular, floundered to find themselves suddenly outmoded.
Noise and confusion has been exacerbated by the apparent swiftness of change. Contrasting comments made by the Liverpool Manager – at opposite ends of the last 12 month period – help to underline the disarming speed. After the victory over Sunderland, he spoke about Liverpool being 'dangerous on the counter-attack'.  In terms of style and philosophy, had that ever been a salient phrase in his vocabulary even? He certainly adopted that style at Watford; the problem is that it was not the style expected at Liverpool. Not a year has gone by, since that interview with Robbie Savage, whereby Rodgers evidently distanced himself from a style now adopted by his former team.
On 23rd November 2012, he described Swansea City as now being more of a 'counter-attacking' team; that seemed to hint at personal closure on that particular brand of football. Yet it is just after this period that many fans now believe that Liverpool had become a counter-attacking side; which would make those comments about Swansea seem strange.
Another problem remains: if Jamie Carragher was still at the Club during this time, the Pundit should not have been perplexed, during his analysis, at the beginning of this season. We now raise more questions than answers for sure, but that is about the size of this debate.
"You Are Here"
Despite the confusion about performance and tactics, there was nothing mysterious about our league position. And it is absolutely valid to look at a map that enables a 'You are Here' stock-take of your journey; but caveats should apply.  Statisticians also provide comparative 'Where You Once Were' reminders; yes, we have kind of been here before – whatever style of football applied:
"March 2010, a 4-1 win over Portsmouth took us to 73 points from the last 38 games, and it's been 70 or lower since.

Interestingly, we've taken 41 points from the last 19 games – this is the first time we've taken as many in a 19 game chunk since October 2009".  (Andrew Beasley, TTT Post: 6.10.13)
October 2009, in a footballing history context, is so recent as to fall under that umbrella remit often referred to as the 'modern game'; this is no ancient history discourse. Currently, in the 2013-14 season, just four years later, we are in the same position; we get to call it 'progress'. By virtue, that accolade ought be attributed to LFC's performance between October 2009 and March 2010.
Similarly, we can reference those two famous tweets by John Henry, on July 6th 2011. From January 22nd 2011 to the end of 2011/12, LFC had the best goal difference, ahead of Chelsea, United and City; plus we were second in terms of goals per game scored (2.00); only fractionally behind the joint leaders, Chelsea and United (2.06). Which was not only top 4 form; but also in the race for the title. And if those scenarios had been forgotten then the ensuing stories have not; the trajectory was not a relentless upward curve. The managers, in both time frames, have since been despatched.
It is just a warning. Progress, based on back data, is not necessarily a portent of things to come; the past is no indication of the future. There can only be hope that, this time around, things will be different and we maintain form over a 38 game period – occurring in just the one season.
Conclusion
It may be time that credit is due to Rodgers for demonstrating tactical flexibility, smashing the myth of dogged reliance on one system alone. But confusion was inevitable, and still is, because the changes had not been foreshadowed by any obvious intent; the fan base was caught unawares.
More power, also, for Rodgers' refusal to rest on the laurels of current league position; openly expressing discontent with performances on the pitch. Here lies the most important consideration for the future: performances should reflect what Rodgers sets out to achieve: great football – with whatever philosophy and style he is adopting. We can then be assured that we are more in control of our destiny rather than in a phase that could exemplify what we all may have forgotten to remember.
Are we currently at the beginning of a contingency phase that will continue ever upward, or in a sample size spike of good results – a replication of the periods October 2009 to March 2010; or from January 2011 to season end? Since the question would imply predicting the future, we must heed a lesson from William Goldman: "Nobody knows anything."
Injury Time
What we all share in common is a relationship with a game that forever holds us spellbound, its mysteries ever-present, unfathomable and elusive. We need to respect the improbability of such circumstances holding any definitive answers, and, therefore, the inevitability of different interpretations. With our opinions and views – the essence of which make us opposites despite the same Club allegiance – we inevitably lock horns during wars of attrition.  You get to shake your fists, cuss and swear at your opponent during debate if that is your style, but it hardly serves a purpose.
Truthfully, we need people to disagree with us; it keeps the narrative fresh and alive.
'Disagreement is good'.
Most of all, it prevents the incidence of just one,potentially wrong view dominating the floor.
Face up to it; we need each other for the long haul ahead. Addictive compulsion means we are inextricably tied to the mast – come storms or calm seas – on a journey that will last the entirety of our respective lives. Given that longevity, take heart in our need to co-exist.
The rest of this article is for Subscribers only.
[ttt-subscribe-article]