By Chris Rowland.
There's been an odd duality surrounding this season so far. Results and position have been better than for many a year, yet many supporters, on here and elsewhere, have been left unconvinced by our performances, and have asked questions about our ability to control games and our tactics.
So we asked our panel the above question, and sat back to wait for the answers:
Daniel Rhodes: According to Twitter, the worst thing in the entire world is Lucas – it is like 2007/08 all over again. If only we had Wanyama, we'd be the best team in the league, or something.
For me though, the worst thing has been watching the second half of games. I blame Ian Ayre for not lobbying the Premier League hierarchy pre-season, insisting on first half-only matches. He should have predicted this, and acted accordingly.
It's been a weird mix of always taking the lead, sitting deep and trying to use Sturridge's pace on the break. Except our ability to transition from a deep defensive unit and catch teams off guard has been very poor. Analysing this is difficult; while our second half performances have been poor – the actual consequence of them has, usually, been positive. We have held onto the lead, and secured the three points. The only match that needs writing off completely is the home defeat to Southampton.
The best thing this season: Suarez's header against West Brom – a powerful, curling, pinpoint effort from the edge of the penalty box that, according to Joe P, "completed football".
The next best thing: Daniel Sturridge. Hard to put into words how impressive he has been, and it's not just the goals. Every interview, every quote, just oozes class.
Finally: Simon Mignolet, a goalkeeper that basically kept Sunderland in the league last season. It is hard to quantify just how important that opening day penalty save will be in the context of our season. When you watch the reactions of the players around him, the only conclusion is it was absolutely vital. A moment to change the season during the opening match; is that even possible or logical? I don't know, it obviously didn't cause a positive tide of momentum. It obviously didn't win us anymore points than the victory away at Villa; but it did stop us dropping points in a game we dominated. A game, like last season (and the season before), that should have been put to bed before half-time. A game where we have more shots, more chances, more through balls, more passes and could still have ended up with a point each (or even lost – WBA at home last season). Not this season though, this season we're efficient, clinical and tough to beat.
Long may it continue.
Si Steers: The best thing…Well the obvious one is Suarez and Sturridge who are quickly developing into the best strike force we have seen in a generation. But for me, I have been pleased with two less obvious signs of progression. I think this season we have shown a much better mentality in games, a real desire not to lose, even when we haven't been at our best. I strongly believe Toure has been a big factor in that. The second thing is the growth of Jordan Henderson; he is becoming an integral part of our side, and is now starting to take on more responsibility. I think there is a lot more to come from him as well, I think as he continues to mature he will add goals to his game, he has the tools to be the complete modern day midfielder.The worst thing…I have been disappointed with our performance level, despite our excellent results. It feels like the team has lost a bit of the identity it was building last season under Rodgers. We have become a little bit more functional, and less fluid. That could be a reaction to the pressure of Rodgers being mid-way through a three year contract so results become more important than performance. Or it could be that injuries have deprived Rodgers of his idealistic 11 so far. With the return of Coutinho, you'd expect that our fluidity will be much better, and West Brom was the first time we really saw a glimpse of us at our best this season. You would expect that our performances will improve as the season progresses, if that aligns with results who knows what is possible this season.
Mark Cohen (Maradoo): Let's start with the worst – there is no doubt that the lack of control from midfield areas has given us all a bit of grief since the season began. I am certain that, regardless of which style Rodgers wants us to play, he has little desire to see us lose control in any match. There have been notable instances where we have really struggled for control, like the Swansea and Southampton games, and we also lacked cohesion against a 10-man Newcastle side. The long-term solving of this problem is going to take different personnel, as Gerrard and Lucas together lack the pace and stamina to construct enough passing angles to effect Rafa-like domination of matches. I don't believe for a moment that Rodgers' long term plan is to become a counter-attacking behemoth as possession football is ingrained in his (and our) psyche and is clearly, if past league winners and European Cup winners are to be believed, a more viable way to play winning football. Rodgers needs to utilise Gerrard, as his Scouse heartbeat provides a tangible connection to the fans, keeping us onside, whilst reminding others on the pitch what it means to play for Liverpool. Much of our fighting spirit is down to having these types of characters around, but sooner or later, the midfield will need to be adjusted to suit modern football's box-to-box nature.
Now, the best part of the season also stems from the worst ironically.
Conventional wisdom tells us that if you lose midfield control the end is nigh. However, Rodgers has shown why conventional wisdom doesn't put you in the hot seat of one of the world's biggest clubs. Everybody is always a genius in hindsight, when all the facts are plainly available, but Rodgers had the foresight to work out that filling your team with simply sublime attacking skill upfront in Suarez, Sturridge and Coutinho, and augmenting the rest of the XI with high quality, solid Premier league talent is a recipe for points in this division. The best part of the season is that, in spite of a small squad, Liverpool have emerged as seriously equipped for a top 4 challenge due to our light workload and almost unparalleled final third ability – a credit to FSG's hard stance over the Magician in the summer, and Rodgers' understanding of the simple adage that 'goals win games'.
We are always hunting for that elusive term 'progression' and seeking an upward trajectory for our club and at this stage, with 20 points in the bag and 87 still to play for, it seems impossible that we won't significantly improve on last season tally.  So I suppose the bestest best part is relevance – it is great to be back challenging and contesting and being part of the drama. Long may it continue.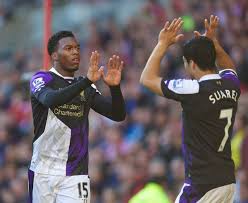 The rest of this article is for Subscribers only.
[ttt-subscribe-article]