By Chris Rowland.
Welcome to today's daily digest, listing the day's Liverpool FC news, the latest LFC transfer news, other major PL news and also providing links to the best posts on the site's debate section.
LFC News:
Daniel Agger has insisted he has no plans to leave Anfield despite telling a television channel in his native Denmark he would consider an exit if he does not play (ESPN). 
Aly Cissokho is relishing playing in the 3-5-2 system currently being used by Brendan Rodgers and feels the role gives him more freedom to participate in Liverpool's attacking forays:
"It's a role I like a lot," Cissokho told Liverpoolfc.com. "I can get up the field a lot, whilst remaining safe in terms of the three behind me. We have three defenders in line as flat backline, which gives me a lot of freedom.

"We have midfielders who work in line, so it takes a lot of physical and cardio effort to get up the wing and track back in case of danger and to defend as well.
Kolo Toure admits he has fond memories of his time at Arsenal – but insists there will be no room for sentiment when the Reds travel to the Emirates on Saturday:
"I think it's going to be a great game for me to play," Toure told the Liverpool Echo. "I had some great times there and it was a big part of my life.

"Without Arsene I wouldn't be here. He was the one who saw me. He's a fantastic manager and gave me my chance to play football in this country.

"It's always special to go back there but at the same time I want to show on Saturday that Arsenal made a mistake by letting me go.

"I'm going there to fight. I want to show them what I can do and help my team – Liverpool – to win. Right now I don't want to think about any of the good things that Arsene did for me as I'm focused on getting those three points."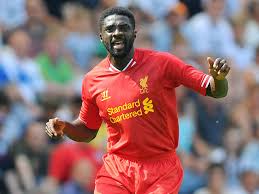 No room for sentiment ….
Andre Wisdom says gaining first-team experience at Championship side Derby County will be key to his development as a player.
LFC have today become the first Barclays Premier League club to launch an official Facebook page in Spanish – so if you want some LFC supporting amigos you know what to do.
Liverpool supporters from Spanish-speaking countries – notably Mexico, Colombia, Argentina, Spain and much of South America – will now be able to access a dedicated LFC Facebook page in their local language.

Today's news follows the announcement in December 2012 that the Reds had become the first British club to launch a Spanish-language Twitter account – @LFCEspanol – now followed by over 23,000 fans.
Liverpool are said to be "pondering a move" – perhaps the Transfer Committee are gathered round a table stroking their chins right now – for Argentinian attacking midfielder Juan Iturbe, according to Italian news site CalcioMercato.
The 20-year-old has been in impressive form of late for Serie A surprise package Verona after joining the club on loan from Porto.

Although Jorginho – a target for the Reds, Arsenal and Chelsea – has been stealing the headlines for the Italian side, Iturbe has been just as impressive.

His fine displays have alerted Brendan Rodgers, who is keen to build a squad capable of challenging for league titles and European qualification over the coming years.
More Will Hughes talk, from the Daily Mail:
Liverpool are planning on splashing the cash come the opening of the winter transfer window in the new year in an effort to ensure the club finishes this season in the top four of the Premier League, with in-demand Derby County midfield player Will Hughes said to be top of head coach Brendan Rodgers's shopping list.

The Merseyside giants have surprised many neutral observers by the impressive start to the new campaign they have made under the Northern Irishman's management, with the Reds currently sitting in third place in the Premier League standings, level on points with Chelsea, and two off leaders Arsenal after the first nine matches.

And in a bid to qualify for next season's Uefa Champions League for the first time since the 2009-10 campaign, the club's American owners, the Fenway Sports Group, are prepared to back Rodgers come the turn of the year, starting with the purchase of the Rams' England Under-21 international.
Real Madrid are plotting a January move for Luis Suarez, 26, by offering Liverpool £20m plus fellow forward Karim Benzema, 25 (Daily Star).  Now where've I heard that before?
Now here's a handy tip – never play any sort of guessing game with the agent of Steaua Bucharest left-back Iasmin Latovlevici, because he'll spoil it:
Florin Iacob, who represents Latovlevici, says the Anfield side are monitoring the Romania international.

He told Romanian TV channel Sport.ro TV: "There is the interest of Monaco. But I was also contacted by bigger clubs and no-one should be surprised if Liverpool show interest. This I will not confirm, but it would not be a surprise."
Yeah, cute.
Other Football News:
Uefa has punished CSKA Moscow for the racist behaviour of their fans during the 23 October match against Manchester City. Part of their Arena Khimki stadium (sector D) will be closed during the club's next Champions League home fixture against Bayern Munich on 27 November.
Quite a funny Twitter response from Stan Collymore:
I'm a racist. I'm going to move to section E against Bayern… more Uefa clownery.
Jose Mourinho is believed to be targeting a move for Real Madrid's Xabi Alonso, 31, when he becomes available for a free transfer next year.
Articles Published Today:
What's The Best and Worst Thing About The Season So Far? – TTT Symposium
Best/Most Interesting Posts Today:
Bob linked to an e-petition Norman Bettison, with the astonishing news that Wolves chairman and 'Liverpool fan' Steve Morgan has invited Bettison to football games as a guest.
Hardly surprisingly:
Hillsborough campaigners have expressed disbelief and fury ….

The news is all the more damaging for Morgan because he is a lifelong Liverpool fan and former shareholder who mounted a takeover bid at Anfield in 2004.
The e-petition is to have Bettison "stripped of his Knighthood and forced to face a retrospective disciplinary panel in regards to the IPCC report published that recognised that his conduct fell well short if what is expected from a Police Chief."
The report suggests Bettison would have been sacked had he not resigned. In doing so Bettison protected his pension and has escaped justice as he will now not face any action.

The retrospective hearing should decide if he should indeed have been sacked and if found guilty he should have his pension stopped.

If you have done nothing wrong then what do you have to fear Sir Norman??
If you would like this man to face justice, you know what to do – the link is http://epetitions.direct.gov.uk/petitions/47770
Cianos looked ahead to our next ten games and drew these conclusions:
"…. assuming most of us would be happy with a 70 point season, hitting the half way point with 35 points seems an obvious indicator of how that is progressing. Below is a list of our next ten games which includes our 5 difficult away fixtures and brings us nicely up to the half way point in the season.

If we win the five games we 'should' win (Hull are still unbeaten at home but you'd still fancy us there) we have our 35 points so effectively we could lose all five difficult games and still be nicely on track. I don't think we will lose all five and we might just slip up in the easier games too but if we come away from Stamford Bridge (Dec 28) with anything over 35 points, we'll be nicely poised for the second half of the season.
Commenting on the season so far, Stretch said:
We've had a kind fixture list, that cannot be denied. We've only played one of the teams who finished above us last season and that was only Manchester United at Anfield. We've been caught out by high pressing teams, and are still operating on internal tactics only (by which I mean our set-up has only our own players in mind and is not tweaked from week to week).

It feels like someone is going to find us out sooner or later. That West Brom game went a long way to show how devastatingly good we can be on our day, but we still haven't kept a clean sheet with our new system. If SAS fail to score one of these days, we're going to struggle not to lose.

But we're in the mix again! For a change we just have to maintain our current level to achieve our goals rather than mount an impossible comeback. We've got a firing frontline that takes me back to the last time we were in the mix with Gerrard and Torres tearing the league apart.
He summed up the feelings of many of us when he concluded:
I don't really know how to feel yet. I think we're going to fall out of the top four in the next two months as we've got a bastard set of fixtures coming up (away trips to Chelsea, Arsenal, Everton, Tottenham and Man City before the end of the year). Once those are done however we'll have the January window (where our scouting team will be brilliant once again) and a much easier run into May.

If we are still in the top 4 at the turn of the year, then I wouldn't bet against us staying there. If we're not, then I still think we have a chance.

Ultimately, it's the hope that kills you…
In a later post developing the theme, Stretch made the point that "We're so used to the storyline robbing us of a deserved victory that we get nervous in even the most comfortable of situations."
Robbie's Left Foot suggested that "our fixture at The Emirates has the potential to propel this team, and club, onto a different level. One where all involved suddenly feel that intangible quality that something good is happening, that the impossible is possible."
I'm not suggesting the Arsenal game is definitely a season definer. Get a point and we'll be happy and still in the top four. Lose and we'll say we've still had a good start. Win and yes, we may then go on to lose at home to Fulham and all the good work is undone. BUT, something about this season seems different. Something I can't put my finger on or something I've not felt since… I don't know, say 2004/2005.

Win on Saturday and this doesn't make us instantly title contenders, or even guaranteed champions league qualification, but it will make us all believe. Believe that we can compete in every game and we will score every time we take to the pitch.
Beez produced an interesting stat, as he does, talking about the Southampton defeat at home and the win at Sunderland which followed it:
I've mentioned this before, but it was the eighth time in a row that we've won the league game directly following a league defeat. As an achievement, I don't think that gets enough credit.

It is inevitable that from time to time we will put in a stinker of a performance and probably get beat. What is key is how we respond to that, and to date Brendan Rodgers has been impeccable on this front.
Speaking of numbers, Jeff talked about how young player development is a numbers game:
You have to have literally a huge number of prospects coming through your system at any one time to produce one player. In addition, you have to realize that sometimes you produce players and other times you hit a dry spell.