By Paul Grech.
When I first heard that Simon Hughes was going to publish a book where he had interviewed eleven former Livepool players from the eighties to get their views of what made the side so successful, I thought that it was a great idea but, perhaps, not a highly original one. After all, my own library already holds a couple of books that take the same approach, albeit whilst looking at different eras or clubs.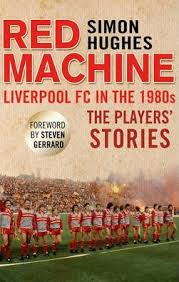 Yet, although the underlying idea might be similar, the execution is completely unique and original. This is largely because Hughes has been intelligent in the people he's chosen to talk to. There are big, legendary names one would expect to find in such a book – John Barnes being probably the most prominent one – but there are also plenty of players whose impact on the club has not been as long-lasting.
For instance, one of the most memorable chapters is the one where Hughes talks to Howard Gayle, who only played five times for Liverpool but whose story is particularly telling because of his upbringing and how this influenced how he acted within the club.  Gayle was Liverpool's first black player but his story – which was very much the result of the time and area where he grew up – and the later one of John Barnes highlight why one managed to change attitudes and the other couldn't manage to.
The inclusion of Kevin Sheedy who, famously was sold by Liverpool but found success at Everton, was surprising yet refreshing. In an era where Liverpool simply didn't make mistakes in the transfer market, it offers an enjoyable perspective and, even though he is an Everton icon, it is impossible to end up feeling any animosity towards Sheedy.
Throughout the book there are common themes; threads that link each player with the rest. One of them is the heavy drinking culture which, largely because of the times we now live in, seems quite shocking. Another is the 'banter', that in truth verged on bullying, that went on in the dressing room.
The most touching moment came in the final chapter where Hughes spoke to Ronnie Moran. Throughout the whole book, Moran had been a recurring theme for the aggressive way he handled players; the tough guy who made sure that there weren't any airs or over confidence. Although all players in a way or another acknowledged that Moran was playing a key role, none appeared to be overly fond or sentimental when talking about him. After all, this was a man who never seemed to betray any emotion whilst a member of the coaching staff.
Yet, a few sentences into the chapter and we're given the image of Moran looking longingly at a picture showing the main members of the famous boot-room. It is clear that these weren't simply work-mates; they were his friends and he misses them greatly.
Despite his age, Moran still delivers a couple of important contemporary lessons. The first is that the most important aspect of a player is his character, something that too many managers over the past couple of decades have overlooked (not least, it has to be said, the last of the bootroom boys, Roy Evans).  The second is that defeat should never be taken lightly and that too has, far too often been forgotten.
And that is why such books are important. They remind us how great Liverpool were, true.  More than that, however, in them we find the seeds of what is needed to make Liverpool great once again.