By Chris Rowland.
Welcome to today's daily digest, listing the day's Liverpool FC news, the latest LFC transfer news, other major PL news and also providing links to the best posts on the site's debate section.
LFC News:
Metro say Brendan Rodgers is confident Luis Suarez, 26, will stay at Liverpool beyond the end of the season, despite his summer flirtations with Arsenal and Real Madrid.
Lucas Leiva believes Luis Suarez is a man on a mission to bring Champions League football back to Anfield:
"Luis is one of the top five best players in the world and he wants to be there in the big games. That's why he's so committed to this team – he wants to put Liverpool back in the Champions League.

"That's what we all want – the players, the staff and the fans. If we all stay together, especially during the difficult moments, I think we will get there.

"There is still a long way to go but we are showing every week we are becoming stronger and stronger. We have to keep calm, keep working hard and keep believing."
Jordan Henderson says Luis Suarez's 'phenomenal' work ethic makes the jobs of Liverpool's midfield players easier:
"I thought we defended really well and going forward we looked really threatening," he said.

"Both Stevie and myself could get forward more with Lucas as our protection. That was the idea and I was a bit disappointed not to get a goal. I had a good chance in the first half.

"Luis is a top player but his work rate is phenomenal as well which makes things a lot easier for us.
John Aldridge described Luis Suarez's second strike against West Brom on Saturday – a sublime header from the edge of the penalty area – as one of the best goals he has ever seen.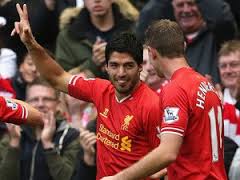 In the news for all the right reasons
Still with Suarez, Luis Suarez has been shortlisted alongside the likes of Lionel Messi and Cristiano Ronaldo for the FIFA Ballon d'Or award. Four current Barclays Premier League players join him on the shortlist – Robin van Persie, Eden Hazard, Yaya Toure and Mesut Ozil.
Brendan Rodgers has praised the recent form of Martin Skrtel – and insisted the centre-back is brimming with confidence following his comeback to the side:
"I thought Skrtel was brilliant against West Brom," Rodgers told the Liverpool Echo.

"Anichebe is a real handful, and we spoke before the game about that. I've seen him cause a lot of problems for defenders with his strength and power. Martin dealt with him really well."

"I think the three at the back allows him to play to his strengths. It allows him to defend, and it simplifies his game when we have the ball. I think in the run of games he has had, he has gained in confidence. I've recognised and acknowledged with him that he is playing at a really good level."
Fabio Borini, 22, says he has not given up on being a success at Liverpool after his heroics on loan with Sunderland (Liverpool Echo). 
A brand new 1,400 sq. ft Liverpool FC store is opening in mid-November in the Pyramids Shopping Centre, Birkenhead.
The unit will be the first to showcase the Reds' new retail concept, which will be the model for a roll-out of new-look stores across the world.
Early alert for any Reds fans travelling to Arsenal by train on Saturday – Virgin Trains has announced that planned engineering works between Weaver Junction and Warrington, starting at 6pm, will impact on Liverpool fans returning from Arsenal after the game. Liverpool trains will terminate at Crewe and coaches will be provided to complete the journey to Liverpool Lime Street.
Bob Humphries, chair of the official Liverpool FC Supporters' Committee, has written to Virgin Trains on behalf of Reds fans to express their disappointment.

He said: "Our game against Arsenal kicks off at 5.30pm, meaning our travelling fans will already have a late enough return without the extension of a bus service between Crewe and Liverpool.
LFC Transfer Talk:
The Daily Express claim Daniel Agger has hinted he could leave Anfield if he does not win his place back in Liverpool's starting line-up.
Liverpool are rivalling Tottenham for FC Basel's Egyptian winger Mohamed Salah,  21, and could also make a move for Derby's 18-year-old midfielder Will Hughes (Daily Mail).
The Reds. Arsenal and Borussia Dortmund are involved in a three-way fight for £7million-rated Olympiacos striking sensation Kostas Mitroglou.
Brendan Rodgers is said to be scouting 18-year-old Djurgarden defender Daniel Amartey. The Ghanaian youngster  is a target for clubs across Europe following his impressive performances for his club so far this season.
German press Bild is reporting Liverpool are to battle a number of German sides to bring former Manchester United 'keeper Ron-Robert Zieler back to the Premier League.
The Hannover 96 stopper is drawing interest from both Schalke and Borussia Monchengladbach however, Liverpool are ready to take advantage of Zieler's release clause in his contract that could see him leave before 1 May 2014 for £7m.
Liverpool are said to have taken an interest in Atletico Madrid striker Adrian with Brendan Rodgers keen to strengthen his attack with a move for the 25 year old Spanish international, according to TuttoMercato.
Adrian is also being courted by Ligue 1 big spenders AS Monaco and Newcastle United and may well be keen to leave the Vicente Calderon in view of his limited role in Atletico Madrid's first team set-up.
With Barcelona said to be lining up Borussia Monchengladbach 'keeper Marc-Andre ter Stegen as replacement for Victor Valdes, where would that leave Pepe Reina and his dream move to Barcelona? Turning his loan at Rafa's Napoli into a permanent move?
Other Football News:
The Daily Express say Jose Mourinho is hoping to sign Real Madrid midfielder Xabi Alonso when his current contract expires next summer.
Alex Ferguson says the team can overturn a poor start to win the Premier League, despite being eight points adrift of leaders Arsenal:
"We had bad starts to the season many times.

"We are the only club in that league that can come from behind to win the league because of our history."
Articles Published Today:
Book Review: The Red Machine, by Simon Hughes, by Paul Grech
Best/Most Interesting Posts Today:
Our very own Assistant Editor Daniel Rhodes posted his official site article. You can read it here on TTT or if you're not a TTT Subscriber, here on the official site – take your pick! It's about Saturday's game and goals – which he describes as "an exhibition in goalscoring, the like of which, at best, is extremely rare but more likely, especially when considering the second goal, is something many of us may never see again" – and concludes thusly:
I was going excuse myself a certain level of hyperbole when describing the goals – because of the known side-effects of grazed under-chin – but after reading Sturridge's quotes after the game, it should be actively encouraged. Because, if Sturridge is correct in his prediction that he can indeed improve by upto 30 per cent, as LFC fans, we're going to need to create some new adjectives to describe him, and his magical partner Luis.

What a game of goals.
Still on the topic of striking duos, Jeff had no doubt who the best were:
The greatest Liverpool striking duo of all time has to be  Hunt- St. John.  Remember without them there would be no Liverpool as we  know Liverpool for the past 60 years. 
As ever, Beez was ready with the comparative figures for Suarez and Sturridge with three of our best striker partnerships – Hunt and St.John, Dalglish and Rush, and Aldridge and Beardsley. It shows the current boys still have some way to go, and how similar Rush/Dalglish and Hunt/St John's record is. As Beez noted:
It's worth noting that between them these eight men have 2,499 Liverpool appearances, and 1,222 goals!
Jonrushton talked about the front three of Sturridge, Suarez and – in the hole – Coutinho – that LFC have put together, and said:
the trajectory of improvement from FSG's early transfer windows, compared to the last couple, is an extraordinary tale of learned lessons.

It does make you wonder, if I'm going to allow myself to drift into an optimistic mood, just what we might achieve in the transfer market this coming summer if we did finish inside the top four at the end of the season…
Talking about JWHenry, Maradoo said:
Everybody is asking whether Liverpool have top 4 credentials because we have finished mid-table for four seasons running, and many folk are making judgements on our capabilities based on this historical fact.

John Henry will understand how much this all means purely by viewing his own baseball club. Last season he witnessed his franchise bomb to smithereens at the bottom of the AL East, now they are within a Fenway ballgame of the World Series, some 40 wins better off this season.

To put this in context for Liverpool – I don't think he has the slightest care in the world about where we finished last season when he wonders where we might end up this term. It simply doesn't matter.
And he went on to say what some of us may bethinking:
If Liverpool win, and gain an unqualified win at that, it is going to be very difficult to keep everybody's feet on the ground, for we will know that a quarter way through the season, we are sitting top of the table and have suddenly hit our stride.

Nobody is saying it, because we have seen to may false dawns to open our mouths, but John Henry is probably thinking it, Rodgers is thinking it, I am sure as hell thinking it…

But don't get me wrong, Arsenal at the Emirates is about the toughest challenge we will face this season in any match. I don't expect a win, but if, my word if, Suarez is unplayable and keeps bringing out the best in everybody around him, and we win the match – then don't tell me we are a top 4 candidate – because we are much, much better than that.

We all watched and waited last season for Rodgers' defining performance, the one which got things started, and it never came. But maybe we never really noticed the slow and careful evolution that was taking place
Disco2000 posted a Henry Winter Telegraph article – not an offence in itself – about the vagaries of the heads of FIFA and UEFA, who Winter calls "Blattini", and their plans to extend the 2018 World Cup to 40 finalists rather than 32. It's a strange article – decide for yourself.
… the globe's supreme sporting tournament needs rigorous protection from meddle-men such as Blatter and Platini, respective presidents of Fifa and Uefa seeking a dilution of a special competition's quality for questionable ends.

For those with long experience of football politics, the latest stance-taking by Blatter and Platini appears aimed more at the Fifa presidential race of 2015 rather than the Fifa World Cup race of 2018. This is about Zurich not Moscow. The battle of hustings has begun.

Instant contempt and long-term concern are the only sane responses.

The historic competition of Pele and Maradona, Hurst and Xavi is the most important, popular spectacle on the planet for a very good reason: for the blend of footballing excellence and patriotism.

So why cheapen the guest list? The most exclusive parties operate a robust door policy and the World Cup must retain its aspirational allure, preventing Blatter and Platini from prising open a window out the back to haul in the uninvited.

Teams should fight to qualify, not expect to qualify.