By Mihail Vladimirov.
The teams lined up largely as expected, due to both managers making minimal tweaks in their starting elevens.
For Liverpool, it was a case of Lucas returning to the starting XI with the main dilemma of who to leave out. Surprisingly, or not, it was Moses who was left on the bench, which brought a change in the midfield shape, altering the framework from 3-4-1-2 to 3-1-4-2.
Clarke made one change too – Berahino replaced by Anelka. The Frenchman was used up top with Anichebe moved to the left wing. The formation remained the same 4-2-3-1/4-4-1-1.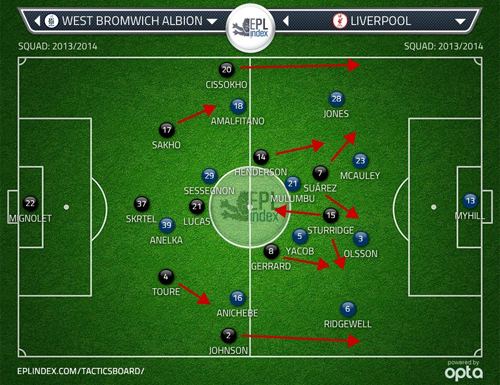 With WBA starting surprisingly poorly and Liverpool being at their best tactically and technically, the game was quickly decided with two goals inside the opening twenty minutes. This meant there were minimal tactical battles, where both teams would try to outfox each other in an evolving clash. The main tactical interest came from Rodgers' changes and how they impacted on the team's performance.
WBA surprisingly disjointed
If it could be said last week that Pardew and Newcastle sprang a massive surprise by how tactically organised they were, here Clarke and WBA did the reverse and astonished with their poor start. Not only did Clarke already prove to be a manager perfectly capable to formulate plans which to completely nullify and stifle the opposition, but in the past couple of months his team was showing its best form for the whole calendar year. All of this led to certain expectancies before the match to see the visitors not only tactically strong but full of confidence in their ability to shut down a Liverpool team which was yet to fire on full cylinders this season.
However, what happened on the pitch wasn't in line with what was anticipated. This was as much down to how good Liverpool looked all-round; as well as how poor WBA appeared to approach the game.
With the formation (and by far the same personnel) remaining the usual 4-2-3-1, which is expected to morph to a deep and narrow 4-4-1-1 (or 6-2-1-1 when the opposition is advancing near the penalty area) it's hard to say there was a problem in Clarke's choice on that front. What was problematic though, was how poorly the players appeared to do their usual defensive work within it; especially considering Liverpool's tweaks and how they completely changed the general positional battle.
The rest of this article is for subscribers only. 
[ttt-subscribe-article]