By Daniel Rhodes.
Welcome to today's daily digest, listing the day's Liverpool FC news, the latest LFC transfer news, other major PL news and also providing links to the best posts on the site's debate section.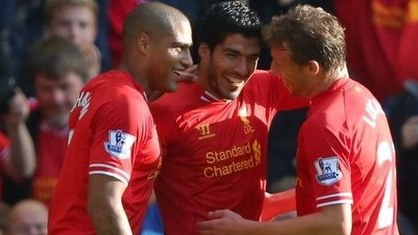 LFC News:
Analysis: how Lucas controlled the game
Rodgers told reporters when asked about Lucas:
"When you play that system, I've been looking to have someone in that controlling role. That allows the other two advanced players to go forward."
Suarez is named player of the week on the stats-based site Sqauwka, and offer up some interesting information in the accompanying article:
Suarez caused West Brom a lot of problems in their third of the pitch. He completed 50% of his take ons, beating his man five times from an attempted 10 – a usually high number from the Uruguayan. Eight of the attempted 10 were from in or around West Brom's penalty area which shows how much of a nuisance he became for the Baggies.
LFC Transfer Talk:
Liverpool are hopeful Andre Wisdom's loan to Derby County will help in the pursuit of Rams' young prospect Will Hughes.
Manchester City, Manchester United and Newcastle have also shown an interest in the highly-rated youngster, but Liverpool are now in pole position.

Derby bigwigs value Hughes at £15million and, if they sell him in January, they hope to get him back on loan for the rest of the campaign.
Other Football News:
Hull City fans will meet owner Assem Allam to discuss the decision the rename the club Hull Tigers:
Allam revealed in the summer he wanted to rebrand the club and ditch the current Hull City AFC moniker, which has stood for 109 years.

He angered fans when he claimed that it was a "lousy identity" and that the 'City' suffix was "common".

A statement from the group read: "City Till We Die campaigners will be urging Dr Allam to reconsider his decision to change Hull City's 109-year-old name, explaining that it is an important part of the local community, and that a rebrand to "Hull Tigers" is not necessary to market the club more successfully."
Articles Published Today:
Better With The Ball? It's Just a Shot Away by Andrew Beasley
Best/Most Interesting Posts Today:
Arjun first, reflecting on the debate about the clubs' best strike-pairings:
As regards where/how they might compare to other double acts we've seen at the club, I always find this comparison business with players from different teams/eras, to be a difficult if not impossible…The stats guys may not agree but when it comes to world class strike parings, so much of what they do is qualitative rather than quantitative. All of the very best ones, drive fear into the hearts of defenses, so for a start, they all push teams back…secondly, they all score goals…lots of them!
Dan Kennett responds to Maradoo on Beez's 'Better With The Ball' article:
"I think everything seems to go back to one, almost irrefutable fact – if you score the most goals, and concede the least  – you'll be the Champions"

That's not quite true!  There's a superb chapter on this very "truism" in the The Numbers Game.  In a nutshell, it's conclusion was that there is a slightly stronger correlation between defensive performance and winning than offensive performance and winning.
Alex talks about Borini's wonder-strike yesterday against Newcastle:
I don't think I've celebrated a non-Liverpool goal this season as much as Borini's winner for Sunderland (on MOTD2) – and possibly more even than some LFC goals! I knew it was coming, having heard the result, but it was still a great strike, and a great moment for a player whose career feels like it's at a precarious moment.

By this I don't mean he'll 'fail' in football, but just that there's the risk he'll never make it at the top level if he's not playing regularly and being shifted around from club to club every few months. Hopefully this means he gets a regular run of games. I'm a fan of his (even if his all-round game is limited) so happy to see him do well.
Rafapologist looks at how the on-loan Liverpool players fared at their various clubs over the weekend – the result: a mixed bag:
Mixed week for the lads out on loan this week.

Andre Wisdom was voted MOM on his Derby debut, although it was slightly disappointed that he was employed at RB rather than at CB.

Suso got another assist and Fabio Borini of course netted the winner in the Tyne Weir Classico.

Jack Robinson had a day to forget. He gave away a pen and was later sent off in Blackpool's encounter with Blackburn.

Assaidi was dropped to the bench for Stoke despite being voted MOM by the stoke fans on their last two games.

Not sure about how Adjoran fared.