By Chris Rowland.
Welcome to today's daily digest, listing the day's Liverpool FC news, the latest LFC transfer news, other major PL news and also providing links to the best posts on the site's debate section.
LFC News:
Brendan Rodgers says Philippe Coutinho has got the 'all clear' to return to action following injury. Brazil midfielder Coutinho, 21, has not featured for the club since the 2-2 draw at Swansea on 16 September.
Lucas Leiva is named in the Brazil squad to face Honduras and Chile in friendlies next month.
Jordon Ibe has been called-up to the England U19 squad for the clash with Euro 2014 hosts Hungary on November 14th.
Brendan Rodgers believes Liverpool are reaping the benefits of increased competition for places within the squad – and praised Daniel Agger's determination to win a place back in the starting XI.
"I've reassured him and Daniel is one that understands fully the situation," he told reporters at Melwood. "He's like every player, of course, and he wants to play and he's a top player.

"He's training remarkably well. It's obviously been difficult because since he came out of the team with that injury against Southampton, the team has done very well.

"It's something he understands and he's come in [to training], has a smile on his face and is working exceptionally well.

"That's what we need because it's going to be the whole squad that allows us to succeed – and he's a player that respects the decision.

"He's fighting and waiting for that moment, and when he does get back in he'll be in there to fight to keep his place."
Posted by Krishaldo:
"@DanielAgger: Please stop all the tweets about me leaving! I'm not going anywhere! Will be back in the team soon:) Y.N.W.A"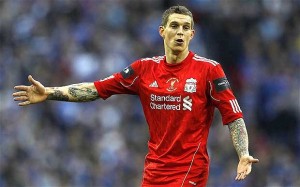 In contrast to his former centre-back partner Alan Hansen, Phil Thompson believes our strike duo are the best in the business right now:
"There isn't a better front two in the Premier League at the moment. People say what about Robin van Persie and Wayne Rooney? Rooney is playing well but van Persie hasn't been great.

"It's not just about the goal return of Suarez and Sturridge, it's how they link up and work so hard for the team.

"There's the step-overs, the one-twos; one drops off, one goes in behind – there's a great understanding between them.

"When you've got those two up front you'll always have a chance of winning games and if they keep playing like they will take some stopping.
Yet another ex-Reds centre-back Mark Lawrenson, went even further, saying the two are "arguably the most lethal attacking duo in Europe." Chardo34 also posted Lawrenson's Liverpool Daily Post article.
LFC Transfer Talk:
Brendan Rodgers wants to snap up Ghanaian midfielder Daniel Amartey when the transfers window reopens.
Rodgers' spies have checked on the teenager, who plays for Djurgarden in Sweden's capital Stockholm, and the Reds are keen to do business in January.

Liverpool have been recruiting young talent in the past few months and think Amartey merits splashing out a fee of around £1.5 million.
Derby County want at least £12m in January for midfielder Will Hughes, 18, who is wanted by Manchester United and Arsenal as well as Liverpool (Daily Telegraph).  But the Liverpool Echo says not:
Liverpool currently have no plans to table a bid for Derby County's Will Hughes in January. The Reds have been heavily linked with a move for the highly-rated 18-year-old midfielder.

Andre Wisdom's season-long loan switch to the Championship outfit has fuelled speculation that Hughes could head in the opposite direction for a fee of around £15million.

However, the ECHO understands that despite having sent scouts to Derby matches and monitored Hughes' progress, Liverpool are not preparing to table an offer.
Other Football News:
Former Liverpool and England goalkeeper Ray Clemence – whose title is FA head of national teams – has announced his retirement from the game.
Clemence, 65, joined the FA in 1996, working as goalkeeping coach for Glenn Hoddle and continuing that role for each England manager since. He later took on the wider role across all England development teams, which naturally helped the progression of players from Under-16 level through to the senior team.

Clemence says: "I have been lucky to have had 47 years in this wonderful game, of which 17 of these have been spent at The FA. I have been fortunate to meet and work with some wonderful people at all levels throughout my time here. I leave The FA with many happy memories that will stay with me for the rest of my life."
Articles Published Today
Premier League Preview 2013/14: Arsenal (A), by Gary Fulcher, Daniel Rhodes and Mihail Vladimirov.
Best/Most Interesting Posts Today:
Bob appealed for the opinions of the whole TTT community ahead of his meeting with Alison McGovern (MP for Wirral South and chair of the 'All-Party Group on the Hillsborough Disaster'):
It would be an enormous help in preparing for that discussion if I could get ideas and suggestions from the TTT community on this one question.

If an 'award' was made in recognition to the Heroes of Hillsborough, who would this award need to come from for the fans, the club, and the city to consider it be both meaningful and of genuine value?
On the Symposium debate about 'Best/Worst Things About Our Season So Far' and the subject of hope and expectation, Gatlin had this to say:
The head says top 6 is progress and top 4 is a stretch (based on last year's finish, and the relative bulking up of other sides), However, the heart twists the current evidence of good form to suggest top 1 is possible.

So while I really shouldn't expect too much from Saturday, the hope though, is intoxicating (there it goes again). Happy days.
Red65 put it very succinctly:
The best thing this season = hope

The worst thing this season = hope
Many of us believe that Alex Ferguson's bitterness towards Liverpool stems back from his days at Aberdeen, when Liverpool embarrassed them in the European Cup. Chardo34 posted a David Maddox piece from the Mirror on the subject:
The former United boss was embarrassed at Aberdeen by the Reds, he never got over it and he probably never will

Funny how the old rivalry between Liverpool and Manchester United still simmers despite the widening gap between the two clubs over the past two decades.

Fergie's book is a case in point. You'd have thought Taggart's stunt double would have a few better things to ruminate on, after 25 years in the Old Trafford hot seat, than Jordan Henderson's knees or Steven Gerrard's claims to international status.

Liverpool are under his skin though, always have been. It's an historic thing, and not just because they were the dominant force in European football when he took over in Manchester.

It began back in 1980 when his cocky Aberdeen side were taken apart – and down a peg or two – in the European Cup by quite possibly the best Reds team Anfield has ever seen. Significantly, Kenny Dalglish, Alan Hansen and Graeme Souness were all in the side that trounced the Dons 4-0 in the home leg.

Liverpool's 80s dominance was a factor, but perhaps a greater influence was the order of things in Scottish football folklore for so many years, with even the United boss perhaps always perceiving himself as behind the trio.

As a player he was never on their level, and even in management he was eclipsed by Dalglish and that great Liverpool team in his formative years. The pain of that has never quite disappeared.

Hence his (admittedly justified) gleeful dig at Dalglish in the book for his role in the Suarez t-shirt debacle. And his apparent obsession with all things Anfield.

Gerrard is the greatest case in point, a bizarre put down from the former United manager when he tried to sign the midfielder on two, if not three, separate occasions.
Long Ball Larry posted a Mirror table based on the effectiveness of substitutions, and Liverpool didn't come out that well. Larry posed several interesting questions, including:
Now that we have a stronger squad, will Rodgers make greater use of substitutions in an effort to change the match?