By Chris Rowland.
Welcome to today's daily digest, listing the day's Liverpool FC news and latest LFC transfer talk, other major PL news and also providing links to today's best posts on the site's debate section.
LFC News:
David Cameron has been speaking exclusively to the Liverpool Daily Post about Hillsborough and justice. The Prime Minister described the disaster at Hillsborough as "one of the greatest peacetime injustices of the last century" and promsied "we will stop at nothing now in supporting the families in their search for justice."
"As I said in the House of Commons a year ago, it was a double injustice: the failure of the state to protect its citizens and the indefensible wait for the truth – compounded by a despicable and completely unfounded attempt to blame the victims.

It is vital that we maintain the momentum of last year. So we have increased the resources available to both the Independent Police Complaints Commission investigation and to Operation Resolve, the police-led investigation into what led to the tragedy. Today there are around 300 people working on these new investigations.

We have done more to help these investigations get the new information they need. So when we heard that serving police officers could avoid giving evidence we introduced emergency legislation to give the Independent Police Complaints Commission the power to require them to attend as witnesses.

And when the Independent Police Complaints Commission found they were initially unable to re-open a matter previously investigated by the Police Complaints Authority, again our emergency legislation made sure this could happen.

These investigations are taking some time and I understand the frustration that many will feel. Hillsborough has had a history of inquiries – and the families have waited long enough. But the task is huge. The teams are going through more than 450,000 pages and new evidence is being uncovered that will be vital in the search for justice. New pocket notebooks that were not previously available were recently submitted by South Yorkshire Police. This evidence is needed if we are to have the final definitive version of exactly what happened and if all those responsible are to be held to account."
Commenting on the new inquest, Cameron said:
"After my Statement in the House of Commons last year, the Attorney General successfully applied to the High Court to quash the existing coroner's verdicts.

The new inquests will take place in Warrington, not Sheffield – and will start next year. Normally new inquests would have to wait for police investigations and any subsequent prosecutions to conclude.  But the Coroner has decided that the new inquests should not wait. He has set a final deadline of 31st March next year for the start of the new inquests and asked that the substance of the other investigations are completed by then.

I know too, that nothing can ever bring back those who have been lost. But I promise you this: just as we got the truth, so the families will get the justice they have been fighting for."
Our own Bob Pearce has been mounting a campaign to have the Liverpool fans who helped that day be officially recognised as heroes, on Hillsborough Heroes and the Cameron Letters. David Cameron has not been so effusively, fulsomely supportive over that.
Luiz Felipe Scolari has named Lucas Leiva in the Brazil squad for forthcoming friendlies against South Korea and Zambia.
Steven Gerrard has praised Liverpool boss Brendan Rodgers for giving young players the chance to shine. The Reds skipper says the number of foreigners in the English game makes it hard for youngsters to break through. But he says Rodgers has been "brave" for playing midfielder Raheem Sterling and defender Andre Wisdom.
"Managers are only ever eight to 10 games away from the sack, so to take risks on unknown young players is difficult," Gerrard told BBC Breakfast.

"There's no two ways about it, it's a lot more difficult to break through nowadays because of the standard of players and because there is a lot more foreigners about."
LFC Transfer Talk:
We'll start today as we start most days – with a Luis Suarez story:
"Liverpool striker Luis Suarez, 26, is still determined to leave Anfield and believes a £41m deal to replace the out-of-form Karim Benzema at Real Madrid could be sealed in January." Full story: Intereconomia (in Spanish).
Wonder whether Intereconomia has any contacts with Real at all. Can't see Liverpool FC or many Reds fans being happy with that fee either.
Other Football News:
With another international break looming, squads are being named. Much coverage that Gareth Bale is included in the Welsh squad despite being injured. No mention that Joe Allen is also included in the Welsh squad despite being injured.
Belgian lawyer Jean-Louis Dupont, famous for the Bosman ruling, is apparently now setting his sights on Financial Fair Play. Basically, he thinks it's a restraint of trade and won't work in any case:
"The break-even rule will not help the long-term stability of clubs," he said.

"The only objective that will be reached will be to freeze the existing the market structure, meaning the current big clubs will remain the big clubs.

"How can you say this is good for football? It will simply ossify the system."
Articles Published Today:
Premier League Preview 2013/14: Crystal Palace (H) – by Gary Fulcher, Daniel Rhodes and Mihail Vladimirov.
Stats, tactics, context, current form, analysis, the squads, past records between the teams and against the opposition's manager – it all adds up to the most comprehensive match preview on that world wide web thingy. Probably.
Best/Most Interesting Posts Today:
Following Bayern's 3-1 win at Man City last night, Dan Kennett provided some stats from the match and concluded 'This will be a dynasty up there with the very best we've ever seen in European football. '
When you think about how dominant that City are in the PL in all of these categories against even the top English sides, those stats are absolutely frightening and show you how far Bayern are ahead of the rest at the moment.

Plus they've got no debt and 160m Euros cash in the bank.
Maradoo constructed two charts – totally subjective, as he conceded -considering two questions:
1. Which of our players are objectively an improvement on players other top 7 clubs have and would they definitely swap what they have for them?

2. Which of our players are objectively on a par with players other clubs have, even if they wouldn't swap?
Amongst his conclusions were:
Most indicative is that our central midfield, carries two players who are not objectively better than any of the other top contenders, and are only objectively on a par with half of them, meaning this could be an area of improvement for us.
El Indio posted an interesting piece by Ian Herbert in The Independent on Rafa Benitez about his job at Napoli. It included this:
And yet… there is still that sense that some on these shores care to sneer at this man. Why?

Perhaps because of the anti-intellectual response which football reaches for so quickly. This is the man who, when asked for an Independent column last year to recommend a football coaching book, suggested the works of the Hungarian tactician Arpad Csanadi. And who imported to our shores the 4-2-3-1 system, having watched the tactical innovator Juan Manuel Lillo develop it at Salamanca. We don't always like these foreigners telling us how to play our game and Benitez – not entirely the soul of tact – is not always the best at disguising the fact that he knows better than others. Neither was he one of that British managerial establishment who laid garlands at the throne of Sir Alex Ferguson, whose friends subsequently took the Scot's part against him – Sam Allardyce ridiculously so. Benitez can be political. He was no wallflower when it came to facing down that British establishment.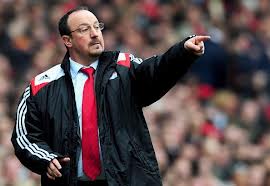 In response to Dan Kennett's Statsbomb (@Statsbomb) link updating his "Shot Benchmarks" work to 2012/13, Cianos  had no fewer than three theories why players are consistently shooting from the less probable scoring distances. His conclusion is that "consistently betting on the long shot (is that where the phrase came from?) is a sure sign of bad gambling."