By Chris Rowland.
Welcome to today's daily digest, listing the day's Liverpool FC news and latest LFC transfer talk, other major football news and also providing links to today's best posts on the site's debate section.
LFC News:
Brendan Rodgers could have almost a full squad to select from for their match at Newcastle, with Glen Johnson, who resumed training on Tuesday, rejoining the ranks along with Aly Cissokho and Joe Allen. Only Phillippe Coutinho, Sebastien Coates and the newly injured Iago Aspas, who's out for five weeks after tearing a thigh muscle in training, definitely miss the trip.
Newcastle fans will renew their protests against club owner Mike Ashley by joining a march before Saturday's match against Liverpool. (The Guardian). 
Brendan Rodgers has no doubt that Liverpool captain Steven Gerrard can continue to reproduce the kind of swashbuckling performance he showed for England in midweek at club level. He then launched into a tactical assessment of his midfield:
"I always said his game will change over these coming years but that's not necessarily now. There have been no specific instructions for him to sit any more than he has done with England.

"When I play three midfield players I only look at one of the midfield players to hold.

"Whether I play with the structure of two in front of a one, or one in front of a two, I always like to have two attacking midfield players and one defensive, controlling player.

"Is he still able to do for us what he did for England the other night? Absolutely."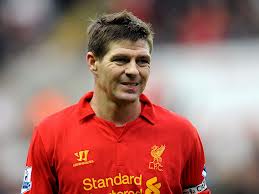 LFC Transfer Talk:
Liverpool are reportedly ready to offer Barcelona full-back Martin Montoya a pre-contract in an attempt to fend off interest from rival European clubs. According to German newspaper Bild, Brendan Rodgers' side are ahead in the chase for Montoya, with Arsenal, Bayern Munich and Bayer Leverkusen also showing interest in the 22-year-old.
However, according to TalkSport, Rafael Benitez is hoping to beat former club Liverpool in the race to land Martin Montoya – "according to Italian newspaper Il Mattino, Napoli boss Benitez is ready to make his move."
Valencia are ready to make Liverpool an offer to take 20-year-old defender Tiago Ilori on loan in January. (Daily Express).
Other Football News:
Manchester United have agreed to investigate the viability of introducing a safe-standing area at Old Trafford (The Independent). 
Best/Most Interesting Posts Today:
Beez posted a Guardian  extract about the planned protest by Newcastle fans 'calling time' on owner Mike Ashley's regime at tomorrow's game:
Before the match a group of Newcastle fans are organising a protest march against Mike Ashley's handling of the club. The Time 4 Change march, and a hankie-waving follow-up, has been called "to make a point in front of the cameras and the watching millions".
Paul Hayward's piece on Roy 'monkey and astronaut' Hodgson drew a heated response, including this from damienP:
Let's not forget, like many, he was categorical that 'intent' and context are irrelevant in racism cases.  "Suarez's intent is not the point" he said in a piece condemning the foreigner Suarez in 2011.

It seems he's relaxed his own harsh rules in this instance when the old white English bloke he likes is accused of racism.  Hmmm.
And Damien added:
It's a very odd way to explain tactics to someone and to motivate them anyway.

What is Smalling meant to make of it?  "You're useless – just get the ball to the good one".

Roy "Churchill" Hodgson there.  Marvellous.
Stretch (last night) added:
"You should endure racism because the alternative is disrespectful to the racist. Also, you are clearly the only one who has a problem with racism because you are the first to speak against this particular incident. So let's all keep our feelings about abuse to ourselves and hold hands for a sing-song of Jerusalem."

And these are the guys who wanted Suarez hung from the Tower bridge.

I think I am actually going to vomit.
Lurgankop observed that "non-racists who make a racist comment, in someone's view, get a 10-match ban don't they?"
Dan Kennett's fascinating post about the impact of "game state" (i.e. whether we're winning or not winning) included these conclusions:

When we are winning, we are riding our luck somewhat with opponents having nearly six shots per 90 minutes from central inside the box.

Opponents also pepper our goal to no effect at all (zero goals from 40 shots from "other" locations).

If we continue to get results and maintain this performance then Mignolet will force a break with tradition by being shortlisted for player of the season!  It's fair to say that he's absolutely crucial in making this gameplan work.
Long Ball Larry posted that "Iago Aspas has just announced he's out for five weeks due to injury", then went on to sum up the Spaniard's time at Liverpool so far:
Had a very iffy start in an unfavoured position, then used as a sub in an even worse position for him (no.10), then Suarez returns and is in amazing form, and then is injured.
Tow bumper posts on the Newcastle match discussion thread, from Maradoo and Mihail Vladimirov.
Maradoo contested that:
Shankly had his own famous 'holy trinity', here is a new one regarding a 'team' framework.

A team's strength can be found by analyzing three elements:

1. Tactics

2. A players natural and trained ability

3. A players motivation

Mihail is of the new school of analyst who is superb in the arena of tactics, but I would suggest that tactics, whilst vital, only counts for 33% of a team's overall ability.
Mihail's response said:
My view of a modern-day holy trinity is the following:

1) tactics = how good tactician is the manager;

2) players = how good (or bad for that matter) is the recruitment process, which the manager should always be one of the most senior decision makers about;

3) money = ability of the club to secure enough funds for the managers to go on and on a year by year basis upgrade his squad.

My view is that tactics is the only one of these three factors that could compensate  by a large degree if there is an absence of the other two factors. A well-organized, properly functioning team with great tactical ability and flexibility could mask to a high degree for the lack of 'stars' or money to buy stars. Dortmund, Rafa's Liverpool are two great examples of such teams.