By Gary Fulcher, Daniel Rhodes and Mihail Vladimirov.
Liverpool return to Premier League action with a trip to St James' Park on Saturday – 12.45pm kick off UK time – and a similar result to what we picked up in the corresponding fixture last season would do very nicely come the final whistle.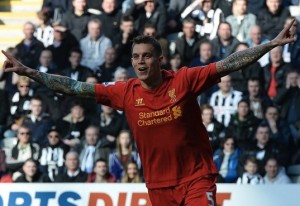 The 6-0 hammering we handed out to the Magpies last April is our record victory at St James' Park and with some tough looking fixtures away from home scheduled between now and the end of December (Arsenal, Everton, Spurs, Man City and Chelsea to name just five), picking up maximum points against Newcastle would move us back to the top of the league and continue our excellent start to the campaign as we head in to a tough period.
Newcastle currently sit in 11th having picked up ten points from their opening seven league games, one more point than they had at this stage last season. Three of those seven games were at St James' where they faced West Ham Utd (drew 0-0), Fulham (won 1-0) and Hull City (lost 2-3). Their last outing in the league saw Pardew's side overcome Cardiff City 2-1 away from home.
Liverpool's 3-1 victory over Crystal Palace at Anfield last time out was our eighth league win in 11 matches and if you swapped the results from our opening seven league matches from last season with the results from our seven league games played to date, we would've ended last season with 71 points, which still wouldn't have been good enough to earn us Champions League football!
Liverpool's overall league record against Newcastle United:
Total – P: 154 W: 74 D: 38 L: 42 F: 273 A: 191 GD: +82
Home – P: 77 W: 51 D: 15 L: 11 F: 176 A: 78 GD: +98
Away – P: 77 W: 23 D: 23 L: 31 F: 97 A: 113 GD: -16
Liverpool's record against teams managed by Alan Pardew (all competitions):
Total – P: 11 W: 7 D: 2 L: 2 F: 25 A: 14 GD: +11
Home – P: 6 W: 4 D: 2 L: 0 F: 13 A: 5 GD: +7
Away – P: 4 W: 2 D: 0 L: 2 F: 9 A: 6 GD: +3
Neutral* – P: 1 W: 1 D: 0 L: 0 F: 3 A: 3 GD: 0
*Neutral is for the 2006 FA Cup final.
The match-day officials for this fixture are:
Referee:  A Marriner
Assistants:  S Ledger, M Perry
Fourth Official:  L Mason
The rest of this post is for subscribers only.
[ttt-subscribe-article]