By TTT Subscriber John P. Houghton (John P Hughton).
This is a review of Red or Dead, David Peace's book about Bill Shankly. We've already carried one review, by Andrew McKay, but as Andrew's did, this has its own distinctive view of the novel:
Red or Dead, David Peace's new novel about the life of Bill Shankly is a love story – with a complicated ending.
Bill Shankly loved many things: Liverpool Football Club; his wife Nessie; hard work; the city of Liverpool; and the ethos of collective socialism that he saw reflected in the city and articulated in the words of 'You'll Never Walk Alone'.
He had devoted his life to all these things and, as he lost some of the vigour of his youth and realised how much time he had missed with his wife and daughters, he decided to choose between his devotions.
He put his actual family before his footballing one, and shocked by the world by resigning from Liverpool Football Club.
What happens next is a story we all know. At least, we all think we know it.
The club turned its back on its greatest servant. After fifteen years of devotion, during which he turned a sleeping second division side into an emerging European giant, he was treated like a pariah.
In this telling of the story, Shankly becomes an almost semi-vagrant ghost living a sad half-life. Unwanted and eventually exorcised from Anfield, he drifted around, playing football with kids in the streets and even turning up to lend a hand at Goodison.
Peace's interpretation is more nuanced, and does Shankly a greater service. In Red or Dead, Shankly knows he can't hang around the club. He had seen the ultimately destructive impact of his good friend Matt Busby's decision to stay on and lend a hand at Old Trafford. The club couldn't move out of the shadow of the great man, and were relegated within a few years.
Shankly knew he had to make another sacrifice by staying away. The exile was self-imposed as much as anything else. He wanted his team to have a legacy beyond him – and that could only be achieved without him. This version gives Shankly a lot more credit than the traditional telling of the tale.
Resigning in 1974, Shankly was also walking away from a football world, and wider society, that was rapidly moving away from his vision of collective socialism. This is illustrated by the few points in novel in which the Shankly-focused narrative is punctuated by events in the outside world: Conservative election victories, the growth of hooliganism, urban decay, rising unemployment and economic crises. In a section that reads like a haunting premonition of Hillsborough, 66 Glasgow Rangers fans were crushed to death in an inadequate stadium.
"Liverpool is not in England"
A rich, round man emerges from Red or Dead.
We meet the hard Shankly, making cold-blooded decisions to offload players as he re-built his first great but ageing team (this hardness toward old and injured players was discussed in this episode of TAW with Ragnhild 'Ronnie' Lund Ansnes). We meet the philosophical Shankly, discussing politics at length in the transcribed interview with Harold Wilson near the end of the book.
We meet the deeply caring Shankly, traumatised by the suicide of club secretary of Jimmy McInnes, virtually begging his successor Peter Robinson to go home and get some rest. We meet the canny, manipulative Shankly, as demonstrated in an incident with a semi-naked Ian St. John, a tin of boot polish and a Polaroid camera (seriously, you'll have to read that bit for yourself).
The other great character in the book is the city of Liverpool, as represented by the voices on the Kop. Shankly saw his values reflected in the city. Socialism, although the city has not been as left-wing as people think, as Steve Graves discusses in the TAW Mag #2. Loyalty to a collective ambition.  A determination to walk together and avoid what Martin Luther King described as the "drum major instinct", the selfish "desire to lead the parade" instead of walking lock-step in solidarity.
That's what the Kop's singing in Red or Dead seems to represent. Not just the ability to create a barrage of sound, but to reinforce the living bond between the players and crowd. No stars, no one bigger than the team, but a unity of purpose between the men on the field moving the ball and the men off it, moving the players with their voices.
Shankly repaid this with a deep commitment to the city. When asked by a journalist how he could love a city that appeared to be nothing but "huge tracts of wasteland", Shankly responded that he could only see "a beautiful city and a great people".
And in words that will make a growing number of Reds' fans smile, Shankly corrects Jock Stein's comment about meeting Liverpool in the return leg of a European match in England:
"No, you won't," said Bill Shankly. "You'll see me at Anfield, John. And Anfield is not in England. Anfield is in Liverpool. And Liverpool is not in England. Liverpool is in a different country, John. In a different country, in a different league."
As we put it today, we're not English – we are Scouse!
"The word drilled through bone"
I loved Red or Dead and hope and you and every other Red gives it a read. But a word of caution: if you're planning to sit down with a couple of beers and enjoy a romp through Shankly's greatest anecdotes and rousing talks, you're in for a surprise.
The anecdotes and speeches are all there. With the swipes at other teams and his boasts about Liverpool's power to conquer the world:
"I like the Yugsolavs," Bill told the gentlemen of the press … "Mussolini tried to frighten them, Hitler tried to frighten to them. And Stalin, in his turn, tried to do the same. They all failed. Now it's up to Liverpool Football Club".
And I could hear them delivered in Shankly's voice, that voice with gravelly growl of coal, the coal his father hewed, being raked over in a fire. But David Peace has a particular writing style that takes a bit of getting used to.
His writing style is like the repetitive minimalism of trance music; what sounds like the same patterns repeated over and over again with tiny changes. Hundreds of games are reported in the same way:
Keegan met the cross. Fast and hungry. Keegan headed the cross. Into the net into a goal. And five minutes later, Steve Heighway found Toshack again. And Toshack scored again. And Liverpool Football Club beat Chelsea Football Club three-one. At home, at Anfield.
At its most condensed, page after page read like this:
Bill opened the back door. Bill stepped outside. Bill stood on the step. Bill shook the cloth. Bill stepped back into the kitchen. Bill closed the door. Bill folded up the tablecloth. Bill put it in the drawer.
It's tempting to skip a few pages, but like trance music it's in the tiny variations that the story unfolds. Small sounds interrupt the pattern once, then many times, then explode.
In an early part of Red or Dead, the words 'wind', 'rain' and 'storm' keep appearing – words that will catch the eye of any Liverpool fan. At first they're disconnected, then they come up again and again, and after a few pages, the Kop explodes into sound as we – and Shankly – encounter 'You'll Never Walk Alone' for the first time.
The book is a hugely rewarding and engaging read, but not an easy one. Actually, that's not fair. If you get your head into the rhythm of Peace's writing/if you let the rhythm get into your head, the story barrels along.
Peace's style becomes a red machine, working to full effect. "There was no shelter from the word", Peace says, describing the impact of the sound created by the Kop on the opposition.
The style works sublimely well when Peace is describing what to me, and maybe to you, are the iconic images of Shankly at the 1974 FA cup Final. As the game is played out, Shankly switches his arms from side to side, like a man with the power to hold the whole pitch in his hands and shape it through sheer force of will.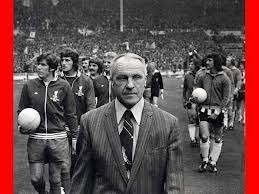 "With fervour and with love."
The robotic way that Shankly moves always remind me of those vast arms that assemble and spray cars on the production line at Halewood car factory; this way, then that, this way, then that.
Halewood gets a brief mention (the workers are threatening to go on strike), which made me smile. It's where my dad works, and it was my dad who taught me about Bill Shankly. I was three when Shankly left us for good, so I have no memories of the man. But Shankly taught my dad that following Liverpool is about more than just winning; it's about working together, looking after another, being a good person. And that's what my dad taught me. And what many of your dads will have taught you.
That's why a man born one hundred years ago this year lives on in our hearts. Why a man who typed his letters on an ancient typewriter is discussed and debated on blogs and message boards today. Why a man who hated flying and was suspicious of anything foreign is idolised by fans on every continent of the globe. It's why people who never met Shankly – who could never have met him – feel like they know him.
As I said at the start, Red or Dead is a love story. A love story about a relationship between one man and a group of supporters that endures to this day.
John P. Houghton writes about urban development, regeneration and football and is a subscriber to the Tomkins Times. You can read more articles by John at http://www.metropolitanlines.co.uk/