By Chris Rowland.
Welcome to today's daily digest, listing the day's Liverpool FC news and latest LFC transfer talk, other major football news and also providing links to today's best posts on the site's debate section.
LFC News:
Luis Suarez and Uruguay face a play-off to reach the 2014 World Cup. He scored a penalty and had an assist in a 3-2 victory over Argentina on Tuesday night, with our old boy Maxi Rodriguez scoring both for Argentina. The play-offs, against Jordan, will be on on November 13/14 and November 20. There are no PL fixtures on the weekend of November 16.
We have no other players in the play-offs, as it was World Cup Agger -ny for Daniel (that's me doing a tabloid headline). Denmark were the one of the nine group runners-up to miss out on the play-offs, having the worst record of the nine.
Speaking to the Liverpool Echo after scoring England's second goal last night, Steve Gerrard insisted he will be ready for club duty on Saturday:
"Now I switch my focus to Newcastle. I'll park England and get my recovery done. It's a case of starting where we left off before the international break. We've started the season tremendously well and Luis Suarez coming back has given everyone a big lift.

With some of our big players coming back into the squad like Glen Johnson, Joe Allen and Aly Cissokho, plus Philippe Coutinho not far away, things are looking good. I want three points against Newcastle now."
Jordan Henderson insists he's happy to play anywhere across the midfield for Liverpool – and has revealed how he relishes the challenges that accompany such a varied role:
Henderson has been a versatile regular for the Reds this season, taking up a number of positions across the midfield in the nine games so far. The 23-year-old explained why a strong understanding of each role has allowed him to operate as a wing-back, a wide man and a central midfielder since the start of the campaign.

"Tactical awareness was one thing I felt as though I needed to improve on," Henderson told Liverpoolfc.com.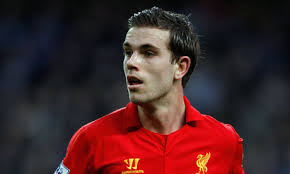 Looking to improve his tactical awareness …
Midfielder Joe Allen will attempt to add an increased creative edge to his performances when he makes his return to the Liverpool first team from injury. He told Liverpoolfc.com:
"I can get involved more in the creative side, in assisting goals. That's a big thing. If I have the chance to play further forward, like I did in pre-season, goals are obviously another big one that I'd like to add a bit more to my game.

It's something I felt was coming at Swansea, and last season sort of stopped a little bit. That's something I think I can offer looking forward."
Academy winger Harry Wilson made history on Tuesday night when he became the youngest player to play for Wales, at the age of 16 years and 208 days, in the 1-1 draw against Belgium.
Liverpool Football Club today announced it will launch a football academy in Pune, India in 2014.
"This is the first time an English top-flight club has partnered with an Indian team to help them bring through local talent," added Billy Hogan, LFC's chief commercial officer.

"We have millions of fans in India so we are very excited to be working with DSK Shivajians FC and being part of the game's development in the country."
LFC Transfer Talk:
Pepe Reina, 31, denies he is planning to join Barcelona next summer upon completion of his year-long loan in Italy with Napoli (Daily Star). 
mlleclio passed on a tweeted rumour 'sharing info' that "Micah Richards is in talks with LFC for January transfer with a view to playing RB and Glenjo moving to LB.  Citeh still sniffing round Agger."
Other Football News:
BBC chief football writer Phil McNulty believes that Roy Hodgson has over-delivered in England's World Cup qualifying campaign.
"Phase one of the deal was to get there and for Hodgson, but the last five days have not only represented job done, but ensured they can board their plane with hope," he writes.

"We cannot berate Hodgson for his conservatism on one hand, then question him on the other when England produce the attacking football for which we have been asking."
Controversial. Are two home wins against Montenegro and Poland grounds for 'boarding the plane with hope'?
See Garythespud's comment below for a slightly different interpretation.
BBC also think it's worth highlighting that "Seven Everton players are poised to feature at the World Cup next summer after Tuesday's results. Manager Roberto Martinez said "The name of Everton is going to be taken to Brazil and many other countries and that's very important. But now it's about thinking day-to-day and making sure the players are enjoying their football, growing and maturing."
The Everton players in line to play in Brazil in 2014 are Phil Jagielka (England), Leighton Baines (England), Ross Barkley (England), Romelu Lukaku (Belgium), Kevin Mirallas (Belgium), Tim Howard (United States) and Bryan Oviedo (Cost Rica). Striker Nikica Jelavic also hopes to make the tournament with Croatia, who are in the play-offs.
If we're counting loan players like Lukaku, then we stand to have up to 14:
Gerrard, Johnson, Sturridge and possibly Sterling and Henderson (England), Mignolet (Belgium) and possibly Lucas (Brazil). Moses is likely to make it with Nigeria and Toure with Ivory Coast, and several more could come through the play-offs: Suarez and possibly Coates if fit assuming Uruguay manage to beat Jordan, Sakho and Cissokho with France, and maybe even Brad Jones will get a look-in for Australia.
I can also see 16 possibles for Utd and City, 15 for Spurs and Arsenal and 18 for Chelsea as well as three loanees (Moses, Lukaku and Courtois). But Martinez commented on it, that's why they picked it up.
Articles Published Today:
Bill Got Up. Bill Walked. Bill Walked Alone, by TTT Subscriber John P. Houghton.
Best/Most Interesting Posts Today:
Picking up on this point from Mihail Vladimirov:
"I've always thought apart from Rodgers there is no-one in the current staff that looks like having a proper input into tactical matters. And yes, if Marsh is supposed to be that guy I'd be really worried based on what he has to say for the official site."
mlleclio commented:
"I think the management's attitude probably isn't as naive as Marsh's comments imply, but there is a big emphasis on player self improvement. (Another little sign of that has been the way Skrtel's been playing – he looks like he has more awareness of what his job is and that it's manageable.)  At some level the management do have a blind spot on the capabilities of their players because they are determined to believe in their superior quality. And that is not to be sniffed at because that is what's brought us our relative recent success. I think there's a parallel between Hendo's personality; lack of ego, quiet determination, and his receptiveness to tactical information. Rodgers has a harder job to get some of the other players to respond. It's a balancing act between nurturing egos and tactical awareness."
In sharp contrast to Phil McNulty (above under 'Other Football News), Garythespud was less than optimistic about how the England story will unfold next summer. Reproduced in its magnificent foaming-at-the-mouth entirety! 🙂 :
We know what will happen next year – the press will start all the hype, Gerrard and all the players will talk about not just going to make up the numbers, Hodge-Podge will start talking about not conceding and teams that don't concede win games, and it'll be a complete groundhog day when they draw with Ghana, lose to Belgium, and then have to win their final group game against Australia. Which they'll do… just. Then they'll get their arses handed to them by Germany or the like, Hodge-Podge will depart, rumours of young managerial blood will start, then the FA will appoint Alf Ramsey's third cousin twice removed in the hope of channeling (through Derek Acorah) the spirit of '66.

It's going to be a turd bath and we're going to have to get in and scrub ourselves down. Thus, it's best to leave well alone.
Falkie71 talked about the culture within football of 'manning up' and 'playing through the pain':
"many footballers are rushed back too soon, or are expected to play with an injury.

We have to remember, that each player is in a competition for places and if one player is injured, the next Suarez could take his place, demoting him in the hierarchy.

There's no surprise that players are expected to do all they can to speed their recovery, and are expected to be back on the pitch as soon as possible. With pressure from the club hierarchy, the player himself and often the fans, the medical staff must be under a lot of pressure to ensure players are fit to play as quickly as they can.

Without a change in culture from the players and club hierarchy, I can't see the situation changing any time soon."
With rumours of Liverpool interest in Micah Richards, Krishaldo posted this table of the extent and nature of the injuries that have affected the careers of Richards, Glen Johnson and Martin Kelly, the players most likely to be affected if Richards arrived.
Praise for David Peace, author of Red or Dead, the novel about Bill Shankly, from Davidjb:
When you read David Peace's novels about police corruption at that time, you will see how Hillsborough and the subsequent cover-up at the time could take place.  I think David Peace is an absolutely brilliant writer because he uses fiction to explain and show a place and a time in a way that a 'factual' history book can never do.