By Mihail Vladimirov.
Heading into this match, a kind of injury crisis hit Liverpool, mainly in terms of missing 'transitional' players (i.e. players helping the team transition through the phases and then being instrumental in how the team will spread out in attack). Alongside Johnson and Coutinho, it became clear Enrique is carrying some knock which – as Rodgers clarified after the game – was in need of some 'nursing'; thus the Spaniard started on the bench. On top of this, Allen mysteriously wasn't in the match squad.
All of this left the team with several specialist centre-backs (six to be precise, with only two of them – Kelly and Wisdom – relatively comfortable to play as fullbacks, but not as wing-backs); not enough attacking bodies (with Sturridge presumably yet to fully recover from his niggles); three dribblers (Moses, Ibe, Sterling); two 'fixated' players (Lucas and Gerrard); and, only three players who could be used in different positions and roles (Henderson, Aspas and Alberto).
On the other side, Pochettino had a fully fit squad (except the left fullback Fox), with Shaw recovering in time to start the game. As a result, Saints were unchanged from their last game against West Ham.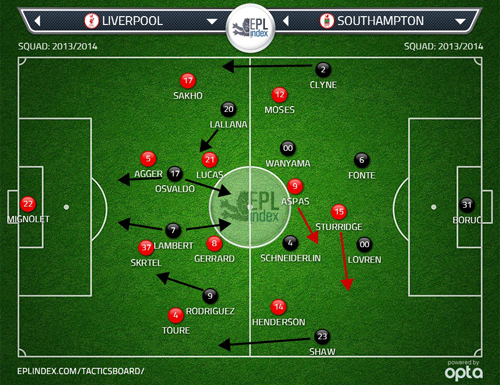 The game was tactically interesting both because of Rodgers' dubious starting XI, in combination with the curiosity around what he had in mind as an approach, and what the visitors had to offer as a strategy, with very precise and detailed patterns of play. The nature of both managers' tactical plans was such that they produced a rather technically poor game, with minimal excitement and 'proper' football – something that inevitably benefited Southampton.
The rest of this post is for subscribers only. 
[ttt-subscribe-article]