By Lee Mooney.
Finding first-team left backs
This is the second of four short pieces aimed at identifying players to fill four playing roles (identified following a quick survey I did on Twitter):
Centre-back;
Left-back;
Defensive midfield; and
Right wing/forward.
The approach and techniques used are the same as those described in a TTT piece I wrote in March called 'A Model to Identify Players'. If you haven't read this piece, you'll probably need to – just so that you understand the method, its weaknesses and the underlying assumptions. The model used for this piece has been modified slightly and uses newer data – but the basic 'core' remains unchanged.
Potential candidates
Typically, I like to provide links to these dashboards so that you can use them interactively. However, because of a connectivity problem, you'll need to settle for images (if I solve the problem, I'll provide the links in the comments section). The diagram below provides an overview of the talent pool that I have identified, which contains 77 potential candidates. These players are:
Left backs
Aged between 19 and 27
Have a 'Player Score' exceeding 0.700
Have made an international appearance OR
Play for the equivalent of a Championship club or better
Each of the potential candidates has been reviewed in the context of a theoretical LFC budget for the role. Using an updated turnover number of £200m, and a slightly revised budgeting model, the colour-coding is as follows:
Overspend

:                          more than £6,457,236

High Spend

:                         £4,612,311 to £6,457,236

Sensible Spend

:                  £3,228,618 to £4,612,311

Low Spend

:                          £2,306,156 to £3,228,618

Very Low Spend

:               less than £2,306,156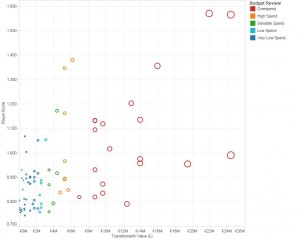 Obviously, this is hard to read without the online version! The sections that follow provide detailed lists of players grouped by age and sorted in descending order of their 'Player Score'. It might be an idea to print out these lists and cross out any player that wouldn't pass your 'secondary filters', associated with utilisation, style or mentality, and see who's left. Can you unearth a genuine bargain?
Aged 19 to 21
This was a slightly smaller list than I expected. Still, I think there are some interesting names on here that are worth investigating further:

Aged 22 to 24
Emiliano Insua still scores highly (I'm saying no more). Unfortunately the new Stoke City boss, Mark Hughes, has recently signed Erik Pieters for £3m (which I think would have been excellent value for Liverpool, though perhaps not for Stoke who I think should have been looking to staff this position for less than £1.5m). Other players of potential interest here would be Ivan Obradovic and Aly Cissokho: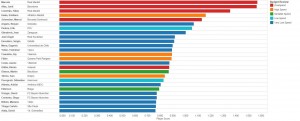 Aged 25 to 27
Jose Enrique is obviously on this list so should provide useful perspective around the scoring system. Personally, I would be looking for players at the younger end of this scale towards the likes of Guardado, Monzón, Nagatomo or Criscito (perhaps Nagatomo would just edge it, given the Asian marketing advantages that could come with having a Japanese player):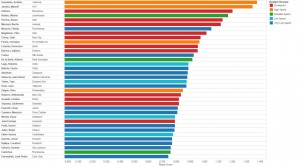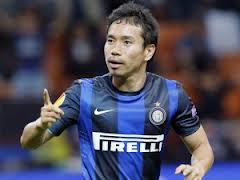 Yuto Nagatomo, Inter and Japan
Conclusions
This piece was slightly more difficult than the one on central defenders (which was actually a surprise to me). Still, there are plenty of players to consider. One notable absentee is Ryan Bertrand (who is a player I like). He scores slightly less than the 0.700 threshold that I've set (0.680) but is a player I feel has lots of promise (his progress has perhaps been limited by the longevity of Ashley Cole, as Daniel Sturridge struggled to displace Didier Drogba and then later Fernando Torres).
"These Turbulent Times: Liverpool FC's Search for Success" is out now in paperback (click here) and on all Amazon Kindle stores (search the store in question to find it).
For anyone outside of the UK, the Book Depository offers massive savings due to free worldwide postage to most countries.