By Daniel Rhodes.
These Turbulent Times – Liverpool's Search for Success
(A review by These Football Times click here)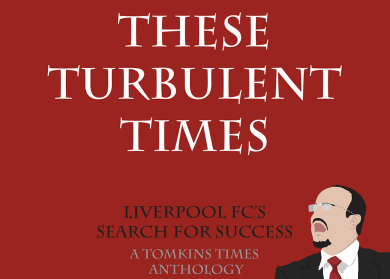 Paul Tomkins and Editor Chris Rowland have tried to cultivate a style and standard for TTT, while at the same time encouraging writers and analysts to express and challenge themselves and the site's readers.
These Turbulent Times is a shining example of a community with a common interest but a vast array of differing talents, offering their individual opinions and analysis, usually (but not always) on specific areas of expertise; the sheer variety of topics within the context of Liverpool FC is extraordinary.
Here's a brief look at what makes each article unique, and how the book runs the full gamut of analysis, in terms of subject matter and approach.
My Lunch With The Quiet American by Paul Tomkins
October, 2010. How often have you had a billionaire message you on Facebook? Then, ignored it, only to be convinced of the billionaires' credibility on Twitter. This wasn't any random billionaire either; John W. Henry was the head of New England Sports Ventures, the company who had just bought Liverpool FC and saved them from administration.
Liverpool's new owners wanted to gauge a variety of sources, and after reading Paul's books, 'the quiet American' decided to ask him what he thought about the current manager (Hodgson), the squad and the future. Updated and expanded in June 2013, to give a fuller picture of the meeting and subsequent conversations.
Momentum: Confidence of Confidence Trick? by Mike Begon
April, 2012. Everyone knows that if a team wins a couple of games in a row you start to develop some momentum. And, when you're riding the coattails of the Momentum Train, there's really no stopping you. The momentum carries you to further victories. Except, as Mike Begon reviews the evidence, about a topic that was hotter, on TTT, than a basketball players' hands on a shooting streak (another myth peddled by many pundits and fans), we discover that the vast majority of studies looking into this previously accepted phenomenon simply don't prove that it even exists.
The Pros and Cons of Selling Suarez by Paul Tomkins
June, 2013. A recent look at our controversial Uruguayan and how the club would struggle (but also potentially flourish) if we were to sell our prized asset. A balanced look at Suarez, with his spectacular individual brilliance or frustrating on-the-ball wastefulness in promising positions; high transfer value and limited need to sell or the opportunity for a huge fee, and a chance to improve the squad as a unit. His star quality. His controversial behaviour. His juxtaposition.
My Day with Crisis-Hit Benitez
October, 2009. A meeting at Melwood with Rafa Benitez, in his final season. While many in the mainstream press were solely blaming the manager for the club's failure to replicate the performance of the previous league season, Paul got an opportunity to speak to man directly. A thank-you lunch turned into a day of insight. A chance to pick the Spaniard's brain on transfer targets who had gone begging in the past, to the attitude and application of members of the current squad – at all levels. Zonal marking, the squad he inherited from Houllier and the structure of the youth set-up are just some of the other topics Rafa discusses with Paul.
Conversations with a European Champion by Paul Tomkins
June, 2010. This addition to the above article, published when Rafa was sacked, outlines some new information that came from the Melwood meeting, including his frustration with the board and other transfer targets who got away, but also a peek into the great tactical mind of Benitez: emails about specific roles at set-pieces, subtly different midfield formations and the need for a defence to move as a unit. And finally, and perhaps more importantly, a snapshot of Rafa the man, and how he and his family integrated into the local community, even continuing when he wasn't the manager.
Decades of Flawless Forwards by Paul Tomkins
March, 2013. Liddell, Hunt, Keegan, Rush, Aldridge, Owen, Fowler, Torres and Suarez: goals. In no way did they score their goals at the same rate, in the same way or with the same level of importance; but they all scored goals. Paul runs his analytical eye over the goal scorers who have blessed the Anfield turf.
Liverpool's Road to the Future by Paul Grech
July, 2012. "And then, nothing" [… after Gerrard and Carragher.]
Pertinent, yet fundamental, words in Liverpool's recent history. Paul Grech takes a look at the club's youth set-up; why it has failed in the 2000s and why it may succeed in the near future. Credit must initially go to Rafa, but, once his recommended appointments and structure was put in place, then the praise falls on McParland, Segura and, of course, arguably the most influential of the lot, Borrell.
John Barnes: Black Magic by Paul Tomkins
June, 2012. A magician who turned a table-topping international defender into "a Tussauds waxwork in blue and white hoops" and ended his trick, as was his custom, by curling the ball into the far corner. The Anfield crowd, who were initially denied a glimpse at their new hero by a collapsed sewer, were treated to anything but the foul stench of waste as Barnes went onto to achieve legendary status with a mix of skill, pace, power, intelligence and curlers. Lots of curlers.
Cultural Exchange: American Ideas & "Our Football" by Simon Clancy
November, 2012. A fascinating breakdown of the major differences separating football and American sport; the cultural nuances such as the increased focus on individual players, the management structure rather than the football manager and why, sometimes, the biggest events in American sport revolve around the draft 'transfer' system.
A Doctor at Hillsborough by Neil Dunkin 
April, 2010. Neil, the author of the acclaimed book Anfield of Dreams, interviews Dr Glyn Phillips, a lifelong Liverpool fan who attended that fateful match in Sheffield. A moving account recalls the growing realisation that something wasn't right with the "abnormally packed crowd" and how this escalated, so quickly, into a situation where he needed to help, needed to assist the bodies he could see motionless on the pitch. The empty oxygen cylinder given to him by the police, used afterwards to discredit his evidence, but not to help dying fans. It's an incredibly detailed eye-witness account from a hero, which will make you angry, but also proud, as a fan and human being, of Dr Phillips' desire to make sure the fans would not be blamed. His chance meeting with Dalglish and his radio interview with Alan Green, outlining where the blame should lie, why it happened and the gross negligence of Hillsborough's medical facilities.
Brendan Rodgers – From The Tawe to The Mersey by Matthew Harrison
August, 2012. Swansea City writer Matthew Harrison, after the appointment of Rodgers at Liverpool, outlines what to expect from the Ulsterman; his tactical strength when transforming Martinez's previous flair into the efficient unit who got promoted and his ability to get the best from players who had failed under previous regimes. But also, Rodgers' faults: no alternative plan, the lack of team goals and the inability to win away from home.
A Tactical Glossary – Some Terms for the Modern Age by Mihail Vladimirov 
September, 2012. As the tactical side of the game becomes ever more complex and positions ever more innovative, The Tomkins Times' resident tactical expert outlines some of the modern terms that have evolved in recently. Whereas before we had defenders, now we've got wing-backs, defensive full-backs, stoppers and ball-playing centre-backs. The same applies to other positions, as the game adapts to the growing importance placed on tactical detail and planning.
Winning By Numbers by Lee Mooney
October, 2012. What matters the most when running a football club? Is it the detailed performance analysis on a match-by-match basis or the search for value and profitable assets in the transfer window? Lee, using the data from the 2011/12 season, discovers which metrics increase your chances of winning matches, but also emphasises the need to find value in the transfer market. Discover why the through-ball is far more influential than a flick-on, and why the decision of who (and when) to buy and sell players, is the biggest challenge when trying to run a successful football club.
'Fanalysts', Possession and Panning for Gold by Tony McKenna
November, 2012. This was never even intended to be an article, it was 'below the line'. Except, the comments section is a very different beast on The Tomkins Times. Some of the best writing on the site has come in response to other pieces. This, by Tony McKenna, is a prime example of what can happen when debate, instead of wind-up merchants, are encouraged. Not only is it a challenge to some of Lee's analysis, but it complements and adds to it. He recalls Rafa emphasising the pitfalls of mimicking fashion/style over finely tuned substance. Moyes' floppy success (Beattie anyone?). The benefits of Fanalysts; the limitations of Rodgers' 79% statastrophe.
Boston Red Sox vs. Liverpool FC by Si Steers
August, 2012. Many sections of the fan base believe the chances of FSG succeeding at Liverpool are virtually zero. Not enough focus over here, too much focus in Boston. Simon picks that argument apart by the looking at the methods adopted by our American owners, in securing World Series success and a popular renovation of Fenway; he then compares the similarities and parallels with Liverpool's current predicament.
Into the Red: The Financial Fair Play Rules and Liverpool FC by Daniel Geey 
June, 2013. Do you understand Financial Fair Play? UEFA tried their best to make it as complicated as possible for the layman; Daniel tries to break it down, and make it as easy as possible to understand. Introducing the background behind its formation, transfer amortisation and why this impacts FFP, accepted deviation from break-even accounting and the sanctions to be introduced for anyone not within the rules. And crucially, how this will apply to Liverpool.
I Hate Rodgers (Clearly) by Paul Tomkins
May, 2013. Imagine being offered a manager, albeit at the end of career, who had just completed the most successful season in German footballing history: very unlikely. Now, imagine suggesting it would be positive for Liverpool if he was appointed.  Apparently that means you hate the current incumbent. Paul outlines why it's hard to judge a manager, why it's been hard to judge Rodgers and why, usually, elite level managers achieve in their first season with a big club, albeit relatively.
Entitlement, Expectation and the Modern Fan by James Keen
October, 2012. Football has changed. Clubs have changed. Fans, with increased levels of entitlement, expectation and demands, now act more like consumers than supporters. James eloquently describes the positive effects of fans changing: not being taken for granted, better facilities and ever more access to previously hidden parts of the club. But, that's entertainment. And with a performance, comes a price, and that increase in expense inevitably leads to more demands. Everybody now has a voice, with potentially destructive consequences.
Show Me Something I Can't See by Bob Pearce 
February, 2013. Has it ever occurred to you that you've heard something before? Spout the cliché, get handsomely paid for a job you have no experience in doing, and then wear a smug grin, indicating how proud you're of telling the nation how well Suarez did to hit the target from ten yards. Bob offers some creative and innovative alternatives to the broadcasting status quo. Humorous and serious at the same time: Bob's forte.
Fair Play For Fenway by Dan Kennett 
June, 2011. Another look at Financial Fair Play, and how FSG will interpret and apply the new regulations. With incredible detail – and a little help from Zach Slaton, Daniel Geey, Graeme Riley, Taf McDonald and Paul Tomkins – Dan manages to breakdown the detail. The relevant expenses, our income, turnover and crucially, the mix of our turnover, contract value and a different way to look at transfers, all contribute to an in-depth analysis of FSG's insistence that FFP has some credibility and why Liverpool might be in a position to exploit it.
A Model to Identify Players by Lee Mooney
March, 2013. We've all seen staggering transfer fees for players we don't think are worth half that value or have been infected by an English Premium, but how should a club approach their transfer policy? Lee managed to crunch the data, based on a number of variables, and come up with not only a preferred strategy to transfer negotiation and completed deals, but parameters and expected squad values. A model that may even lead to commercial success – Premier League clubs have come knocking at Lee's door – was 'launched' initially, within the TTT walls.
Embracing Uncertainty by Tony McKenna
March, 2013. A polarised fanbase: optimists vs. pessimists. There's a fence separating the feuding parties, but none of the combatants are anywhere near it. Or is there another way to approach triumph and adversity when the evidence on the table is mixed? Tony looks at: the psychology of winning and losing; the tendency to trust the experts; the arc of the pendulum swing; Sfumato, and how all this can relate to supporting and analysing a club's fortunes, is best done by "embracing uncertainty".
Better With the Ball? It's Just A Shot Away by Andrew Beasley
March, 2013. This piece – by TTT's Poster of the Year 2012 – was written exclusively for this book, and takes a look back at Liverpool's shot data over recent seasons. Andrew takes a look at Total Shots on Target %, since August 2008, splitting the results into smaller sections, and trying to discover just how often the Reds win when they win the Shots on Target battle. The results confirm and complement existing research while adding further food for thought for the upcoming season.
The Suarez Decision: Liverpool FC's Grounds for Appeal by Daniel Geey
January, 2012. Written just after the FA released the findings of the Independent Regulatory Commission's Report (IRCR) on the Suarez/Evra incident, Daniel briefly outlines the claims made by Evra and Suarez; looks at the legal tests applied; the conclusions of the commission; reflects on one crucial omission from the report; picks apart the inconsistencies in Suarez's evidence and discusses the procedural grounds for appeal.
The Benitez Myths by Paul Tomkins
October, 2009. While the vast majority of the footballing and media fraternity were criticising Benitez, when he was Liverpool (not Chelsea) manager, for a variety of spurious, facetious and often factually incorrect reasons, Paul works through each of the claims, using facts, and provides a wealth of information about why many, if not all, of the statements of his critics were myths.
It's Getting Ugly: Hodgson's Way by Paul Tomkins
December, 2010. What happens when you take a mix of players from England, Brazil, Spain, Denmark, Portugal, Argentina and Holland, and apply The Roy Hodgson effect? You get The Hoof. Talented and technical players now scared of the football. One season Reina is passing along the ground to his teammates in his own half, the next all his 'passes' end up going to the opposition in their half. I bet even Roy couldn't explain this phenomenon. Paul refers to the obvious, painful change in style and also to the tactical and personnel changes Hodgson inflicted on the club. Embarrassing those football journalists and pundits who claimed Roy would replace Rafa's 'negative' style with an exciting approach.
We Were the Victims; It Wasn't Our Fault by Chris Rowland
September, 2012. TTT's Editor, Chris Rowland, gives a deeply personal account of his experiences on that tragic date: 15th April 1989. He explains why that date, every year, now invokes feelings of confusion and sadness, rather than joy that it's also his Mum's birthday. How the day unfolded with the excited normality of any other cup semi-final. Why the crucial difference was the change in police officer, and his differing method of crowd control. There's also a first-hand account of the corrupt and biased tactics used by the West Midlands Police Force when he was interviewed months after the event. A further conflict of emotions when the Hillsborough Independent Commission released their findings in September 2012, and how happiness can turn to rage all over again when you read through the evidence. Without doubt it's one of the most emotive and powerful pieces ever to be published on The Tomkins Times.
Liverpool FC: An Alternative Lesson from History by Andrew McKay
June, 2012. An insightful and enlightening article looking back through Liverpool's history, it emphasises the need to acknowledge that success was built, not by merely mimicking the previous generation but with constant change and innovation. The points raised range from giving Tom Watson a greater managerial brief in the 1890s to adjusting the playing style in the 1970s compared to out of date financial attitudes at the beginning of the Premier League era and sticking with bygone tactics between the wars. A must read for any fan of the club's often misrepresented and misunderstood history.
Making Sense of the Black Swan by Tony McKenna
April, 2012. The art of the knee-jerk – and the fickle nature of fans, journalists, pundits and even governing bodies – leads to shallow assessments based being made that don't ever consider the wider context, or the long term pattern. This article outlines many examples from recent memory: Pardew could do no wrong; then, before it even happened, Tony predicted (April 2012) Newcastle would fall off the form cliff – that their Black Swan would fly away. Van Persie "scores when wants"; but, at other times, he doesn't seem to want to score at all, and goes prolonged periods without finding the back of the net. Was Dalglish merely the victim of his own season, full of rare and random events, which clouded our judgement against a long-term strategy based on meticulous planning?
Getting Luck on Our Side by Aki Pekuri
March, 2012. What is luck? How can we measure it? And, crucially, how can we get luck on our side? Here, another subscriber, Aki Pekuri, pops up with this detailed statistical analysis of scoring rates. The difference between Actual and Deserved Goals Scored/Against, a similar approach with Goal Difference and also Points. The detailed charts offer an alternative view to the success (and failures) of Dalglish in his league campaign of 2011/12.
A European Hangover? Liverpool's Record After Euro Games by Graeme Riley
March, 2011. One of the most discussed topics ever on the forum: to what degree do European games impact on league performance? Using his own data that includes every match Liverpool have ever played (as well as every match played in Europe – if you want to buy his other books, that I saw first-hand at the TTT writers meeting, and includes team sheets and scorers, as well as a new series of books reproducing all the match reports from every Liverpool game that has ever been reported on! Amazing stuff.), Graeme categorises the results into three sections: pre-Heysel, pre-Champions League and all the games from the Champions League era. The results are thought-provoking and certainly filled the comments section of TTT, often quoted, especially after a few recent Europa League games.
Possession: 9/10ths of LFC Law? By Paul Tomkins
November, 2010. What would drive any self-respecting LFC writer to start analysing possession? Correct, Roy Hodgson. With Liverpool looking to beat teams like Northampton Town and Stoke City – on the counter-attack, by allowing these sides the majority of the ball, at Anfield, questions are bound to be asked. Paul looks at the drop in passing accuracy, the methods and teachings of Allen Wade and the similarities with between Hodgson's home form and the Houllier tenure.
Liverpool's Pressing Approach by Mihail Vladimirov 
November, 2011. Mihail starts by explaining the difference between pressing and standing-off, reminding us that either option, exclusively, is not necessarily right or wrong – it all depends on the context. He then moves onto an in-depth analysis of pressing and how this applies to Liverpool; looking at pressing with a three man midfield, standing off with a two man midfield or the mixed approach.
The Secret to Transfer Success by Paul Tomkins
June, 2012. Using another Graeme Riley database – this time the Transfer Price Index (TPI) – Paul examines what age has represented the best value for Liverpool since 1993. By breaking the signings down into five age ranges, and then comparing this against their average number of Premier League starts and against their value for money, he discovers some definite trends. He then uses this data to compare Liverpool's recent managers, and how successful they were at finding value in their signings.
The Transfer Price Index Predictions for 2012/13 by Zach Slaton
September, 2012. Again using the TPI, but this time as the basis for a predictive model, freelance football writer Zach Slaton explains the history behind the development of the model, and the details of how it's calculated. It provides an interesting look at squad and starting eleven values throughout the Premier League, as well as the expected odds of each club, and their predicted finishing positions. Zach then added a review for the book at the end of the season, looking at the success rate of the new model and how quickly it managed to predict the top eight teams in the league.
A Look at Liverpool's Transfer Needs by Ted Knutson
June, 2013. Written at the start of this summer, successful sports trader and football analytical blogger (as well as co-founder of new site StatsBomb.com) Ted Knutson takes a look some of the players who would potentially improve the current first team, as well as finding value within the specified position and age range. While some of the recommendations were right under our noses, others were less well-known from across Europe's big leagues.
How Did They Do 2012/13? – The Highlights by various TTT writers and contributors
June, 2013. All the regular contributors to the TTT weekly 'Symposium' feature were asked to give their view on each player who made more than ten appearances during the 2012/13 season. The best ones were selected for this highlights package, which also included some data analysis by Krishen Bhautoo. The poll rating out of ten, for each players, was measured and compared to the total votes from all subscribers. The only player we could agree on? Steven Gerrard – who received exactly the same rating: 7.80. The wisdom of the TTT crowd.
Rushian Roulette by Paul Tomkins
June, 2012. It could all have been so different with the Reds' goal scoring Welshman; storming into Paisley's office, languishing in the reserves or dropped from the squad for the European Cup Final. Whatever his frustrations, 'Sir' Bob said one thing to the angry striker – "you haven't scored a single goal yet, that's why you're not playing." Rush soon put that right, and continued to score goals throughout his career. Paul writes about the good and the bad times, but mostly the goals – because they were in abundance, once his broke his duck against Leeds United in front of The Kop.
Football, Finance, Liverpool and the Top Six by Martin McLaughlin 
September, 2012. If you ever thought sound financial planning shouldn't play a part in modern football, instead advocating large fees, excessive wages and long-term contracts, then read this, by TTT subscriber and financial expert Martin McLaughlin, who explains all the technical detail in plain enough English for the layman to understand and comprehend. Martin looks at: income/expenditure in relation to turnover, profit on player sales in relation to our rivals and also wages as a percentage of turnover. This might sound complicated, but his visual, as well as written analysis makes it easier to understand. While many sections of the fanbase rally against the 'asset-stripping' owners who are here to sell and make a quick buck, Martin illustrates that financial planning and learning the lessons from our rivals is the best, and most likely way, to exploit the club's current financial model and external restrictions.
The Costs and Benefits of Building a New Anfield by Ben Stoneman
Written in November, 2011 – before plans emerged that the owners preferred to renovate Anfield, Ben Stoneman sent in this incredible analysis of building a new Anfield, looking at the costs and the benefits. Taking into account the current economic climate; highlighting the flaws with Liverpool's matchday revenue, including attendance vs. capacity; the best ways to maximise potential revenue; yield management and the role of Liverpool as the monopolist.
The Unwritten Law of Managerial Suitability by Paul Tomkins
Hodgson was appointed in the summer of 2010 – regarded by many as the most unsuitable manager in the club's history. Paul wrote this in December 2010, I can't see any connection, at all, between these two events. Examining the factors that influence a manager's ability to shape his team, such as the age of his squad, the relative budget available to improve the playing staff and, of course, their own personal qualifications and level of experience at the top level.
Fernando Torres – Liverpool FC's Top 20 Players by Krishen Bhautoo 
July, 2012. "I think I chose El Nino as it still felt like hadn't got over an ex who had dumped me. Even though I've got a new girlfriend (Suarez) and a bit on the side (Carroll), I can't but help the occasional glance at what could have been with my earlier love." Krishen looks at how Torres blossomed into a top-class striker at Atletico Madrid before exploding on the European scene under Rafa's guidance at Liverpool.
Numbers That Numb: The Amazing Maze by Tony McKenna
June, 2013. A late entry into the book, Tony explains why numbers should be treated with caution. Why we all mix emotions with statistics, and why many of us possibly undervalue Downing's contribution, based on hyperbole rather than the cold, hard facts. They key is that we must learn to "question our emotions first, then the numbers, then everything else."
Back to LFC's Future by Dave Cronin
December, 2012. Just before Christmas 2012, TTT's subscribers were offered the chance to enter a piece to the book that was the best summation of Liverpool's fortunes since the launch of TTT – this light-hearted effort by Dave Cronin won the vote by a landslide. Not only humorous, this is also a very sharp reflection on the obvious fall from grace since Benitez was in charge, and taken from a starting point of the 4-1 victory at Old Trafford in March 2009, also hurts with its accuracy.
"These Turbulent Times: Liverpool FC's Search for Success" is out now in paperback (click here) and on all Amazon Kindle stores (search the store in question to find it).
For anyone outside of the UK, the Book Depository offers massive savings due to free worldwide postage to most countries.