By Paul Tomkins
At first glance, loaning out Pepe Reina for a year seems odd. And although it doesn't make full sense, particularly if only half of his wages are being met by Napoli, there are, all the same, some understandable reasons why it ended up this way.
Rumours have been circling since January about a list of players Liverpool would listen to offers for; indeed, talk was of the club actually actively touting those players around. They were all slightly older and on higher wages; players whose performances weren't seen to be matching what they were being paid. Reina was one name that was mentioned.
His form picked up markedly in the second half of the season, but he hasn't been at his very best for several years now; the five years between 2005 and 2010 were up there with the finest of any Reds' custodian. At 30 he's still only halfway through his keeping career – on paper he has ten good years ahead of him, as most finish at around 40; contrary to a younger outfield player, at say 28, and who may only have five years left at a peak level.
Simon Mignolet has been in better form than Reina, in terms of stopping stops, for a couple of seasons now. He's good with his feet, as an outfield player in youth football, and has a solid mentality. A £9m investment, Mignolet is five years younger than Reina, and if the stats are to be believed, a better keeper at this juncture. He'll also be on half Reina's wages.
Reina was seen as a someone  on a 'bad contract' (see Dan Kennett's piece from 2011, which is also in the new Best of TTT book, for an explantation of bad contracts, and how almost all of the players Dan saw as vulnerable have now left the club in just two years). Reina also seemed set for a move to Barcelona, so even if Pepe's improvement in the second half of last season caused a rethink amongst the Reds' hierarchy, there was a very real chance he'd be off anyway, to replace Victor Valdes.
Then Valdes, having said that he was off, stated that he was going to see out the final year of his contract. Liverpool had moved for Mignolet, and now had two top keepers. Brendan Rodgers spoke about competition for places, but I feel he was just trying to make the best of an unplanned situation; a bit like how Gérard Houllier tried to buy either Jerzy Dudek or Chris Kirkland, and as push came to shove, accidentally ended up with both.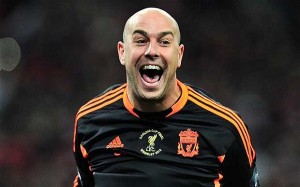 You don't need two top keepers, and certainly not when the one on the bench is one of the club's top three highest earners. Liverpool don't have the ability to maintain a wage bill like Chelsea, United or City. Is it therefore a good use of a wage of £100k+ a week, given that substitute keepers might barely catch a ball all season?
I'm not sure keepers need competition to improve. They need motivation, but competition is awkward with keepers. When Souness juggled three "first choice" keepers they all became nervous wrecks. When Kirkland and Dudek were competing, neither felt relaxed enough to actually do his job. Chopping and changing them often leads to unease. Ideally the second keeper is the one with the lower profile, on lower wages, and who is happy to sit on the bench every week. He obviously must be competent, but the odds of him playing more than five league games in a season must be less than 10%. But Mignolet wasn't bought to do that.
Reina wouldn't be happy on the bench, and this way he gets to play every week under his favourite manager and goalkeeping coach, compete in the Champions League and, as a result, almost certainly go to the World Cup in Brazil. His value may even increase, if he has a sensational season, whereas being on the Liverpool bench would only harm it.
This is similar to the Andy Carroll situation last season: while I felt it was wrong to loan him, particularly as no replacement had been bought – therefore the opposite of this case – his value would have waned had he just sat on the bench every week. He went to West Ham, got injured, and that very depreciation looked like happening. And then he got fit, grabbed some goals and suddenly Liverpool got their full asking price; had he spent the season on the Reds' fringes they'd have struggled to get £10m, as opposed to the eventual £17.5m. Last summer, Liverpool let their asset go before the new man arrived; a mistake. This time that mistake was avoided, but of course, the existing asset's situation changed, and both ended up on the books; a mistake! That's how things can transpire.
There are concerns with Mignolet, in that this is a higher level of pressure and scrutiny than he's previously experienced, and he might wilt in the glare of the spotlight. That's the worst case scenario. Of course, if he ultimately flops, Reina will still be on the books in 2014, contracted to 2016; maybe next year he'll return a revived keeper? But a case could be made for it being easier for Mignolet to settle and relax without a popular figure waiting in the wings.
For me, tense keepers are the biggest liabilities. It's a confidence position, in that keepers have to be able to play their natural game and ignore their mistakes; if they focus on them, for fear of being dropped, they can stop coming for crosses, and the whole defence becomes anxious.
The fact that Liverpool would still be paying Reina half his wages puts a bit of a dent in my argument, but it's still circa £60k a week being saved, and there can be benefits, as outlined, as to his transfer value in a year's time.
All the same, I'm still very sad to see such a good, likeable character depart, and his personality will be missed around the squad. With Carragher retired and some other big personalities leaving last summer, Liverpool cannot afford to become a team of tomorrow's men, who are unready for today (because tomorrow never seems to come; the best players keep leaving because the team isn't quite there yet).
However, the arrival of Kolo Toure shows that the club are not ignoring older players with tons of experience if the price is right. Equally, Steven Gerrard has just signed a new contract, and most of the first-choice defenders, aside from Toure, are in their late 20s. And Mignolet is no novice. He's three years older than Reina when he arrived in 2005, and if being used to English football can be overplayed, it can be important for keepers, given the style of football over here, particularly from teams like Stoke and Bolton over the years.
I don't see this event as asset-stripping, as so many fans seemed to suggest to me last night on Twitter. It's about managing the resources better; freeing up wages to give to players who merit them, rather than those who merited them in the past. Obviously if Liverpool don't reinvest on two or three more top players this summer I'll be angry, but the big wages need to be for the first XI, not to sit on the bench (and keepers don't even get to play 20 minutes to make an impact.)
The Red Sox were similarly overhauled this year, and they're having a great season. Football may not work in quite the same way, but if you can get better performers on lower wages (by being smart), then what's not to like? People moaned when FSG blew millions on Carroll, Downing and Henderson, and yet now they're accusing them of asset-stripping, even though the actual situation leaves them with two keepers, not one.
Personally speaking, I wouldn't have replaced Reina with Mignolet, not least because I rarely watched Sunderland play more than the twice against Liverpool; maybe the odd game I caught here and there. I'm not a scout, and don't watch the rest of the division, and the rest of Europe, in the way that a scout would.
I'd have stuck with Reina, due to my emotional connection to him. But as much as emotions are a key part of the experience of the sport – it's about feeling things, as fans and spectators – then decision-making needs to be bereft of sentiment. And too much of the reaction by fans away from the games themselves remains in the emotional zone.
Bill Shankly is seen as the toughest ever Liverpool manager, perhaps because he did things like ignore injured players and had a stare that could turn people to stone, but he admitted to struggling to replace his stars once they stopped performing as well. He admits to sticking with them too long. But Bob Paisley, by contrast, was the absolute master of the cold, calculating decision. Players were sold before people thought it was time to sell them, and yet the team always got better, and never got old.
Without oligarch owners, and without the Champions League, and without a massive stadium full of corporate boxes, Liverpool need to be smarter with their money. If Reina, who was worth £20m+ in his prime but whose value has slipped quite dramatically, goes for £9m next summer (hopefully to Barca, maybe to Napoli), the Reds will have a neutral net spend on goalkeepers, but will be paying a lot less each week to their first choice.
That first choice will still be in his mid-20s, and the thinking of the scouts, manager and transfer committee is obviously that he is capable of performing at a higher level than Reina has since 2010. Statistically, Mignolet, who is two inches taller than Reina, has been miles ahead of the Spaniard in recent seasons, in terms of percentage of shots saved; and although it's a different challenge if you only have one save to make each match as opposed to 20, obviously people at the club rate the Belgian's ability to do the job properly. While the stats may be flawed, few Liverpool fans will seen enough of Mignolet (unless they watched Sunderland as much as Liverpool) to make a fair comparison, and even then they'd have probably been biased towards the Reds' man. So the stats offer some objective measure.
It could all go horribly wrong, of course, but that's football. Everything is a risk of sorts. People went berserk when Torres was sold, but in retrospect gaining £50m looks like a masterstroke (even if the reinvestment wasn't). As I noted some weeks ago, players are just passing through. Love them while they're here, but we never fully "own" them. There's very little true loyalty from clubs or players: they all move on, or are moved on, when it suits.
"These Turbulent Times: Liverpool FC's Search for Success" is out now in paperback (click here) and on all Amazon Kindle stores (search the store in question to find it).
For anyone outside of the UK, the Book Depository offers massive savings due to free worldwide postage to most countries.