By Bob Pearce and Mihail Vladimirov.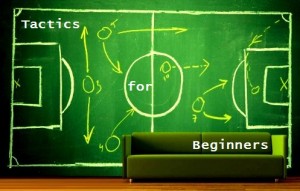 In this issue Bob and Mihail examine the importance of half-time in the tactical context of the match.
Bob: Tactically, how important is half-time in a game?
Mihail: Half-time is crucial if your team is losing. In this short break the manager should find a way to improve his team and introduce some fresh ideas. It could be wholesale changes, including a change in the shape, a player or two introduced, or some players' positioning swapped. Or he could try making much more subtle changes, with certain patterns of play changed, or new patterns introduced to try something different, before deciding whether to bring on the wholesale changes ten to fifteen minutes into the second half.
If the game is still relatively even and cagey, half-time is always a welcome break for the manager to have some words with his team. Given the game would be overly tactical, so to speak, the manager might want to re-state words of caution to his players in order to keep them on their toes and maintain their concentration level. He would certainly try to pinpoint certain elements of the opposition's plan (both strengths and weaknesses) and underline to his team how it's best to react to them. As the game is relatively 'drab', due to being overly tactical, the manager might already have some changes in his mind that he will use later in the second half in order to try and open up the game. If so, he would need to take a few minutes to explain the details of these changes to his players in order for them to be ready and familiar with what will be happening later on when the changes are applied.
If the game is relatively finished – they are leading two or three goals to nil – there isn't much he should do. Perhaps praising the players to let them know they have done a good job, but in the meantime keeping them focused. Still, it would be nice for him to pin-point any negatives in his team's behaviour and try to improve them (there will always be such details, no matter what the score is). Apart from these details, which are part of the overall team-talk, he could try to plan the subs for the second half to give some players a rest. But for this to happen it would be better if he waits to see how the second half is going to start as there is always the chance the opposition will return to the pitch rejuvenated and/or to score the odd goal which could make the game open again.
So it all depends on how the first half panned out. So while the half-time is often seen as an opportunity for making a crucial tactical and motivational impact, it is the manager who ought to do the bulk of the hard work by analysing the first half issues to know exactly how to proceed during the half-time break.
Sometimes a change is made at half-time and, as a fan, you can wonder why the manager waited and didn't just make the change during the first half. Are there certain types of changes that it is better to delay until half-time because maybe they need some more detailed explanation and instruction, or some other reason?
The rest of this article is for Subscribers only.
[ttt-subscribe-article]