By Ted Knutson.
Ah, the silly season. A time when we all like to play Football Manager with our favourite team, shipping out the deadwood, and buying wunderkind replacements in return. Today, I'm going to do a lot of that sort of thing, with a small twist you don't usually get with real-world analysis.
A warning up front. This isn't a normal transfer shopping wish-list. Far from it. The point behind this exercise is to look for high statistical performers that meet the needs of Liverpool Football Club. (At TTT we don't think stats are everything, but we do think they can bolster arguments and provide insights. That said, they are always there to be challenged and debated. They are part of the story; but people need to work out how much of the story.)
I can also promise you that the thinkers at LFC are already using some similar methodologies right this very minute. Just because Damien Comolli gave the methodology a bad name, doesn't mean that using stats lacks value. Coutinho, Borini, Aspas and Luis Alberto all trigger immediate attention flags in any football stats database, provided you know what to look for.
Today I'm going to focus on three areas of need for this coming season (as noted by Liverpool fans I polled on Twitter), and provide multiple player options at different prices to fill those needs.
Some rules:
– The players recruited can't be starters in Champions League teams. I don't have data from smaller countries, and it's reasonable to think Liverpool could recruit CL players from smaller countries via wages alone, but anyone playing CL football in Italy, Spain, Germany, and England are likely to stay put. On the other hand, someone like Henrikh Mkhitaryan is still within reach.
– The players we look at also need to be just entering their prime (26) or younger. This maximizes the useful years you will get from the player and maintains resale value. Or if they aren't young, they need to be a hugely undervalued superstar. Example: Dimitar Berbatov went to Fulham for only £4.4m last year at age 31. Given his undeniable talent, that is undervalued. Meanwhile, David Villa, who is also 31, is currently being offered around at £12.5m. That is not undervalued.
Before we get started, a quick question: What position in the Premier League is most likely to have the most tackles and interceptions combined?
No, it's not central defenders. It's not even fullbacks, though the best of them can come pretty close.
The correct answer is…
Defensive Midfielder
The reason why, for this piece, we're shopping at this position is because Dan Kennett told me he was unconvinced by the current options. Lucas hasn't been at his best for two years. The jury is still out on Joe Allen (playing with a bad shoulder injury definitely affected his game), and he's not a real defensive midfielder anyway, so this is an area that needs bolstering.
The important things we are looking for are tackles and interceptions, plus a high level of passing aptitude. You also want a guy who doesn't give away a ton of fouls (two or more per game is the red zone), and who rarely gets dribbled past even though he plays in the middle of the pitch. Though many see him as immortal, Steven Gerrard isn't getting any younger, and finding someone who could potentially assume his position in the centre should his performances eventually decline is paramount.
Option 1 – Morgan Schneiderlin
Age: 23
Team: Southampton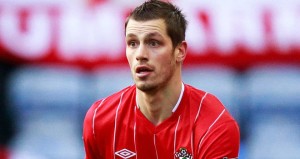 Schneiderlin stepped straight from the Championship into the Premier League and didn't miss a beat, becoming one of the best two defensive mids in the PL in his first season. (The other guy in contention was Sandro from Spurs.)

Those numbers are outstanding in any league in the world. The fouls aren't terrible, he doesn't get dribbled past that often, and the passing stats mean he'd fit in just fine at Liverpool. He's already been blooded and proven himself in the Premier League, and he's used to playing a similar pressing-plus-possession system that Mauricio Pochettino installed at Southampton upon his arrival. It's not listed here, but Schneiderlin even managed to get on the score sheet five times last season.
In short, Schneiderlin offers a lot to love without any real reservations. His age also means that if you sign him now, he could be part of a central midfield group for the next seven years without any expectation of decline.
Likely price: £12m. Southampton are usually very good at making sure they get the best possible price for their players, and they also understand how important he was to them last season. That said, this isn't normally a position that commands large transfer fees, even when the player is worth it, and the transfer fee could be less.
Option 2 – Milan Badelj
Age: 24
Team: Hamburg
Already a Croatian international, Badelj put up excellent numbers as a central midfielder last year in the Bundesliga.

Badelj has the ability to do just about anything as a midfielder, but those sorts of tackling and interception numbers are elite for the defensive midfielder role, and I'd be really happy having him there either as the holding role or part of a double pivot. Key Pass numbers are good for playing that deep as well, and his versatility means he can fill in wherever you need him in case of injuries or specific tactical needs.
Likely price: I'm guessing, but given that Hamburg bought him for £3.5m, I'd put Badelj in the £10-12m price range.
Option 3 -Sebastian Rode
Age: 22
Team: Eintracht Frankfurt
Assuming neither of our first two options pan out, you always want to have a backup plan, and preferably one that doesn't cost a fortune in case something goes awry. How about a young German who spent a lot of time in the centre of the park last season for the 6th-best team in Germany?

Likely price: £6m. Bayern Munich have been rumoured to be interested in this kid, but their midfield is stacked already. Given the level of play in the Bundesliga, at this point it's fair to say that the Premier League teams need to be recruiting more young Germans, especially if they can do it on the cheap.Foul numbers here are slightly high, but considering Rode is only 22, you can expect those to continue improving. The passing percentage is already great, as are the 5.4 completed long balls per game, a useful trait when trying to start the counter-attack. Key passes are fine for the position, and Rode can even dribble out of trouble regularly. He might not have the highest stats of the three players listed here, but it's possible he's the most talented of the lot.
Central Defender
I did a similar piece to this one with my friend Ben Pugsley over at BitterandBlue.com and ironically, my advice for Manchester City was to save their money and keep Kolo Touré for another season or two. Instead, Liverpool hopped in and signed the Ivorian to their own two-year deal. I think he's an excellent short-term solution in the centre of defence.
I'm assuming Škrtel is off (Napoli is the rumoured destination). Combined with Carragher's retirement, the club are still short a good central defender even after the Touré signing.
Unfortunately, at this point centre-back is the single hardest position to evaluate using publicly available statistics (Goalkeeper is a close second). Defender stats depend immensely on the system in place for their team, and have follow-on effects from how their teammates perform that are difficult to minimise. You can't just look at guys who post good numbers and say, "Aha! He must be great!" I have a methodology that I think works, but it needs stats and ratios that aren't available via places like WhoScored.com or TransferMarkt.
I can only say that I think Swansea's Chico was one of the best centre-backs in the Premier League last season and would fit in great at Liverpool. I also like what I've seen about Kyriakos Papadopoulos, but admit that at this time we don't have the correct data on the analytics side to make great suggestions for this area of need.
Right Attacking Midfielder/Wide Forward

Let's assume that Suárez eventually bids Liverpool a tearful, heartfelt adios, and we now need a replacement. What sort of player are you looking for to fill that slot? I'm going to figure that Daniel Sturridge will remain the primary option up top, with Fabio Borini to deputise for him.
(Aside: Disappointed with Borini's first season in the Premier League? I was too, until I looked at 2011/12 and realised he was one of the best statistical prospects according to my methodology. It's rare that young players perform as well as he did in Serie A and rarer still that their skills just completely desert them if they do. He's still very young, fought through injuries, and I have faith that he'll return to form.)
You aren't likely to replace Suárez's goal contribution directly, but you know that you need a fast, creative player who passes well, and who hopefully doesn't kill quite so many attacks by himself with poor shot selection or losing the ball. Mkhitaryan is the hot name on the list, and at 24 he kind of ticks all the boxes, but I don't have enough stats to do proper analysis of him (almost no one does), so let's go a different way.
Option 1 – Pizzi
Age: 23
Position: Left or Right Wide Forward
Team: Played for Deportivo la Coruna, but is owned by Braga.
We know Liverpool has been scouting Spain and Portugal heavily, and they had to have seen this guy.

And he did all of this for a team that was relegated. That is a massive accomplishment.He was third in La Liga for Key Passes behind Özil and Rakitić. He had a successful pass rate of 81% in an awful team. The turnover numbers are reasonable (3.5 per game is okay – once you get out past 4 I start to wince), he put 44% of his shots on target this season, uses both feet regularly, takes set pieces, and even crosses well.
He's primarily left-footed, but it would be easy to invert him as Rodgers often does with Downing, and play him on the right. His right foot is actually pretty solid too, so he'd bring the added benefit of unpredictability in that he could go wide or cut into the centre whenever he wanted (unlike Stewart-I-Always-Get-My-Shots-Blocked Downing).
Watch one of his highlight videos and then picture his passing ability on the right, Coutinho in the hole, Aspas or Sterling cutting in from the left, and Sturridge up top. That's an attack that might be as dangerous as what Manchester City fields this autumn, and for about the same price as they will pay for one single player.
Likely Price: £12m
Option 2 – Pierre-Emerick Aubameyang
Age: 23
Position: Forward
Team: Saint Etienne
Maybe you are unconvinced by Pizzi, and want to replace Suárez's goalscoring more directly. Aubameyang has been linked with a number of top clubs so far this summer, but not one has moved for him yet. Presumably for this exercise we have £40m in our pockets from the Suárez sale, which means we can afford Aubameyang and still have money left over to strengthen other areas. These are his stats for the last two seasons in Ligue 1.

The first line is from last year when he was 22, the second is from this season. He's young and improving, and man can he score. He has the same combined goals and assists total as Suárez, with better turnover stats, and is three years younger. He's not as creative as Suárez is in terms of key passes and dribbling, but that's because Aubameyang is very much a forward and less an attacking midfielder (though he can player there too), and somehow that hasn't affected his assists one bit.
Passing success improved considerably this year, and he's not anywhere close to his prime yet, so expect him to keep getting better. Aubameyang would be a great addition to the squad if Liverpool could sign him at a price they liked, and he was willing to come be part of the rebuilding project.
Likely price: £25-30m
Option 3 – Thomas Ince
Age: 21
Position: Wide Forward
Team: Blackpool
Been there, done that, right? I think it's pretty fair to say that whoever decided to sell Ince (for uh… £57,000? Seriously?!) got it wrong. There's no harm in going back and fixing that mistake, especially since Liverpool are the one team who will get a discount from buying him back from Blackpool.

 I did some research recently into how players that score in the Championship usually do when they move to the Premier League, and I was surprised that they usually keep about 80% of their stats after a move. If you take 80% of Ince's totals for last season, you'd wind up with 14G/11A, which is basically what Theo Walcott produced. Except Ince is three years younger and has a good chance to be better than Walcott. Players that produce numbers like that at such an early age usually grow up into being superstars.
Likely price: ?
Conclusion
These are some of the best value players statistics can find. As someone who enjoys watching Liverpool play, I'd be pretty happy with all the players I mentioned above. That said, stats aren't everything. That's why teams employ small armies of scouts and video analysts to add to the collective knowledge of the team and find exactly the right fits at prices they can afford.
I can honestly say I think Liverpool have done an excellent job finding value targets in the last year, perhaps more so than any other club in the Premier League (except maybe Swansea). I look forward to seeing who else they sign this summer, and my professional opinion (I'm the lead Premier League trader for one of the world's biggest bookies) is that Liverpool have a very good chance of challenging for a Champions' League spot this coming season. We'll know in about six months or so whether or not that opinion was misguided optimism or not.
Follow Ted Knutson – @mixedknuts – on Twitter
Also, pre-order the upcoming Best of TTT book by clicking this link.