By Chris Rowland.
Here's the next instalment of T6 – The Tomkins Times Transfer Talk Tracker – our monthly trip around the land of make-believe that is the media's transfer gossip. It's just thinking that the occasional one may just turn out to be true that makes us suspend our disbelief and keep coming back for more, like hopeless addicts.
Anyway, April saw a continuation of many a March rumour as well as lots of new ones. One of which only resurfaced right at the end of the month, but judging by the number of sources there may be something in it. So April, like March, begins with a link or several to another Brendan old boy, Reading's Alex Pearce, from the Daily Mail, Metro and ClubCall:
Liverpool look set to sign Reading defender Alex Pearce. The 24-year-old centre back is out of contract at the Madejski Stadium in the summer and has rejected eight offers from the club, with wages understood to be the sticking point. And now Anfield boss Brendan Rodgers is poised to make his move, having been on the search for a new central defender since Jamie Carragher announced his retirement. Pearce, Reading's Player of the Season last year, has not played since a 4-1 defeat away to Arsenal last month due to his reluctance to sign a new contract. Rodgers is an admirer of Pearce's professionalism and promoted him to the role of Reading captain when he was in charge of the club in 2009. (Daily Mail April 30)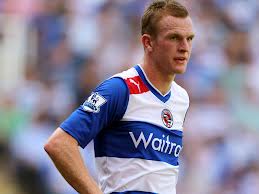 And this is what he looks like, just in case!
Well we know we're going to need a central defender or two – but not the 11 we were linked with in April! Another March rehash was Brazilian central defender Dede of Vasco da Gama, who was definitely going to join us, or Utd, or Juventus, Benfica, AC Milan and Valencia. Then Chelsea were favourites, because they'd got (a) more money and (b) three Brazilians already. Well Dede definitely went to join Cruzeiro in Brazil instead, according to Sky Sports on 17th.
There was also plenty more Ashley Williams talk at the start of the month, in The Guardian, ClubCall, the Daily Telegraph and the Liverpool Echo. Arsenal have nudged ahead, or Liverpool are in pole position, take your pick.
This article is for Subscribers only.
[ttt-subscribe-article]