By Chris Rowland.
… and who would they replace in our XI? That's what we asked the Symposium panel this week. This is what they had to say:
By Daniel Rhodes:
Bale for Downing.
Kompany for Carragher.
Yaya Toure for Gerrard.
Bale: a bit one-footed, with a daft celebration and a reputation for flamboyant dives – where he "anticipates contact" better than anybody else on the planet. Although statistically he's not fit to lace Suarez (or Walcott's) boots, he is quick. He can beat a man. Brilliant when it comes to shooting on the run. With rumours abound that MUFC will offer upwards of £55m (plus Ashley Young – taking the total cost of the deal to £45m), then coveting him here feels a bit dirty. I'd rather he went to PSG though, taking up his true place in British footballing history: a poor man's Chris Waddle.
Kompany: maybe not his best season, but City always seem to struggle when he's not fit. A communicator. He reads the game superbly. Pace and power compliment his intelligence, and has all the attributes to be left exposed with a high defensive line. Composed on the ball and strong from set pieces. The Belgian Bobby Moore is a tag that he's never been given by the City fans. I think they've missed a trick. So much better than Alan Shearer or Lawro on MOTD, comes across very well on Twitter as well. Seems to enjoy beating Man Utd as much as us Liverpool fans – always a plus point for me.
Yaya Toure: a beast. A machine-like midfield box-to-box dynamo. Wonderful touch, coupled with vision and "verticality". Wouldn't be cheap – but still worth every penny. Can go missing at times, but when he returns, can win a game single-handedly (Newcastle away last season). Although he's 29, if he just helps us win one title it'll be worth it.
In reality, of course, we'll end up with Matt Jarvis, John Obe Mikel and Kolo Toure.
By Alex Tate:
There's no need to touch up top this summer, unless someone leaves. And currently, I don't think there's any forward I'd rather have from within the Premier League. For various reasons, Suarez, Sturridge and Borini give me encouragement. And with my three favoured additions, the future will look a very rosy shade of red.
Vincent Kompany is not only a fantastic centreback but also a defensive midfielder of great solidity. He'd replace one of our outgoing centre backs. At 27 he's in his prime, which these days can go on for more years than before. Offer him a five-year contract and I think we'll see the very best of this immense player.
As there's a possibility we're losing two centrebacks, I'd put a bid in for Jan Vertonghen – early on in the season I thought commentators were referring to Adebayor as I kept hearing The Tongan, but I was wrong on both accounts! Vertonghen is the national partner of Kompany and positionally very flexible. An inspiring first season in England with four goals and a mean defensive record is ideal for a Top Four tilt. Agger may feel he's getting nudged out, but there's no harm in having three world-class centre backs on your books, especially with the extras they all offer.
Juan Mata's work rate, goals and energy in the middle of the park make him a very coveted player by this manager, and he'll eventually replace Steven Gerrard. I'm not writing off our captain this summer but if Mata can work with Lampard, he can with Gerrard. From this, we can allow Henderson time to breathe and grow into his role, then, he'll join Mata full time in a solid, powerful, skilfully attacking, centre of the spine for future glory.
By Martin McLaughlin:
Based on who are the three best players in the premier league you would probably pick (after Suarez) Van Persie, Bale and Mata.
However we badly need improvements at LB, RCB and AMR. Replacing Enrique with Baines is an obvious choice, there is no better left back in the premier league. His delivery from set pieces is an added bonus.
Replacing Downing with Mata would also be a no brainer, with the added option that Mata seems equally happy centrally or on the right.
I'm not convinced that there are many outstanding mobile RCBs in the premier league so instead I would take Ramires for the DM/CM position. He has all the prerequistes – passing, tackling, intercepting, but most importantly (especially if you were to have Baines and Johnson) fantastic pace and mobility. He could play as a more mobile DM in place of Lucas or alongside him as the more forward thinking of a defensive due behind a true number 10.
A fun hypothetical symposium yes, but I really don't want us to ever shop in the premier league ever again, it's a mugs game. There is no value, none, zero, zilch.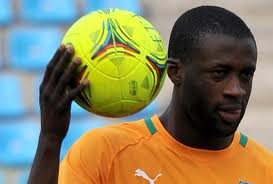 Ya-Ya demonstrates his party piece, producing a football from out of his right ear
The rest of this article is for Subscribers only.
[ttt-subscribe-article]