By Mihail Vladimirov.
Neither manager opted for a surprising selection in terms of personnel, yet both managers surprised with their choice of starting formation. Both teams used a shape unfamiliar to them in recent games.
Adkins used 4-4-2, with Pogrebnyak and Hunt up front. The latter was told to play deeper and often drop on Lucas when out of possession. Rodgers selected his 'lopsided' variant of the 4-2-3-1 shape with Henderson tucked inside from the left flank. Surprisingly, Coutinho was handed his first start playing centrally between the lines. With Suarez as the centre-forward, it meant Sturridge had to play on the right flank.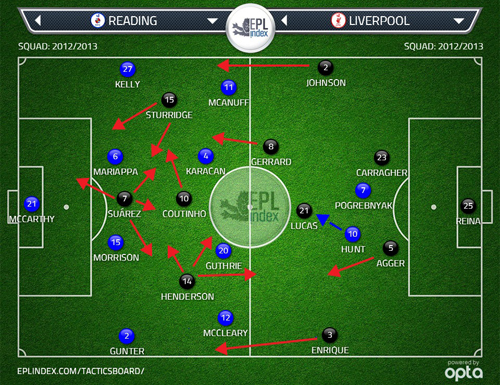 Initial 25 minutes – the lopsided 4-2-3-1
As soon as the tempo calmed down after the initial rather chaotic opening five minutes, Liverpool took full control of the game and their approach was quickly revealed. What the team offered in that period was everything that is associated with Rodgers' philosophy – patient build-up combined with overwhelming passing flow, resulting in sustained domination and attacking pressure. The players' positions and how they were assembled to behave on the pitch offered that sync and cohesion within the general framework; this resulted in fluid movement patterns which complemented the on-ball supremacy.
The key for all of this was the chosen structure and how the players played within it, brilliantly relating to each other on and off the ball. All over the pitch, there was the required diversity but also balance in the roles the players were expected to fulfil.
Starting with the formation, not only was it lopsided, meaning one of the wide players was constantly moving infield, coming towards the play and acting as the de-facto fourth midfielder (Henderson). With him, Liverpool quickly created that midfield quartet needed to increase the passing capabilities and 'web', then have the ability to be constantly on the move due to the high number of passing triangles and angles opened up. Logically, all of this resulted in the overwhelming passing domination that 'flooded' the opposition through the middle.
As can be seen from the above diagram, that midfield unit of four perfectly occupied the whole middle section of the pitch. The players weren't overlapping with their positioning or movement, as every part of the quartet had a specific zone to occupy. Not only were there plenty of angles, but also the positioning meant the ball could be moved within 'staggered' and not 'flat' lines, offering constant diagonal options. On paper, moving the ball diagonally means not only is a territory gained (something that isn't done if the ball is moved sideways) but a level of patience in the build-up is kept (something that isn't the case if the ball is moved vertically).
This article is for Subscribers only.
[ttt-subscribe-article]