By Paul Tomkins.
I can hear the response already. "Selling Suarez makes sense? Are you kidding me?"
As a fully paid-up member of the unofficial Luis Suarez fan club – although which Liverpool fan isn't? – I don't say those words lightly.
First of all, let me introduce some essential caveats.
It would make sense providing that:
Suarez is unhappy, restless or eager to test himself in the Champions League as soon as possible;
Suarez isn't sold to another Premier League club;
The fee is at least £50m; and
The club is confident that it can reinvest all of that money in finding a replacement, as well as one or two other players.
I don't for one moment believe Liverpool are looking to sell the player. And Suarez himself has a lot to be happy and thankful for at Anfield. But even the happiest players – going back through Liverpool's history there's Keegan and Rush, and Ronaldo at United – can get to the point where they want a new challenge. I've reached the stage where if players want to leave Liverpool it seems pointless getting too upset about it. Heroes come and go. So far, new heroes have always come along soon after. Four years ago it would have been unthinkable to sell Fernando Torres, and four years ago I had barely heard of Luis Suarez.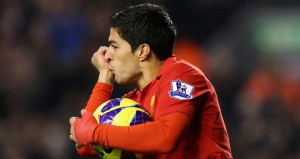 In fairness to the player, all Suarez has effectively said is that if a club like Barcelona came in for him he'd have to be interested. And why wouldn't he be? In reply, Ian Ayre has pointed out that the striker is under contract until 2017. Therefore they don't have to sell him. Suarez could of course try to force a move by threatening a Tevez-like strike, but if unsuccessful he'll only burn his bridges on Merseyside. It's morally satisfying when clubs stand up against players in this manner, but a frequent outcome is that both parties lose; unhappy players are rarely as productive, and they can sour the atmosphere of the dressing room. The player's value plummets if he's not playing, and it becomes self-defeating.
I want to make this clear: Suarez should not be in a hurry to leave Liverpool. It's hard to believe he could enjoy his football any more than he is right now, and he is absolutely adored by the Kop. He's playing in the highest profile league in the world, although at times being out of the Champions League is like being a division below the elite clubs. He's well paid, has good friends at the club, and is settled on Merseyside.
While some players have gone on to great things after leaving Liverpool – Keegan, McManaman, Mascherano and Alonso spring to mind – there are also examples like Rush, Torres and Owen, whose probably wish they'd never tried to see if the grass was greener. Indeed, Torres and Owen won major trophies at Chelsea and United respectively, but did so as subs and squad players. Torres looked barely interested in his Champions League medal, although Michael Owen seems quite proud of his league title at United, which I believe he received as one of the ball boys or boot cleaners. (Cheap shot.)
The difference is that Suarez would surely be successful wherever he goes. He's already adapted to two European countries, and it's clear that Spain, if Barcelona or Real Madrid came calling, would be more like Uruguay in terms of culture, language and climate than England and Holland. His all-round game is so good that it's hard to see him struggle in any system or position.
But he is nearing his peak, at 26. He may feel that time is running out. Big clubs do come calling at 28 and 29, but they generally prefer players with more time ahead of them. And maybe Suarez's stock won't be as high in a year or two. Perhaps that's how he looks at things: it's now or never. And however well paid he is at Liverpool, some clubs could double his weekly pay packet.
The benefits to Liverpool, on top of receiving the funds to rebuild in two or three positions, would be that the style of play wouldn't have to hinge around one player. Liverpool are far from a one-man team, but perhaps Suarez himself – in the way he plays – is the closest thing to a one-man team we've ever seen.
That's not to say that he isn't a team player: he creates chances, he works his socks off. But he's at the centre of everything, often improvising, and that can be bad as well as good. He's scored an incredible 29 goals from 40 games without taking penalties, which is incredible, but he's also had a quite ludicrous number of shots, often wastefully so when taken from distance and out wide.
Lots of moves break down with his efforts at goal, and Brendan Rodgers has clearly employed a more direct style to get the best out of Suarez and Gerrard, which may not be getting the best out of Rodgers' principles (although you could argue that he's blessed to have such good attacking players, and should be building the play around them). The key Liverpool pass these days seems to be Enrique from left-back over the defence for Suarez to run onto, although the build-up play can be rich and varied. However, tiki-taka it's not.
Of course, it's easier to attract future stars to your club if you already have players like Suarez and Gerrard (and another worry would be that Rodgers doesn't yet possess the cachet to lure top talents from around the globe to play for him). But Suarez himself was keen to join in 2011, and the aim in football is always to find the best up and coming players before the rest of the world realises just how good they are. Liverpool did that with Suarez, at half of the Torres fee, but made a bad judgement call on Andy Carroll.
If Suarez wants to stay, then by all means keep him – and treasure him. But you will be able to find countless examples of teams prospering after selling their best player. Of course, some teams get worse too. And it might turn out to be a disaster if Suarez left. But it seems pointless worrying about that might happen, or believing that it can only be disastrous if he moved on.
The curse of having one of the world's best players is that others will covet him. And until Liverpool are back in the Champions League, hanging on to the elite talents will be tricky. If I were him I'd want to give it at least one more year at Liverpool. But equally, if I were him – and I'd worked so hard at my craft my entire life, and was approaching the two or three years where I'd be at my peak – I'd find it hard to say no to Barcelona if they came calling.