By Krishen Bhautoo.
Since the recent Symposium #7 (Should We Keep Pepe), there have been musings regarding Reina's future at the club. Some say that he is a world class 'keeper (on his day) and replacing him will be no guarantee of an upgrade. On the other hand, others have mentioned that his form has been dipping for three to four years now and it is more than a 'blip'. Class is permanent, form is temporary, but for how long does that apply?
Using stats sourced from EPL Index, the Man City Analytics team from 2011/12 and TTT's very own resident statto, Andrew Beasley (Beez), I hope to discover whether we can see some light at the end of the tunnel.
Firstly, I wanted to see how his performance has fared over the seasons: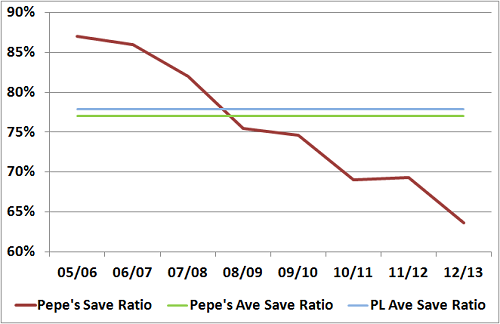 Many thanks again to Andrew Beasley for supplying the data.
It's clear to see that Pepe's save ratio has been declining since he first joined the club. In only three of his seven and a half(ish) seasons with Liverpool has he been saving at above the Premier League's average save ratio (77.8%). And what is worse, his poor 'form' for the past five seasons has dragged his average save ratio to below the PL average.
His phenomenal form in his first three seasons at the club may very well be causing us to look at Reina with rose tinted glasses, but conversely it is proof that he IS capable of playing at a very high level, but for whatever reason he has not been able to maintain this level.
But why is this?
On Andrew's blog (The Decline of Pepe Reina), he shows how the performance of Pepe has fared under the tutelage of different goalkeeping coaches and managers. The graphs below are taken from his blog (Nb. The blog is dated 29th June 2012 and therefore does not include this season's data).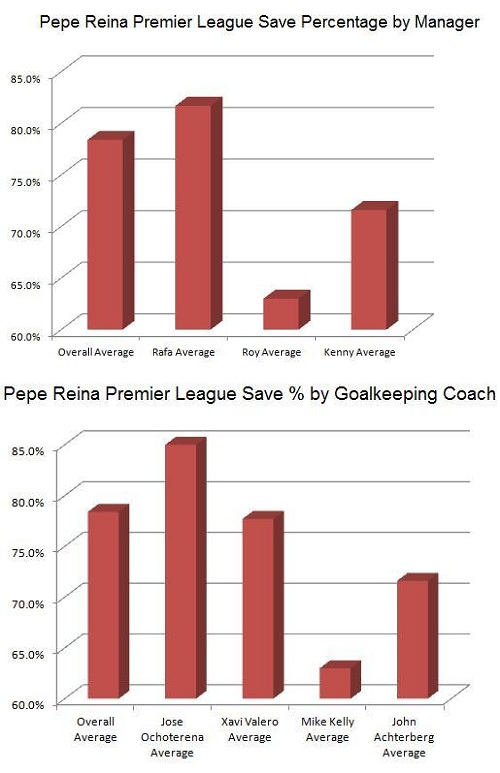 We can clearly see that Pepe has performed better under his compatriots. This isn't to say that we should just go out and hire a Spanish GK coach, but it certainly means we should look at getting Ochotorena or Valero back into the club to help one of our most important positions improve to a much better level, and being Spanish, they should be au fait with Rodgers' principles and philosophies.
The rest of this article is for Subscribers only.
[ttt-subscribe-article]