By Mihail Vladimirov.
Allardyce predictably made two changes to the team that started against Chelsea last week – Diame came in for Tomkins with Taylor replacing O'Neil on the right flank. As in their previous match, West Ham opted for a reactive 4-4-1-1 shape from the start.
For Liverpool, Rodgers stayed true to his pre-match comments, putting Shelvey in the "Suarez role" up front with Downing and Sterling playing as inverted wingers on the flanks. Everyone else was in their expected positions, the team continued with a 4-1-2-3 formation.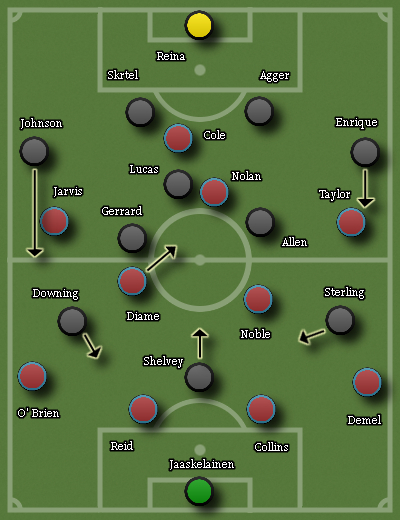 Liverpool starting brightly
One of the most interesting elements of this match was how both teams were going to play right from the start. In some ways, it wasn't much of a surprise to see the home team being rather passive and reactive in terms of both formation and mentality. West Ham preferred to sit deeper, stand-off their opponents and "test the water", waiting to see how their opponents would approach the game. Then they either tried to burst forward on the break or simply retreat deep and try to suffocate Liverpool for space.
Liverpool more or less did was what expected, the team started with their usual patient and rather passive deep recycling process in order to calm things down and take it from there. But it was surprising to see them so active in attack, bordering on a gung-ho type of attacking approach. The usual possession feel was evident as the team were very cultured in how they worked the ball. However, in contrast to the majority of the games up to now, the team was much braver and more purposeful in terms of spreading the formation in attack. This led to the team having much quicker transitions with the ball, passing with greater urgency throughout the different phases. All of this automatically meant the team was more penetrative as the deep possession was translated into meaningful team moves higher up. All of this was not only due to the different mind-set shown by the players but in large part because of how cohesive and balanced the overall framework was.
Right from the first minute, Liverpool's full backs were not only brave in speeding past their opponents and entering the opposition's half but they had different roles, setting the tone to how diverse but cohesive the team was all over the pitch, especially down the flanks. As usual it was Johnson, the direct attacking full back, pushing forward as quickly and often as possible, who was bordering on acting as a pure winger. On the opposite side Enrique was initially concerned with the team's build-up, joining Agger in passing combinations during the process when the team tried to gradually move forward.
This article is for subscribers only.
[ttt-subscribe-article]