By Mihail Vladimirov
After Rodgers himself verified it will be a "strong team" for this match, it was surprising to see the actual starting XI containing only two of the usual key players – Reina and Skrtel. Enrique, Allen, Gerrard, Sterling and Suarez were all on the  bench with Agger and Johnson left out of the match squad. All of this gave a chance for the squad players to shine, although in strange positions and/or roles. Downing started as left back, Shelvey up top and Cole on the right as the player offering the most direct attacking presence in the last third. The team started in its usual 4-2-3-1 shape, but it looked more like a 4-2-1-3, with Suso this time deeper and clearly behind the front trio.
The away team were largely the same as the one faced in the reverse fixture earlier in the competition. The shape was again 4-2-3-1 but with a few minor tweaks. Zarate played on the right in Switzerland but this time started in the hole, acting as direct support for the main striker Bobadilla. His position on the right was taken by Scheunwly. Other changes involved Veskovac's new centre-back partner – Nef – coming in the place of Ojala. On the left of the back four Raimondi was replaced by Lecjaks while Farnerud's position changed from being in the hole in Switzerland to part of the double pivot here (replacing Spycher).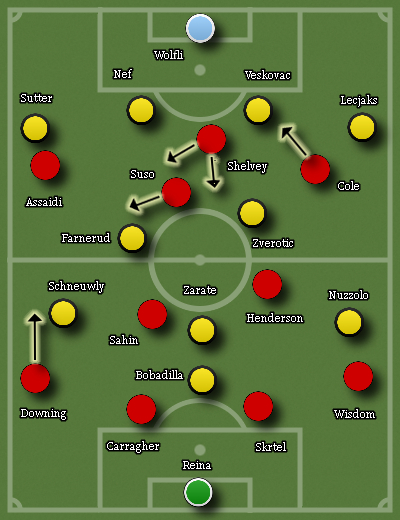 The game went through different phases, offering some fascinating tactical causes and effects throughout.
The rest of this post is for subscribers only.
[ttt-subscribe-article]