By Paul Tomkins.
So, what's been happening lately? Not much?
It's obviously something of a shock to see a recent Liverpool manager in charge of Chelsea, especially as he wasn't even considered for a return to the Anfield dugout this summer. As was their prerogative, FSG chose Brendan Rodgers, and it's up to the young Irishman to prove he is in the same class; hopefully he will.
Rodgers has my full support in that I want him to do as well as is humanly possible; but as yet, not necessarily my total trust that he's the perfect solution.
That's not necessarily his fault; he was appointed on potential, just like Rafa when moving to Valencia, Villas Boas when signed by Porto, and Klopp when snapped up by Dortmund. The hope is that Rodgers is cut from the same cloth – but of course, plenty of young managers have gone to bigger clubs and failed miserably, only to be forgotten. I'm still not quite sure how good Rodgers is, and in fairness to him, that's mostly because he's only been managing a few years, with less than 18 months in the top flight.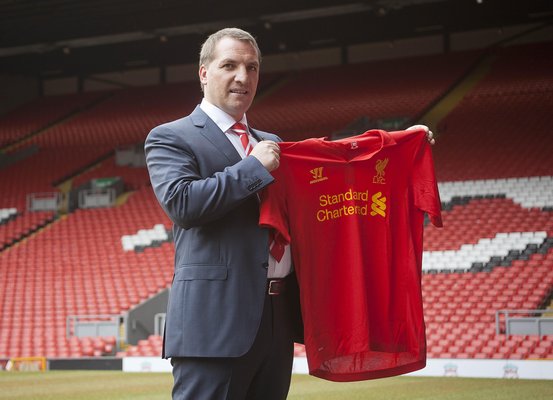 To me, the decision to go with Rodgers (or Martinez) over Benítez (or other established names) reminds me of the following theoretical example: via some kind of time machine, the 1988-vintage John Barnes is ready to buy, but Raheem Sterling is also ready to break into the first team. There's only one space in the team, so you need to make a choice.
With Barnes you know the brilliance you're going to get, but in today's money, his £900,000 fee translates to around £25m (not a major fortune for the talent in question, but not exactly cheap). Sterling, already in the ranks, is free, and has incredible potential – but is untested.
If Sterling turns out to be as good as Barnes, then there's no fee to pay, and Liverpool get the possibility of seven extra years out of the younger man. But Barnes is … well, Barnes! 
And right now, we don't quite know if the relatively young Rodgers is destined to be world-class, or, for purpose of this analogy, the next Richie Partridge.
(That's possibly a bad example; maybe the next John Welsh, although he wasn't a winger. However, Welsh was lauded as the next Steven Gerrard, had a bright start to his career, then … moved to Hull.)
Managing Liverpool is incredibly hard – harder than most jobs – and in 2010 I wrote an article for the brilliant Blizzard magazine detailing how often successful smaller club managers simply cannot translate their success to bigger clubs. I've yet to see much evidence to contradict what I wrote two years ago, although on the continent the examples continue to appear.
Since Benítez was sacked in June 2010, Liverpool have had three managers. What's interesting –– if a little alarming –– is that if you replace Dalglish with his key tactician, Steve Clarke (for the purposes of this argument), then all three of those managers have better records at smaller clubs than they had/have at Liverpool. Even allowing for me stretching the point with the inclusion of Clarke (which is more acceptable when you consider Dalglish was not in management before or after his latest stint), read on and see what I mean.
Roy Hodgson's record at Fulham (finishing 7th and 12th) and West Brom (10th) is clearly better overall (9.6th place) than the 12th position he could manage in 20 Liverpool games. Steve Clarke, in 13 games in charge of West Brom, somehow has them in the Champions League spots; early days, admittedly, but Liverpool were never averaging two points a game during his influence at Anfield. And Brendan Rodgers has Liverpool 12th at the time of writing, when he finished last season in 11th with Swansea. Again, it's early days, and a victory over his old club would change the picture for the better; although without three points, the Reds could fall to 13th. To date, Rodgers doesn't even have Liverpool punching Swansea's weight.
On the plus side, I think that Rodgers has ideas that can translate to a big club; unlike Hodgson, he favours a clever passing style, and hasn't looked visibly panicked on the touchline. But Rodgers has to prove that, a) he can get the balance of this team right (the midfield has chasms, not all of which can be plugged by Lucas), and b) he can buy players who won't wilt under the pressure of pulling on what he so rightly calls a "heavy" shirt.
Part of the potential brilliance of Rodgers hiring the peerless Steve Peters – a sports psychiatrist (rather than psychologist) – is how getting into the minds of players can be vital. For me, this is a good sign. It's a case of trying to find the edge, looking to improve performance by a few percent here and there (which was the mantra of Dave Brailsford, who brought Peters in to work with the British/Sky cycling teams, and look how that panned out). This is what the manager needs to do.
And like Benítez, Rodgers is a thinker, an analyser. In that sense, he's my type of manager. You can be a top manager without a notebook, but it's nice to see some kind of mental process in evidence (although having said that, Villas Boas's tactics pad looks like War And Peace, and maybe takes it too far).
What Rodgers yet to prove is that he's a comparable strategist to Benítez. Rodgers has made some bold and successful substitutions in recent games, but his initial game-plan doesn't seem to vary too much; and having to make exceptionally early changes suggests the original approach may have been faulty (although no manager knows how well his team will react to surprises).
If it seems unfair to compare Rodgers to Benítez, I'd say two things: a) the Irishman was chosen over the Spaniard (who was ready and waiting) in June, and therefore, it stands to reason that it leads to some kind of comparison; and b) Rafa set the benchmark of where Liverpool could do with being in the near future (i.e. we're not expecting league titles, given the financial landscape).
But by the same token, we can't take Rodgers to task if he doesn't match up in some areas if he starts outperforming the Spaniard in others. For example, maybe he's a better man-manager. And of course, there's nothing to say that Rafa would have done as well second time around.
It's a different situation in 2012. For example, while Rodgers doesn't have the burden of having to field a really strong team in midweek European games and then do so again a few days later, he also doesn't have the cachet of offering Champions League football, to attract star names. If Rafa inherited only mediocre strikers, Rodgers is lucky with the imperious Suarez; but Rafa also had a more mobile, destructive Gerrard.
Context
As you might expect, I've been frequently asked this past week what I think about Rafa taking over at Stamford Bridge, and having tried to take November off, I've finally been lured back into writing a piece (at least I made it to just before midnight on the 24th!).
Obviously I think they've got themselves a world-class manager, who –– as a free agent for two years (partly of his own choosing, in turning down lesser jobs) –– was obviously going to jump at the chance to manage a team able to compete for the title. I know from speaking to him over the past couple of years that he's been working hard with his own team of analysts. It's not like he's been on the golf course. It won't help that Chelsea fans are already set against him, but it's weird how they can dismiss him given the number of times he got the better of Mourinho in massive games. It might not work, as this is football; but he's a different beast to the tired one that left Liverpool and moved to Milan.
Even though becoming a west London 'blue' taints him in the eyes of some Reds, I'll continue to defend Rafa's record at Liverpool, because we cannot afford to have history rewritten. I think we need to strive for accurate reporting and analysis; so when Jamie Redknapp, right on cue, despairs about Chelsea hiring "negative Benítez", you know it's pure agenda (I was watching a game on Sky the other weak, and Redknapp mentioned zonal marking and brought up Rafa's name. You could see the hatred).
By contrast, James Horncastle's assessment for the incredibly handy Who Scored website is far more accurate, with regard to both his Liverpool and Inter Milan tenures.
Stupidity and ignorance annoys me. A Chelsea fan-group spokesperson said last week that zonal marking "clearly doesn't work", which to anyone who's actually studied the stats is like hearing "and the crazy fool thinks the world is round! Burn him!" In two of Benítez's six seasons at Liverpool, the Reds posted the best record for defending set-pieces.
Like Rafa, Rodgers has used a mix of zonal and man-marking at times this season (zonal across the six yard box, man-marking beyond that), and it shows that the current Liverpool boss is clever enough to look past the Grayisms and Redknapperies that litter English football and think for himself. Again, another tick for Rodgers. You'll concede goals no matter what system you use, but with man-marking, no-one will call the manager an idiot, even if his side concedes six set-piece goals in a game. (Concede one with zonal, and sit back and watch the confirmation bias as the commentators explode with outrage.)
I also think that Rodgers bought 'Rafaesque' players in the summer, with Joe Allen, Nuri Sahin and Fabio Borini fitting the same kind of profile in terms of age, potential, commitment and character; potentially on a par with Agger, Lucas, Reina, Alonso, et al, and all for a similar kind of mid-level price. But so far, bar Allen's first two months, they've been so-so. Then again, Agger  (just four games in his first half-season) and Lucas were slow starters. That's the trouble when you're not buying £40m finished articles.
In relation to Rafa's overall record, last week Opta Joe tweeted:
55% – Of the 84 managers to take charge of over 50 Premier League games, only five have a better win percentage than Rafa Benitez. Return?

5 – The 5 managers with a higher win percentage than 55% in the PL (50+ games) are Mourinho, Ferguson, Ancelotti, Mancini & Wenger. Winners.
What's interesting is that all of the other five managers have fielded the highest £XI in a season, but Rafa's Liverpool never ranked within the top two. (The £XI is the average cost of the XIs over 38 games, with transfer fees adjusted for football inflation.) Even Wenger, whose recent Arsenal sides have been relatively inexpensive, had a very costly £XI during his first eight seasons.
Gérard Houllier did a pretty good job at Liverpool overall, but his six-year win percentage was 50%, and the win percentage in his final two seasons – which was before Michael Owen removed himself from Benítez's inheritance – was just 44%. By contrast, Liverpool's win percentage in Benítez's final two seasons, even with the disappointing 2009/10 campaign, was 57%.
In fairness to Rodgers, Liverpool's win percentage has been slipping for a while now. In Benítez's final season it was 47%, and even with Dalglish rescuing 2010/11, Hodgson's poor start left it at an overall 45% (having been at 35% under the former Fulham man's 20 games). Last season it was 37%, and so far this season (going into the Swansea game) it's a quite alarming 25%. I daren't even contemplate mapping that on a graph.
It's not even like this Liverpool team is much cheaper than in the Benítez era. In 2011/12 money (Transfer Price Index), the average cost of the £XI in the first 12 games of this campaign has been £92m. The average between 2004 and 2010 was £98m, although it was just £82m in Rafa's first season, down £13m on Houllier's final campaign. (At this stage of 2004/05 Liverpool were 8th, having won half of their games, and with a game in hand on all the teams above them. EDIT: they had played 'easier' games than Rodgers' side, although they did have some tough Champions League games in between.)
While Rodgers is still settling in, and was never to be expected to perform instant miracles, he has to get the team winning more games as quickly as possible. Win percentage is such a good barometer in the three-points-for-a-win era as a draw sees you drop 66% of your points.
Equally, in Pay As You Play we proved that the £XI ranking is a good barometer for roughly where a team should be in the league. This season, and quite surprisingly (as it's been largely without Carroll, Downing and Henderson in the starting XI) Liverpool rank as high as 4th in terms of £XI, albeit only marginally ahead of Arsenal.
Miles ahead of everyone else, though, are the top three: Man City at £173m, Man United at £196m and Chelsea at £229m. And of course, they are this season's top three in the league so far.
In terms of squad cost, it's reversed, with Chelsea 3rd with £299m, United 2nd with £325m and City 1st, with £352m. In this metric, Liverpool fall narrowly behind Arsenal, but as with the £XI, you can double the cost of any squad outside the top three and they still won't break into the top three. That's how far ahead the trio of clubs are.
Indeed, in the overall scheme of things, Liverpool currently rank more-or-less where they did under Benítez: with an £XI and a squad less than half as expensive as the most coined-up club, but averaging around 4th place.
According to our TPI work, the top six, in order, should be Chelsea, Man United, Man City, Liverpool, Arsenal, Spurs and Everton. And give or take a position here or there, that's what most people would have expected the top seven to be.
Of course, Rodgers, like Villas Boas, is in his first season at the club, which complicates matters, and Benítez now inherits a team already off the pace (if he does win the league with Chelsea, he'll need to win a handful more points than any other side, given their starting position). The other four clubs have greater managerial stability, and are building on the work of many years.
Of course, Rafa won't get credit even if he does win the league with Chelsea (which I'm not exactly praying for, but would take over United any day of the week).
Remember how Rafa's success at Liverpool was all put down to luck? Penalties and all that? (Never mind that in reaching two Champions League and one FA Cup Final in three years, the Reds faced, amongst others: Monaco, Juventus, Chelsea and AC Milan; Manchester United and Chelsea; Barcelona and, yet again, Chelsea and AC Milan. And in his best season, which was the Reds' best for almost two decades, his team put four past Real Madrid, Arsenal, Chelsea and, at Old Trafford, Manchester United.)
Anyway, after all that luck, he must be the first person in football history to have been called lucky before he's even taken charge of a game, in relation to winning a competition that's still a month away. Alex Ferguson –– under whose skin Rafa seems to permanently reside (which tells you a lot about the Spaniard's talent) –– went out of his way to say that this was Di Matteo's team, adding that Di Matteo had won the Champions League and FA Cup. With this in mind, Ferguson noted, Rafa cannot take any credit if Chelsea win the World Club Championship – because he didn't create the team. And yet, using Ferguson's logic, then Di Matteo, who only took over in February, did not win the Champions League; Villas Boas did. Di Matteo bought none of the players.
Finally, having discussed our TPI work, take a look at the top Premier League managers (1992-2012), in relation to the cost of their sides, as calculated by Zach Slaton (who is not a Liverpool fan). To me, it looks like the right managers are in the top ten.
My hope is that, as he grows into the role, Brendan Rodgers moves his way up the chart from a respectable, above-average first season; which will mean that Liverpool are winning more of the kind of games they should be winning, and working their way back into the top six.
And with regards to Rafa – the more I think about it, the more I like the scenario of him winning the league with Chelsea by late April, then getting sacked in May (perhaps due to the shape of his goatee), which will allow him to take up residence at a more palatable rival club.