By Mihail Vladimirov.
Neither team sprang any major surprises in terms of starting players. Hughton replaced the injured Bassong with Turner and continued using Surman on the left, even though Pilkington was fit. Up front, for the second league match in a row the captain Holt was benched, so Jackson and Morison had the chance to form a pair.
For Liverpool, with Kelly and Enrique not available for selection, Rodgers made the bold but expected decision to hand Wisdom his first league start. In the middle, Sahin replaced the banned Shelvey while Suso started on the flank, effectively replacing Borini.
Formations
As expected, both teams went for their usual formations. Norwich lined-up in a old-fashioned straight 4-4-2 with Liverpool keeping their 2-1 midfield shape (hence the 4-2-3-1 framework) as has been the usual case in the past month.
However, there were one major surprise in terms of players' positioning and it came from the Liverpool camp. When the starting XI was announced, it was widely expected it would be Allen-Sahin as the deeper duo and Gerrard pushing higher up the pitch to provide proper attacking drive. But this wasn't the case; it was Sahin playing ahead of the usual double pivot of Allen-Gerrard. Hence it should be noted that with Sahin not exactly playing as a second forward, rather more like a third midfielder, the shape of the team was closer to 4-2-1-3 than proper 4-2-3-1. There were some interesting tactical consequences of that selection surprise which will be discussed later in the article.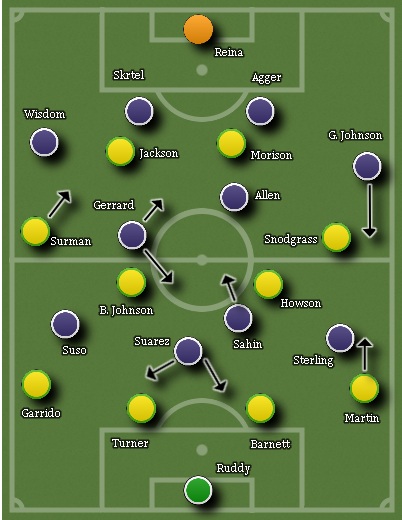 This article is for Subscribers only.
[ttt-subscribe-article]