By TTT Subscriber James Keen.
Manager of Liverpool Football Club is a strange job. In fact, describing it as a job is to do the position a gross disservice. Since the advent of Shankly's revolution and the reverential esteem with which that man is held, his example has permanently offered an ideal model for the club's prime position. The job puts the occupant at the head of a small nation of followers; the fan base stretches around the world and covers every continent on the planet. All of those people look to the manager to lead the club and team forwards and towards success.
If you stop and think about how many people are relying on you for just a second, it must be very tempting to run away and hide. So already we are looking for a special man. If you want to come into work and do your hours and treat the job like any other, then that is fine, it is how you may have done your work for the last 35 years, but thanks for your time, this is the wrong club for you.
The Liverpool manager is the man in ultimate control of the first 11, but he also has to represent the red half of the city and look out for the fans and talk to them directly. Part manager, part spiritual leader and part visionary. There is a very real sense that Shankly's successors have been guardians of the torch that has been passed down the line from Shanks himself. But if we try and view it objectively, do we expect too much from our managers? Or to put it another way, is the Liverpool manager's job different to the other clubs'?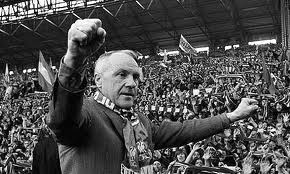 On 1st June 2012, Brendan Rodgers became the 20th man to be appointed full time manager of Liverpool Football Club. Considering the fact that Liverpool Football Club is 120 in 2012, he has been admitted into a very exclusive club, stepping into a lineage that extends back through over a century of history and success. The list of his predecessors includes acknowledged greats of the game from Tom Watson through Bill Shankly, Bob Paisley, Kenny Dalglish and Rafael Benitez.
This article is for Subscribers only.
[ttt-subscribe-article]