By Daniel Rhodes.
The buzzword of the summer since Brendan Rodgers' appointment on the 1st of June has been 'time'. Rodgers needs plenty of it if he's to implement his preferred tactical style with any degree of success. Liverpool's owners need to give him more than they gave either of the previous managers they've presided over; fans must lower their expectations, support the new boss over a period of years, not a few games; and the football writers who cover and report on the club must resist any temptation to react with words like 'crisis' if the opening set of fixtures don't go according to plan.
John W. Henry, in an open letter to fans, stated his desire to look to the future:
No one should doubt our commitment to the club. In Brendan Rodgers we have a talented young manager and we have valued highly his judgement about the make-up of the squad. This is a work in progress. It will take time for Brendan to instill his philosophy into the squad and build exactly what he needs for the long term…

After almost two years at Anfield, we are close to having the system we need in place. The transfer window may not have been perfect but we are not just looking at the next 16 weeks until we can buy again: we are looking at the next 16 years and beyond.
If that's what the owners think, then either they're being incredibly devious and underhand by lying to the fans about their real intentions and plan to sell the club; or they're in this for the long haul. As for some of the fans and the journalists, who with increased and ever available social media interactivity, become difficult to separate at times, it has been a very different story. Yes, the word 'time' gets bandied about with the same frequency as when Rodgers was hired – but – and it was a sumo-sized but after the West Brom and Arsenal games – there is always a caveat.
This article looks at the range of reactions to the opening three games of the season so far.
West Brom 3 – 0 Liverpool, 18th August 2012
6:58pm: Trendsmap Liverpool send out this tweet.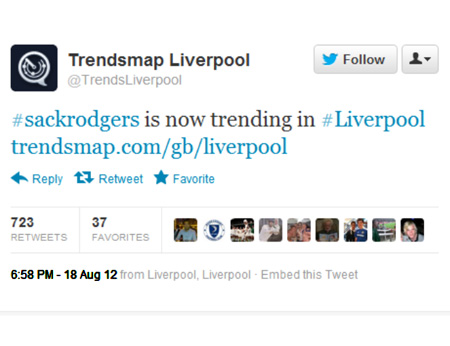 This article is for Subscribers only.
[ttt-subscribe-article]