By Mihail Vladimirov.
Rodgers largely put out the expected team – nine of the eleven players are sure starters if fit. The only two places in question were the third midfielder and the third front-man. Sahin was fit to start and was preferred to Shelvey and Henderson, while given his bright start to the season Sterling was given another chance as part of the front trio.
Wenger didn't spring any surprises either. Szczesny was again not fit enough to feature, so Arsenal's back five (the back four and the keeper) and midfield trio remained the same as the Stoke game. Up front Giroud was again preferred as the centre-forward (as vs Stoke), which meant Podolski started on the left. The main dilemma then was who between Walcott, Gervinho and Oxlade-Chamberlain would feature on the right. The latter got the nod here.
Formations
One of the interesting aspects of Liverpool's approach was how Rodgers would shape his midfield trio. As against City he preferred to match the opposition's trio, which meant starting with a 1-2 shape once again (as Arsenal, like City, were playing with 2-1). In the second half Rodgers reverted to a 2-1 shape, putting Gerrard ahead of Sahin and Allen.
Arsenal didn't do anything unexpected, starting with their familiar 4-2-3-1 shape of the past couple of seasons. However, the most interesting feature in terms of shape was that they defended in a more binary way, creating two banks of four leaving Cazorla and Giroud in forward positions within a 4-4-1-1 framework. They did a similar thing against Stoke too, so we could easily conclude this sort of pattern is probably dictated by the fact that Steve Bould, a typical British and defensive-minded coach, is now Wenger's assistant and reportedly tasked with improving the team's defensive performance. Perhaps no surprise then that for the first time in a long time, Arsenal have started the season with three clean sheets in their first three matches.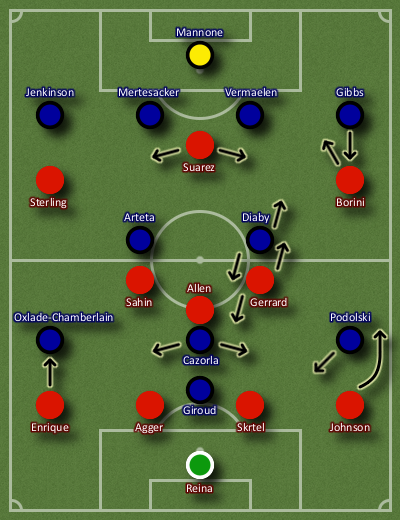 This post is for Subscribers only.
[ttt-subscribe-article]