By TTT Subscriber Andrew McKay.
"A love of tradition has never weakened a nation, indeed it has strengthened nations in their hour of peril; but the new view must come, the world must roll forward."

Winston Churchill
The UK's wartime leader undoubtedly had many virtues, but an interest in football was never amongst them. Nonetheless, however unintentionally, his above quote accurately summarises the current position of Liverpool FC, because if ever a football club has reason to be proud of its history and traditions, it's Liverpool. At the same time, if ever a football club was at risk of that same tradition becoming an unintended euphemism for inertia and underachievement, it's also Liverpool. Churchill is perceptive in his counselling that the past is there to be respected but should not be allowed to dictate the present.
The paradoxical trouble with Liverpool's tradition is that so much of it is very good indeed, which in turn can inspire so much respect that many are left unwilling to examine it too closely or think critically about what really built it in the first place and so end up reluctant to countenance change. The irony is that Liverpool's proud heritage was not created by keeping things the same from generation to generation, however much some fans seem to think so, but the exact opposite. Most of the club's successes have in fact come when they've broken with tradition and done something differently, so what may misleadingly come to look traditional in hindsight was actually born out of constant change and innovation during its own era. Not only that but the periods of drift over the years, of which the current example since the last league win is by no means the first, have arisen precisely because Liverpool were too much in thrall to what had gone before.
Take for example the domination of Europe in the 1970s and 80s, without doubt one of the proudest parts of the team's history for all supporters. As many histories of the club and former players have attested, the turning point came following their early elimination from the European Cup by Red Star Belgrade in 1973. Realising that their team had been outplayed, the coaching staff decided that if they wanted to capture the European Cup, changes would have to be made to the playing style.
As Brian Glanville put it in Champions of Europe:
"It was immensely to the credit of Shankly and his Boot Room brains' trust that they had the courage and initiative to admit to themselves that their traditional, often long-ball, English tactics were never going to gain them what they wanted in Europe, that changes must be made to a more Continental style, with more emphasis on a patient build-up and on ball control."
The vision that this move took should not be underestimated, however inevitable the team's ruling of the Continent may look in hindsight. Liverpool had already won six trophies under Shankly by this time, including three domestic titles and a UEFA Cup, as well as having reached another European final, the Cup Winners' Cup, seven years earlier. It would therefore have been easy and maybe even natural for the members of the Boot Room to have looked at the trophies already won and conclude that this defeat was simply a bad night that signified nothing, but they didn't. Shankly did publicly save some face by criticising Red Star's possession football as dull – "the Liverpool fans would never pay to watch that stuff"- but behind closed doors it was a different matter. To be at the bottom of the league and admit that things need to change is one thing, but to already be serial winners and yet still be prepared to do something new? As Glanville quite rightly says, that does take both courage and initiative.
Out went the traditional stopper centre-half Larry Lloyd and in came the more skilful and mobile Phil Thompson, later to be joined by Alan Hansen, so Liverpool could start building from the back as a basis for keeping possession of the ball and thus play the top European teams at their own game. Four European Cups in the ensuing decade or so, not to mention a whole host of domestic trophies, showed that the overhaul of the team's playing style was a break with tradition that worked out spectacularly well, but history may have been very different had the coaches not made the changes.
The converse, that not changing things can result in the club falling back into the pack rather than leading it, is also clearly demonstrated in the same era by the ultimately weakening legacy of the attitude to commercialism. Writing in 1990 in Liverpool – The Glory Decade, Ian St John commented that "There are no super-rich executive boxes … it may well be that Liverpool undersells itself but this may not necessarily be a bad thing in these days of over-commercialisation." This would doubtless have had many happily nodding in agreement at the time and given that English football was much less commercialised then than it is today, it didn't matter too much. But more than 20 years and a complete change to the game's financial landscape later, it simply reads as myopic and self-defeating.
Stephen F Kelly echoed this in his 1994 biography of Graeme Souness, bemoaning that Anfield was coming to represent "supermarket football" like the sort served up at Old Trafford and making it clear that he doesn't care for it. It was easy to dismiss flash Manchester United with their soulless commercialism at a time when the league title count was still more than ten ahead in Liverpool's favour, but how hollow does such sneering sound now? Kelly was only half-right anyway, in that Liverpool's attempts to adjust to the new financial reality in the game following the 1992 formation of the Premier League and first Sky TV deal actually fell some way short of the speed with which United adjusted, as the growth of both their spending power and trophy count since then has all too bluntly demonstrated. When David Moores ruefully admitted, on the sale of the club to Hicks and Gillett in 2007, that "I don't think we have maximised our brand", it was with considerable understatement and may well be the defining comment on the club's history since the last league title.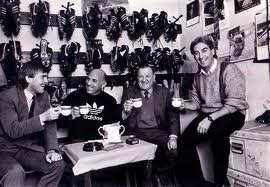 Nothing epitomises Liverpool's damagingly slow adjustment to the new financial reality of football in the 21st century than the lack of answers to the stadium question. It's widely held that Liverpool simply have to increase the capacity and so the match day revenue if they are to keep up with their rivals, either by redeveloping Anfield or moving to a new stadium entirely. It's been discussed plenty of times by various board-level figures over the years but broken promises have yet to turn into broken ground. Meanwhile, Arsenal have been playing at the 60,000 capacity Emirates since August 2006 while United reached their current 75,000 maximum at the end of that same season, yet all Liverpool have to offer in response is a lot of fiddling while they get burned financially. Perhaps the idea, backed by Liverpool City Council, of the £125 million 60,000 capacity shared stadium with Everton should have been taken more seriously when it was proposed back in 1990. But think of the tradition howl the diehard, sharing with Everton is unthinkable! As unthinkable as not winning the league title for nearly a quarter of a century?
Fans that prefer the traditional manner of doing things summarise it by referring to the "Liverpool Way", which is shorthand for "how things were done during the glory years after Bill Shankly arrived". A more objective observer however might note that The Way hasn't produced any league titles since 1990 and conclude that it was therefore something that worked at the time but doesn't anymore, although why anyone would think it should still work given the many changes in English football since 1992 is something of a mystery. What's more, like a Liverpool FC roll-call of sadly dwindling war veterans, only Ronnie Moran, Roy Evans and Peter Robinson of the men who built the Liverpool Way are even still living, and as none have set foot inside Anfield for at least a decade it has to be conceded that The Way has long since passed into history.
As an illustration of how specific The Way was to its own era, take the widely held tenet of it that Liverpool give their managers more time than other clubs do. It may seem true but it's a myth. All four men who led the team during the glory years left of their own volition, but the six incumbents since the last championship in 1990 were all sacked or at least close to it, jumping before they were pushed. The truth is therefore that Liverpool are actually like every other football club in sticking with managers when they win and sacking them when they lose, and the famed tolerance was nothing more than an illusion created by the exceptional circumstances of so much success. After all, why would Liverpool hav
e sacked the manager during the dynasty era? The board certainly could have done, as secretary Peter Robinson hinted soon after Bob Paisley's appointment that he was at risk if he failed to keep the team at the top of the English game, although of course his subsequent success rendered that possibility academic. Even the two occasions where patience was apparently shown in the past 20 years, to Souness in the summer of 1993 and then Houllier a decade later, seem to have owed far more to sentimentality on the part of then chairman David Moores than any official policy.
However, to concentrate too much on that period is to make the same mistake that the traditionalists themselves make, with their uncritical assumption that the answer to every question that might ever be asked about Liverpool FC is be found between 1959 and 1990. The reality, which anyone who looks solely at that era is liable to miss, is that the principle of change being good and conservatism bad has actually been embedded in Liverpool's history since the very earliest days [my bold – Ed], and so is visible even in the case of Tom Watson, the club's first proper team manager.
In 1896, realising that Liverpool needed to appoint a man to deal full-time with the team if they were to stop the yo-yoing between the two divisions that had marked their first few seasons, Secretary John McKenna appointed Watson, already a winner of three league titles with Sunderland, to do just that. The ambition shown by the move was noteworthy in itself, as this club that had yet to win anything at league level targeted the most successful manager of the day and paid him what was thought to be the highest salary in the game at the time, but the benefits of it would soon become clear.
Watson's role wasn't quite what would be recognised as a manager today, with the most glaring difference being the board having more power over team selection than he did, but he did have sufficient influence over tactics and the leadership of the team to differentiate Liverpool from their rivals in an era when most clubs simply didn't have a manager in the modern sense. Everton in particular were dismissive of the need for such a role and, with one league title already to their name, might have been seen as the calm voice of reason and experience. Under their new manager, Liverpool would win two league titles before Everton managed to land their next one. Indeed, Watson's influence outlasted even his death in 1915 as a number of men he had signed – Donald McKinlay, Harry Chambers, Ephraim Longworth, Bill Lacey and Elisha Scott – would become key members of the team that won consecutive championships in the early 1920s.
However, the momentum generated by his regime was allowed to dissipate into inertia for the rest of the inter-war period as Liverpool largely subsided into mid-table mediocrity. That the ageing title heroes were replaced with players of lesser talent was one reason but there was also the significant failure to keep up with the changes in the game being instigated by Herbert Chapman, which included both tactical innovations and his reshaping of the manager's role. Tom Watson may have blazed a trail in his own era but Chapman took the manager's position further still and so rendered Liverpool's model out of date, illustrating that today's new ideas have to be constantly refreshed if they're not to become tomorrow's stale tradition.
Instead of stepping forward again themselves however, Liverpool responded by going backwards. The board gave George Patterson the job in 1928 despite his already existing one as club secretary, but importantly thus saved on a salary as one man was now doing two jobs. This uninspired appointment spoke volumes for both the directors' damaging penny-pinching and even more seriously for how far the club's finger was from the pulse of the English game, as Chapman set about creating a faster, more skilful playing style at Huddersfield and Arsenal that would leave the strength and physicality of Liverpool in their title-winning years trailing in its wake yet with Liverpool themselves in no position to respond.
Nonetheless, the harmful inertia that blighted the years leading up to the Second World War was replaced immediately afterwards by innovation once more, and Liverpool claimed the first post-war championship as a result. That the directors dispensed with their pre-war parsimony and backed the crucial signing of Albert Stubbins (24 goals in 36 league games) for a club record £12,500 was clearly one factor, but there was also the fresh thinking that saw manager George Kay take the squad to America for a shrewdly planned pre-season tour which allowed them to eat properly. Chairman Billy McConnell had been impressed by the dietary bounty the US had to offer compared to ration-book Britain while on a trip there for the Ministry of Food in 1945, and so returned home convinced that sending the team across the Atlantic was worthwhile. The players therefore began the season by putting on an average of half a stone and finished it as champions with both Kay and McConnell paying tribute to the nutritional advantage they had enjoyed. As George Orwell might have put it had Animal Farm been about another Red history rather than that of the Bolshevik Revolution, "new thinking good, traditional thinking bad".
However, the late 1940s daylight was soon followed by darkness in the 1950s as the team of Stubbins, Jack Balmer, Bob Paisley and of course Billy Liddell aged and retired while off the pitch the club was soon deprived of the drive of both McConnell and Kay, with the former's death in the summer of 1947 and the latter's retirement on health grounds four years later. It was time for conservatism to do its damage once more. Indeed, this constant oscillation between beneficial change and harmful conservatism was already so well established by this time that it would be at least half the truth to say that this, more than anything put in place by Bill Shankly or his successors, should be regarded as the real "Liverpool Way".
The ambition shown by McConnell in sanctioning the record signing of Albert Stubbins was cast aside by a board that would soon operate under a self-imposed unofficial rule that Liverpool wouldn't spend more than £12,000 on a player again. One needs only a passing acquaintance with the concept of inflation to spot the flaw in that policy. Trying to do things frugally also affected the manager's office as a young and inexperienced therefore cheap Don Welsh was appointed. He didn't turn out to be a particularly good choice anyway – it's hard to describe a man who oversaw Liverpool's relegation from the top division as anything else – but he was also hamstrung by an internal structure that had scarcely changed from the glory days of Tom Watson half a century before in which the team manager was still subordinate to the board (George Kay, with the benefit of both good players and a forward-thinking chairman, probably succeeded in spite of the system rather than because of it).
His successor, Phil Taylor, fared little better, and it was only with Bill Shankly in 1959 that Liverpool finally adjusted to the by now not-so-new world around them and appointed a manager who would actually pick the team himself.
Nonetheless, huge as Shankly's contribution to Liverpool's fortunes undoubtedly was, even he wouldn't have got very far without the backing of the board and in particular Littlewoods accountant Eric Sawyer. It was Sawyer who was installed by majority shareholder John Moores with a specific brief to open the chequebook and get the board to start spending money, which is something they hadn't done, figuratively at least, since buying Stubbins in 1946. Ian St John arrived in 1961 for a then record-busting fee of £37,500 with Ron Yeats not far behind for a further £30,000, with St John being the player that Shankly famously described to a hesitant board as the man Liverpool couldn't afford not to sign and promotion back to the top flight duly followed at the end of that season. An out of date command structure and a hobbling fiscal prudence had resulted in relegation and eight lost years in the Second Division, while the casting away of such fetters reversed all of that and resulted in the birth of a dynasty as change once again succeeded where traditional methods had failed.
That the dynasty era as a whole– the period most fans think of today when they refer to tradition – sustained itself on constant change is usually overlooked, as the fine detail is hard to see from the distance of a generation away and especially so when sufficient time has passed for the whole era and its ethos to get collectively labelled as "tradition". There were always changes to what had gone before – how else can Paisley learning from Shankly's mistake and not letting older players go on too long, be understood, or Liverpool becoming in 1979 the first English team to have shirt sponsorship, or Dalglish – Howard Gayle's handful of appearances notwithstanding – signing Liverpool's first black player in John Barnes ? What's more, the stories of Ronnie Moran handing out the previous year's title medals at pre-season training with as little ceremony as possible and a curt admonition that they represented last year and now meant nothing, so getting the players to constantly focus on the present and future rather than the past, symbolise that Liverpool's great dynasty was about constantly moving forward rather than looking back.
Finally, the principle continues to hold when applied to managerial appointments in the current, post-dynasty era, a generation removed from the most recent title. Of the five men to have held the manager's post since Dalglish resigned in 1991 who weren't Roy Hodgson, two were former players (Souness and Dalglish), one an internal promotion (Evans) and two were foreign coaches (Houllier and Benitez). The three with impeccable Liverpool – and by extension, dynasty era – credentials (Souness, Dalglish and Evans) all won one domestic cup each but they also all returned home from Europe with nothing to declare at customs. In contrast, both foreign managers refurbished and extended the club's proud European reputation by one trophy apiece and both won more in total, with Houllier claiming four trophies and Benitez two, than the home-grown trio. They were also at the helm for the two nearest misses in the league since 1990, with second place achieved in 2002 and 2009. (Souness of course also finished second in 1991 but was only in charge for the last month of that season.)
The point couldn't be clearer. That Liverpool were close to getting it right when they broadened their horizons and appointed foreign coaches but were less successful when their gaze strayed no further than former employees suggests that a football club that first looks backwards in order to move forwards will achieve little more than merely tripping itself up. The most significant case is that of Dalglish, because if even the club's greatest player from the dynasty era and a formerly successful manager couldn't make it work in the 21st century then surely no one else from that lineage can either, and it's therefore time for Liverpool to finally concede that asking the past to answer questions posed by the present has run its course.
FSG appear to have realised this with their appointment of the young and up to date Brendan Rodgers as the new manager ahead of any former players (of which was a merciful dearth on the shortlist anyway) [or former managers, of which one was available -Ed], so signalling a break with tradition and thus a fresh start. Such a strategy has also worked plenty of times in the past, so why not again now?
L P Hartley may well have been right when he famously wrote that "the past is a foreign country; they do things differently there", as a number of people associated with Liverpool FC as well as a significant section of the fanbase seem to have spent the last two decades misunderstanding the club's past as if there was a language barrier in the way. The traditions produced by that past are indisputably proud ones, but as they were so closely associated with amazing success, the two concepts have mistakenly become intertwined and are seen by many as two sides of the same thing.
The truth from history is completely the opposite: success has come from changing traditional ways of doing things while sticking to them has resulted only in underachievement. This principle holds true, over and over again, wherever you look in Liverpool's past. So, giving Tom Watson a wider managerial brief than his contemporaries in the 1890s or adjusting the playing style in the 1970s to better conquer Europe were undeniably changes that were to the club's benefit, while initially sticking to out of date tactics on the pitch between the wars and out of date financial attitudes off it after the founding of the Premier League were traditions that equally clearly were detrimental. Liverpool FC's true relationship with the past is therefore that they are successful when they learn from it and unsuccessful when they merely repeat it.
However, view Liverpool's heritage with too much reverence and this crucial lesson from history gets overlooked, a mistake that is especially likely if "history" is defined – and given the demographics and timescales involved it frequently is – as simply the dynasty era from the mid-1960s to the start of the 1990s. After all, how can anyone draw the correct conclusion if they're only looking at part of the evidence? It's a frustrating irony that Liverpool fans are deemed by the media to be more in touch with their history than supporters of other teams, yet the more conservative-minded of them do not seem to properly understand what that past is telling them.
Yet those who do understand the principle of change being good will see that FSG's appointment of Brendan Rodgers does represent the turning of a page and so something new. No one currently knows if it will work or not, but history is certainly nodding its approval.